Since Microsoft Office and Office 365 are such an engrained part of corporate and academic life, it's no surprise that a new default typeface is big news. As of summer 2023, the default font in Word, Excel, PowerPoint and everything else is switching from Calibri to Aptos. Here's how to get a head start on the change…
Most people don't spend much time thinking about typefaces and probably don't even know that there are thousands available and that large corporations even have typefaces they had custom designed for their needs (like "Times New Roman", commissioned in 1931 for UK-based The Times  newspaper). While Google Docs, Apple Pages, and open source suites like LibreOffice are big players too, Microsoft's own Office Suite is still responsible for a significant percentage of all books, essays, academic assignments, memos, and journal entries produced in the online world.
That's why changing the default font is a pretty big deal. We've all been using Calibri (11pt on Windows, 12pt on Mac) for almost fifteen years now and while it's a simple, sans-serif typeface, Microsoft has wanted to update it for a few years now. As a result, the company commissioned the creation of five new typefaces and invited people to try them out: Tenorite, Bierstadt, Skeena, Seaford, and Grandview.
The winner? Bierstadt, which also received a shiny new name as part of the transition: Aptos.
Here's how they compare:

You can see that it's a bit more sophisticated in the shape of the letters (look at the dot on the "i"), a bit more square (compare the 's' character forms), and has slightly better kerning (inter-letter spacing). It's a good upgrade and is definitely more readable than the old standard Calibri.
Nice, right? So how do you update your own copy of Microsoft Word so that it uses the fancy new font as the default for new documents instead of Calibri? Here's the scoop…
CHOOSE APTOS IN WORD FOR MAC
While the basic user interface for Mac and Windows versions of Microsoft Office are very similar, they're not quite identical, and Mac also has lots of great Apple typefaces too. Fire up Microsoft Word on a Mac system and you'll have oodles of fonts from which to choose. Including Aptos! Here's what I see in my font menu: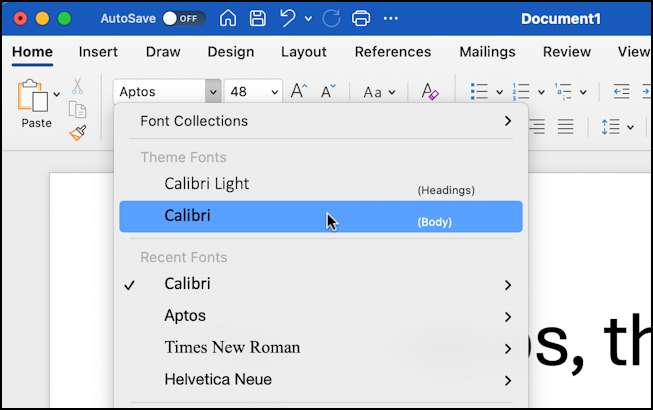 Notice that I can simply choose "Aptos" from the list and it's ready to go.
There are a lot of font variations for Aptos, so don't be overwhelmed: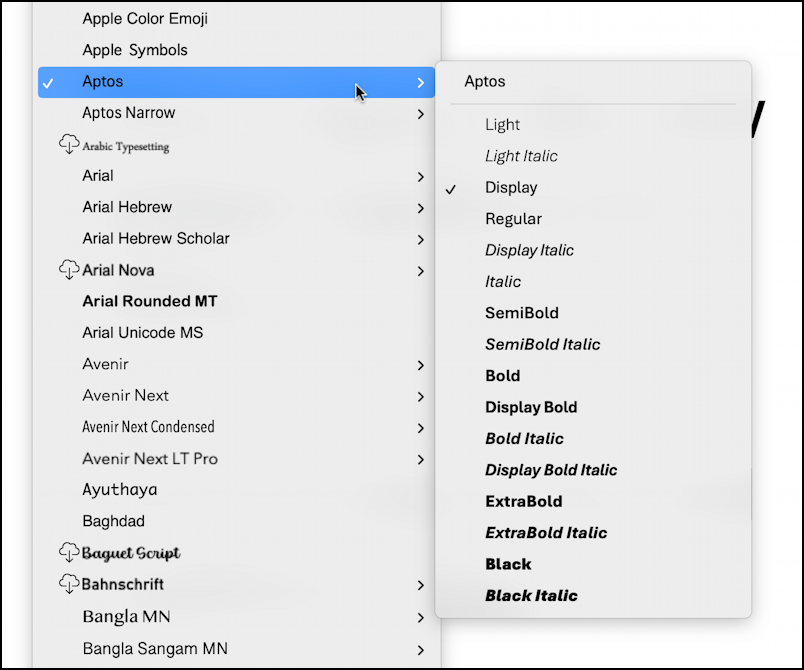 You can choose a specific style, like "Display Bold Italic", but you can also just choose the base font name and let Word figure out what variation is required based on your formatting requirements. That's the easier path and what I recommend.
Have a tiny cloud and arrow next to Aptos? Click on it and the program will automatically download and install Aptos, ready to go for your next document.
SET APTOS AS THE DEFAULT FONT IN WORD FOR MAC
Like the update? Great. Now press Command-D or go to Format > Font… to get to this pop-up:
Notice here it's called "Aptos Display". No worries, it's the same typeface. Specify exactly what size and style you'd like, then click on "Default…" on the lower left.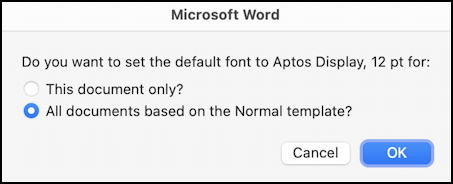 You can choose just the current document or beat the crowd by choosing "All documents based on the Normal template?" instead. I opt for the latter and to test it, simply open up a new document. The default is indeed Aptos 12pt: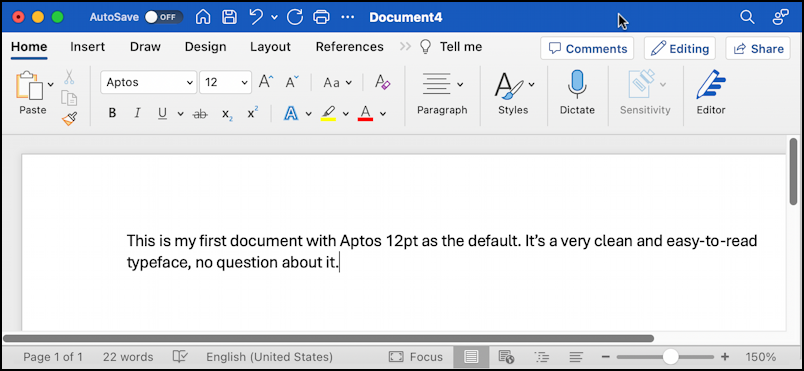 Rather easy to do and because the Mac system has a more sophisticated typeface model in the OS, it's nice that Aptos is already present as an option. But, what about Windows?
CHOOSING APTOS IN MICROSOFT WORD DOCUMENTS
This gets a bit more tricky because, as Microsoft explains in its own help docs, "Aptos is the default font across all of Office. Learn more about the history of Aptos here. The Aptos font will be available for download (coming soon).". Coming soon. Boo.
But remember that the typeface used to be called Bierstadt. Is that available? Yes it is!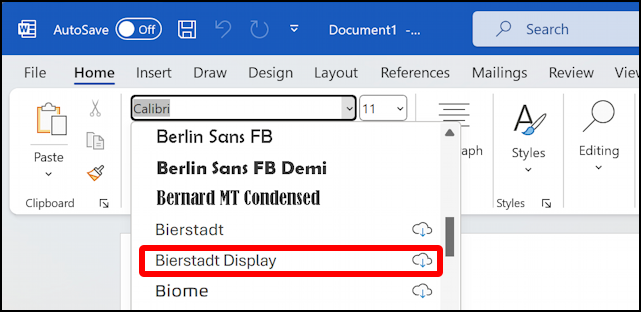 Choose "Bierdstadt Display" and you've got the new font. Well, once it downloads, as denoted by the cloud/arrow icon on the right. Choose it, let it download, then choose it again. That's it. Now you can change your default typeface in Microsoft Word to Bierstadt Display too with a similar strategy as the Mac – or check this help doc on changing default font in Word – but I suggest you hold off; it won't be long before there's an online update for Office that magically renames the typeface (or adds it again with its new official name of "Aptos") and switches things for you.
However you proceed, welcome to Microsoft Office, Aptos. Let's get writing!
Pro Tip: I've been using and writing about Microsoft's Office Suite for many years. Please check out my Outlook help library for plenty of useful tutorials, as well as my additional Microsoft Office 365 help pages! Thanks.