Dave, I have a new Amazon Echo speaker and it's pretty cool, but there's not much bass. Is there a way to adjust the bass and treble or even get to a full equalizer for the unit?
Congrats on the new Echo speaker, they're pretty cool, and there are plenty of different sizes and form factors to please even the most particular buyer. I have just about one of each in my own house, from the expensive Echo Studio speakers to the new budget Echo Pop (my review). What I've learned is that there's a lot you can tweak on these devices to have them match your environment, but you have to do all the work within the Alexa app on your paired smartphone: the devices themselves are fairly featureless.
Once you have more than a single device, this also means that it can be hard to differentiate between Echo Dot 39 and Echo Dot 71, so one of the steps worth doing with any of these devices is assigning mnemonic names. Mine are named for their location, and if I move them I rename them correspondingly. A few minutes of work up front makes everything much easier down the road, for sure!
FINDING YOUR SPEAKER IN THE ALEXA APP
Let's start with the Alexa app on the iPhone. The Android version is almost 100% identical, so you'll be able to follow along if you're an Android person instead of an iPhone person. On the home screen are typically lots of call-outs for new features and capabilities, but it's the top row that's important:
If you want to investigate something interesting, check out "Hunches" and "Guard", but for now, let's stick with your new device. Tap on "Echo & Alexa" on the top left. It will show you a listing of all your devices, organized by assigned room: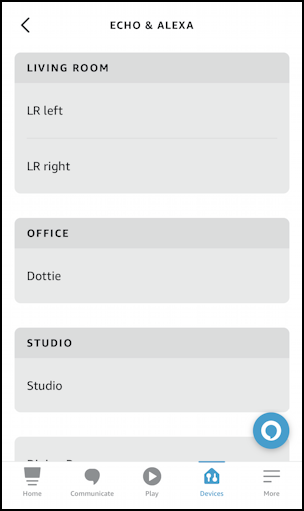 The clumsy looking "LR left" and "LR right" are my two Amazon Echo Studio speakers, a left-right pair. They are located, as denoted, in the Living Room of my house.
For this demo, I'm going to tweak the EQ settings of Dottie, the Echo unit that's in my office. To choose that, I'll simply tap on the device name: "Dottie".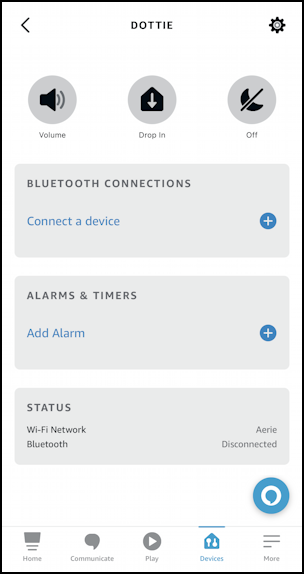 The screen shown at this point is more of a status screen than anything else, and it's easy to miss that there's a small gear icon that's shown up on the top right corner. You can adjust volume, "drop in" to talk through that speaker, even turn on Do Not Disturb if you want. You can also connect a Bluetooth device from here, but you can also say "Alexa, connect Bluetooth" and it'll tell you how to proceed!
HOW TO CHANGE SETTINGS ON AN ECHO SPEAKER
To change the equalizer base/midrange/treble settings, tap on that gear icon.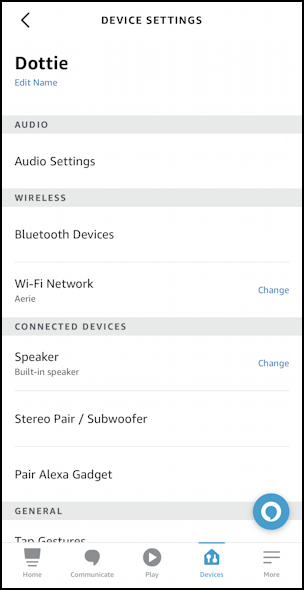 You can see that the first option is "Edit Name". Time to get rid of Echo Dot 31! You can also remove previously paired Bluetooth devices if you want, change Wi-Fi networks, etc. Look a bit further down and it should be correctly categorized as a Speaker too, which means that the "Audio Settings" at the top will be tappable.
Tap on "Audio Settings" and…
By default every Echo speaker is set up with what we in the biz call a "flat" response; no increase or decrease in the lower "bass" frequencies, the "midrange" frequencies, or the higher "treble" frequencies. You can now tweak and adjust that! Tap on the "+" or "-" as appropriate. Here's what I find is a good setting: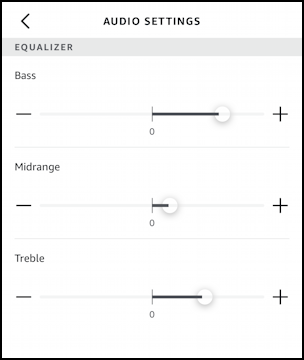 Turns out you can also adjust this through voice commands too. Try "Alexa, more bass" and similar. I've also found experimentally that it doesn't always seem to make much difference depending on the speaker size and capabilities. In particular, if you have an external speaker plugged into the Echo device, these are inoperative and you'll have to tweak your sound settings with the speakers themselves or the audio device you're utilizing.
Still, if you're listening to the speakers directly, this is a fun and easy way to adjust those frequency curves to match your preferences. If you listen to a lot of podcasts, for example, pumping up the treble and dropping the bass might make it a lot easier to understand, while anyone who is into electronica or house music will want max bass!
WHILE YOU'RE CHANGING ECHO PREFERENCES…
Tap on the "<" arrow on the top left when you're done fiddling with the EQ settings and scroll down just a little bit to find "Alexa's Voice". Tap on it and you'll find you can change its accent and the timbre of its voice (e.g., whether you hear it as a typically male or typically female voice). Here are the settings: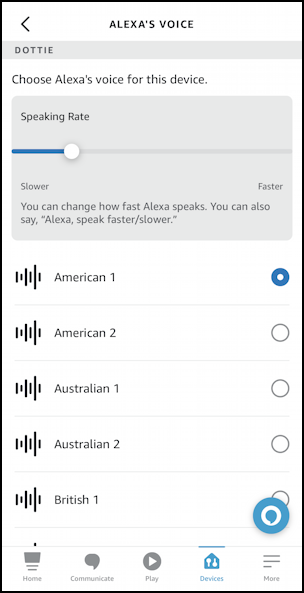 Speaking rate can be very helpful to adjust if you find it talks a bit too fast for you to comprehend, but where I find this really fun is trying out different accents for Alexa. My preference has always been Australian 1, but try them all!
Pro Tip: I've been writing about Amazon products, from Kindle to Echo, for quite a while now. Please check out my extensive Amazon Alexa help area for lots more tutorials. Thanks!