I'm giving my Kindle PaperWhite to my Mom because I now have an Apple iPad Air and find that's a better solution for me. How can I ensure that I've properly reset and restored the Kindle so that my Mom has an "out of box" experience with it?
You're a good child to give your Kindle PaperWhite to your Mom, I must say! They're very nice units and if all you want to do on your tablet is read books, the eInk screen technology is pretty darn hard to beat, as we explore in our review of the Amazon Kindle PaperWhite.
It's confusing, though, because some Kindles have their own operating system while others are running a tweaked version of the Android system. The Kindle Fire HD, for example, works with Amazon's variant of Android, while the Kindle PaperWhite, as you know, is running KindleOS (or whatever they call it).
On the KindleOS systems, there's not much you can do, but there is a potential spot of misunderstanding if you don't clearly understand the difference between deregistering and resetting your unit. Pick the wrong one and all those 50 Shades ebooks you have on your Kindle will be ready for your Mom to read! Then again, maybe that's why she wants to inherit it in the first place. We don't judge here at AskDaveTaylor…
If you're using a Kindle, you've already figured out the basics of working with the system, but let's step through real quickly. To start, here's the top portion of the screen, in the midst of reading an ebook:
A tap on the left or right edge moves you to the next or previous page, of course, and you already know that a tap on the top of the page brings up the main navigational bar:
You can be a happy Kindle user without ever using any features here other than the Home button on the left, but for this task, you'll want to tap on the rightmost three horizontal bars button: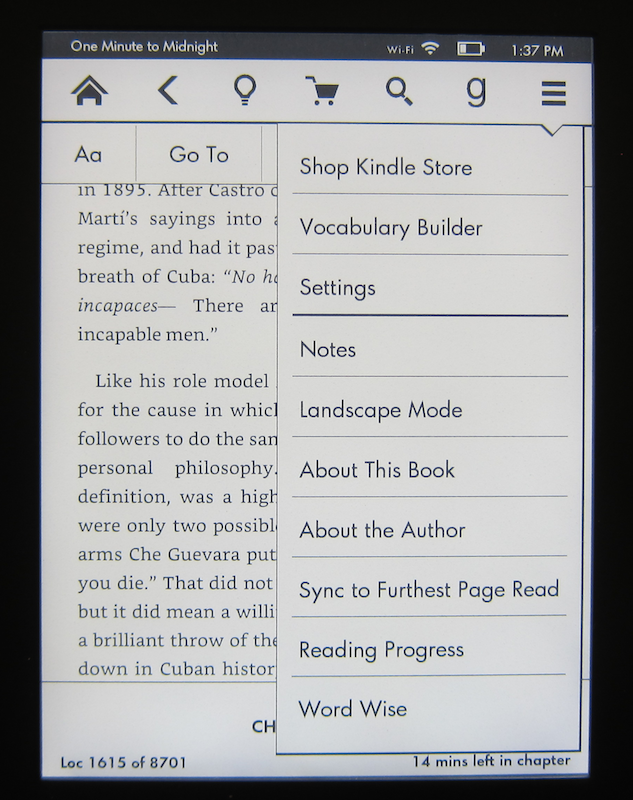 Next step, tap on the "Settings" option on the menu.
The result: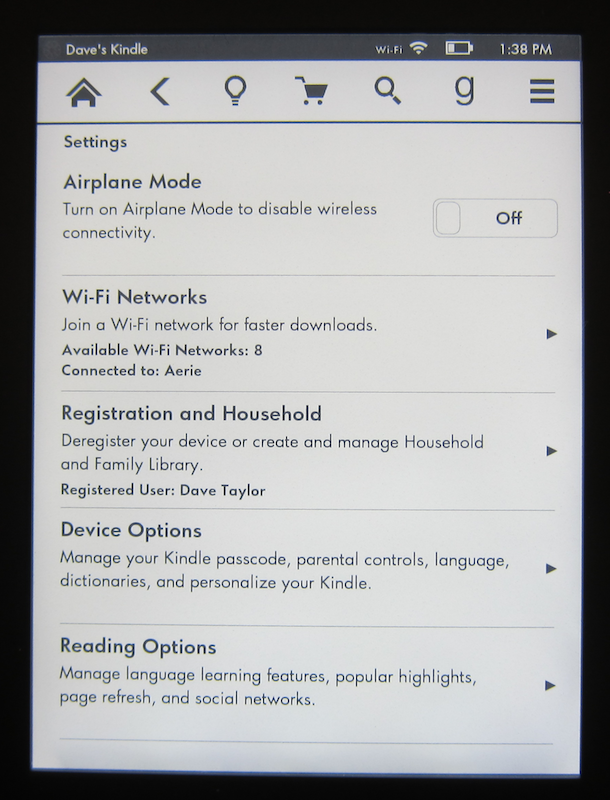 Where a lot of people are likely to go wrong is to think that all they need to do at this point is "deregister" the Kindle.
That's easily done by going to Registration and Household…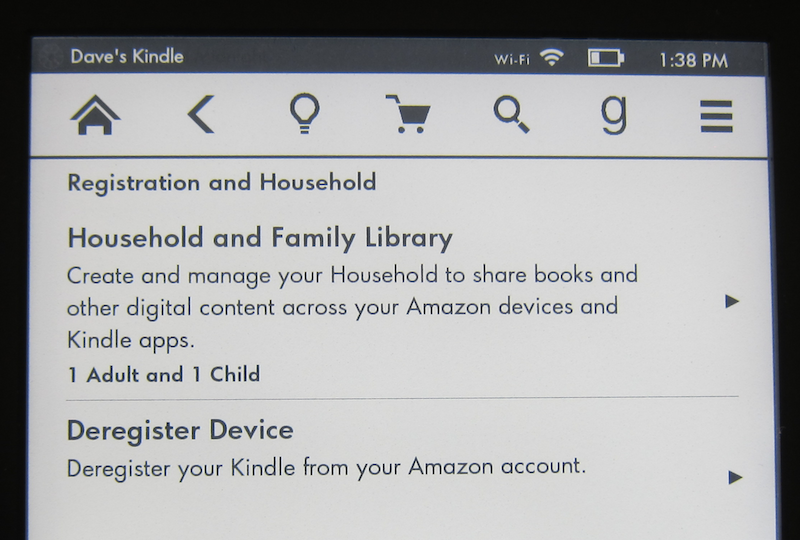 And so you blithely tap along and choose "Deregister Device". All looks good:
The problem is, you dutifully deregister your device, it whirs away for a minute or so, but then when you go back to your home screen, well, then the problem is obvious: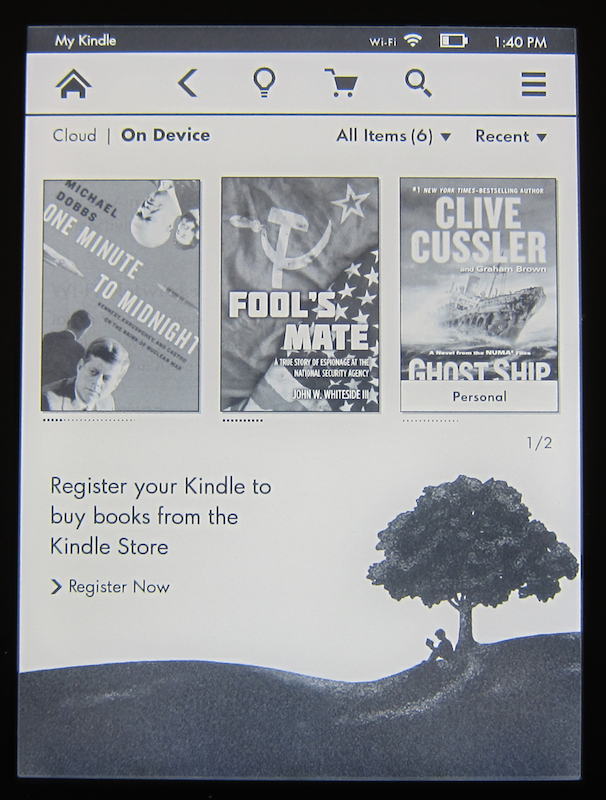 You've unhooked the Kindle Paperwhite device from your Amazon account, which is good, but all the ebooks remain on the device, which might just be exactly what you don't want to have occur!
To properly reset the Kindle device, you need to instead go back to Settings, but this time tap on the three-horizontal-lines button on the rightmost portion of the navigational bar to pull up the system menu: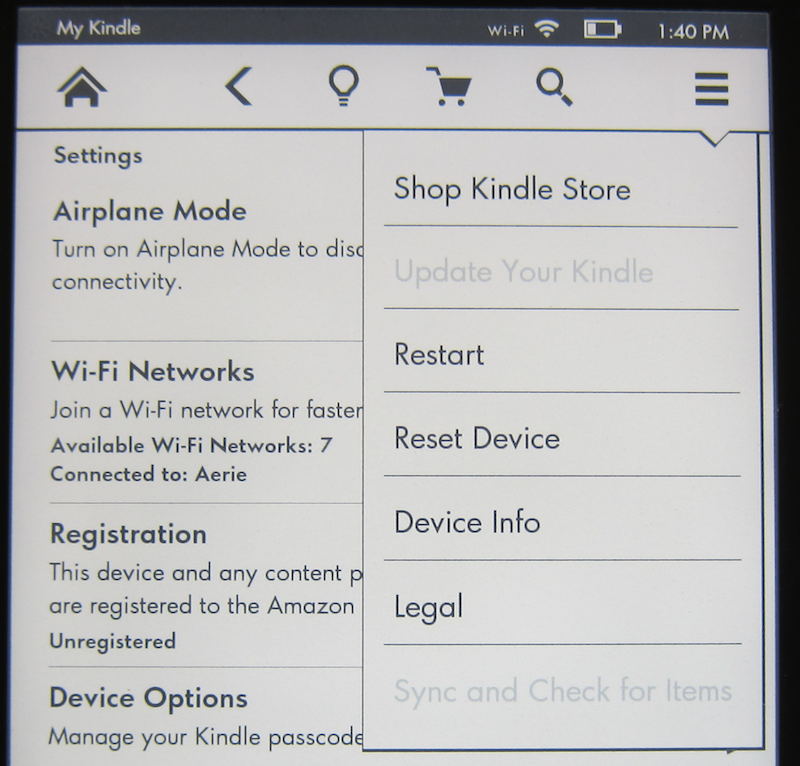 There's the correct option: "Reset Device".
Tap on it…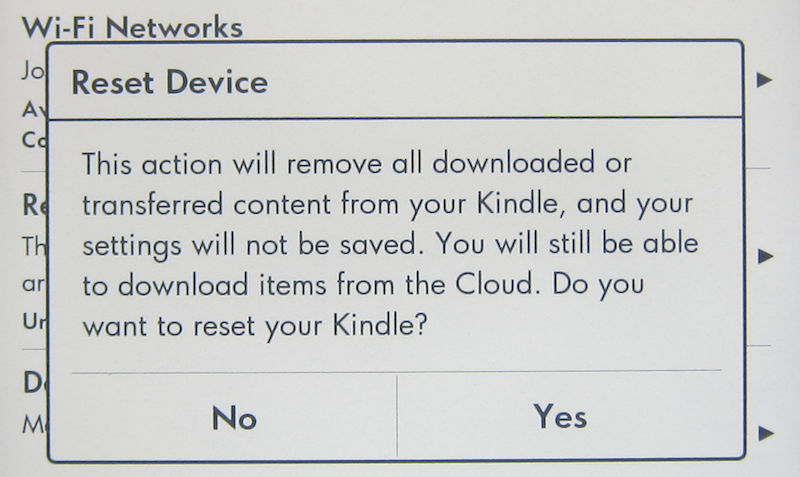 Definitely yes. Tap on "Yes" and a few moments later…
And the next screen you see is indeed the "out of the box" brand new Kindle screen:
So that's it. Reset your Kindle PaperWhite and your Mom will have a great experience and never have a clue about what books you're reading on your own Kindle device or app.