I need to buy a new MicroSD card for my new digital camera and am baffled by which one to get. I know the symbols are related to the speed of the card, but how do I know which is the right match for my device?
There's something about computer and device memory that ends up being super consumer unfriendly. Whether it's RAM for your PC or a TF Card (aka MicroSD card) for your new camera or other device, the throughput performance ratings are guaranteed to baffle. The first few times I can understand the industry not planning ahead, but when a new technology is released, why can't they anticipate that in a decade it'll be 1000x faster and plan a rating system that can handle that?
Well, MicroSD cards are not that technology. And so the ratings and naming is a complex mess and it's up to us consumers to figure out what we need and what will work. Fortunately just about all memory cards have become faster and gained capacity so in many cases most everything you can purchase will work. If you have  4K 60fps video camera, however, it's writing a lot of data each second and will absolutely require the biggest, best, and fastest. For now, at least 🙂
The two main ratings with MicroSD cards are capacity and write speed. Writing to a memory device is always slower than reading so most don't even rate the read speed. Here's a typical low budget MicroSD card:
The codes here are 16GB, the capacity, MicroSD, the logo that shows it's compatible with all MicroSD devices, the "HC" and the 4 in a circle. The HC stands for High Capacity, offering 4GB-32GB of capacity. Meanwhile, the 4 in the circle refers to the measured write speed: 4MB/s. 4MB/s is slow, so this is going to be only for the most underpowered of home devices, certainly not for any modern camera.
There are four categories of MicroSD cards, actually. MicroSD, MicroSD HC (also known as SDHC), MicroSD XC (SDXC) and MicroSD UC (SDUC). MicroSD itself has a max storage of 2GB. Tiny. SDHC is up to 32GB, SDXC is up to 2TB and SDUC is 2TB up to a staggering 128TB. They don't make those 128TB cards yet, so I guess that's a bit of planning ahead by the industry.
But those numbers in circles? Turns out that it worked great when the first generation of (relatively slow) cards were being produced, so you can see 2, 4, 6, 8, and 10, but once you get to 10MB/s you move up to a new nomenclature, Classes. Like this: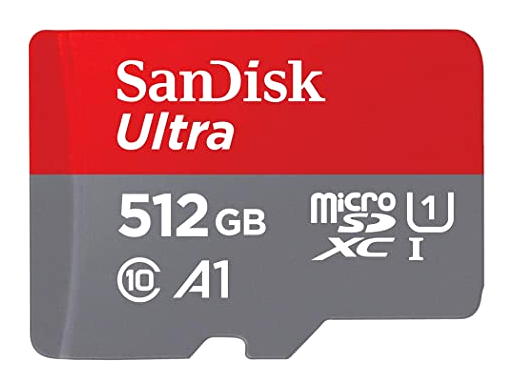 This card is a bit more modern. It's a Class 10, as redundantly noted with the 10 in the circle (lower left) and the "U" with the "1" within. Yes, the U1 means it's a Class 10. Not a Class 1 as you might expect. But people refer to this as "U1" because there's also a "U3" rating (but not a "U2"). That "I" by itself? That's another rating, it's a UHS-I performance code. Oy.
With a capacity of 512GB this SanDisk Ultra is an SDXC, as denoted by the XC on the card. That "A1" is yet another naming scheme for these cards, denoting that it's an A1 Application Performance Class. Often that's the easiest way to ensure you purchase a compatible MicroSD card for your device (currently there are A1 and A2 cards, but presumably the standard offers A3 and more as the tech keeps improving). Confused? Here's another card:
This one's pretty sweet, a U3 (meaning it's at least 30MB/s write speed and can sustain the write bandwidth needed to support 4K video at 120fps. Which is a darn lot of data. Samsung has its own naming too, so "EVO Select" is a Samsung branding thing. 512GB SDXC U3? This is a nice card that'll work for most applications and devices, no question.
But high end video brings its own requirements, so – I kid you not – they have their own naming scheme for MicroSD cards too. Video companies talk about V classes: V10 = U1 = Class 10 = 10MB/s. Got all those equivalents? Great! There's also V30 = U3 but there are faster devices too, V60 = 60MB/s and V90 = 90MB/s, what you'd need if you were shooting 8K video at 120fps. Way beyond any consumer level memory requirements, for sure.
With all that in mind, here's a cherry of a MicroSD card from Sandisk: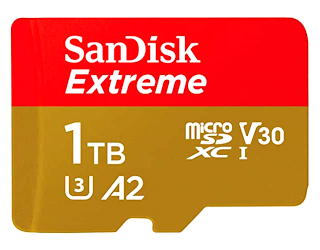 Here you can see that video class show up: V30. This is a U3, A2, V30, SDXC card with a capacity of 1TB. And yes, it's expensive, but now you can see not only how to read all these codes, but see how redundant they are. One can't help but wonder how many people are baffled and buy a card that's way more powerful than they need for their security cam or child's toy. Maybe that's the secret story behind this confusion.
Oh, and the camera companies aren't much better. Buy a beautiful new Nikon D5600 digital SLR and the manual specifies this for what kind of MicroSD card should be utilized: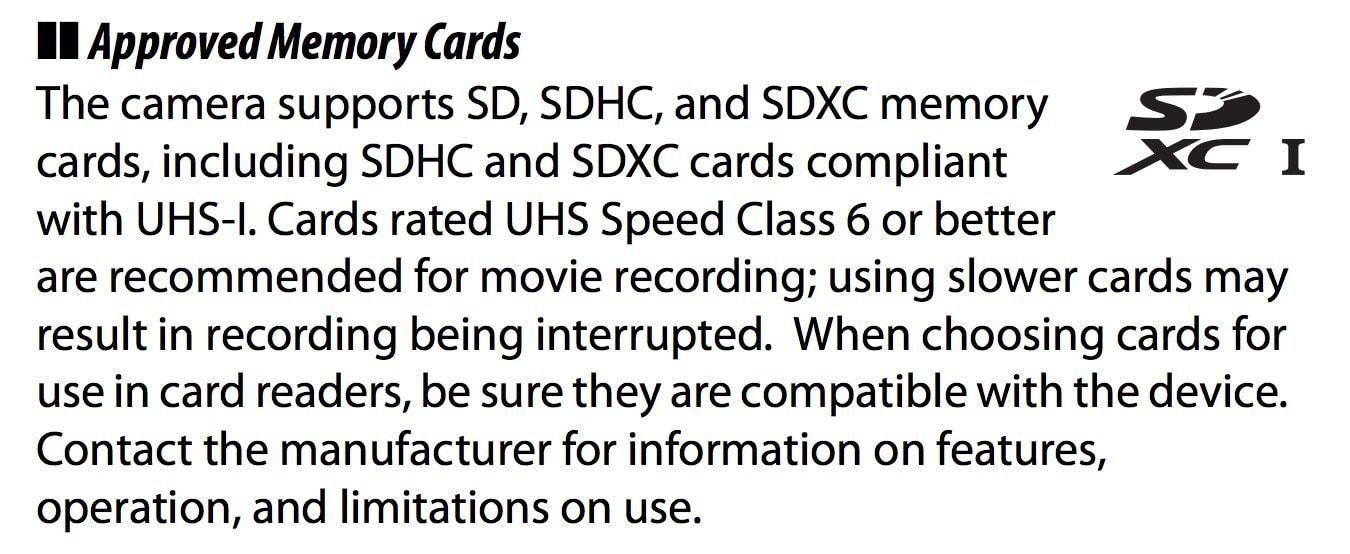 So they talk about "UHS Speed Class 6" but instead they should say V60, right? And that's exactly where customers end up baffled and afraid to click the 'buy' button on their new MicroSD card.
Will things clean up and simplify at some point? I doubt it. So bookmark this page so you have a handy reference to all of the crazy confusion swirling around memory cards for your device. And good luck!
Pro Tip: I've been writing about computing and tech for years. Please check out my extensive Computer and Internet Basics for tons of great tutorials and how-to guides while you're here!