I recently acquired a beautiful new Casio Edifice chronograph watch and want to sync it with my iPhone so I don't have to manually adjust the time. Casio's switched apps, however, so how do I pair and sync the watch with the CASIOWATCHES app?
I've been a fan of the Casio Edifice line for many years and have reviewed quite a few over on my YouTube channel. In fact, I have one on my wrist currently, the ECB-S100 "Honda Racing" edition watch with its distinctive white details and strap. It always garners attention and comments, people really like it and I like that it's always precisely on time due to it being Bluetooth sync'd with my phone.
However, getting it set up with the iPhone app [note: the Android app is identical!] can be a bit tricky because the company has obsoleted its old Edifice app and the new CASIOWATCHES app doesn't seem to know about every single variation of every watch model. Still, it's worth the work, so let me step you through how I got mine all sync'd up with my smartphone…
IDENTIFY YOUR EDIFICE MODEL NUMBER
If you have excellent eyesight you might be able just to read the back of your watch, but I find that the best approach is to take a photo and zoom in. With my watch, here's the back: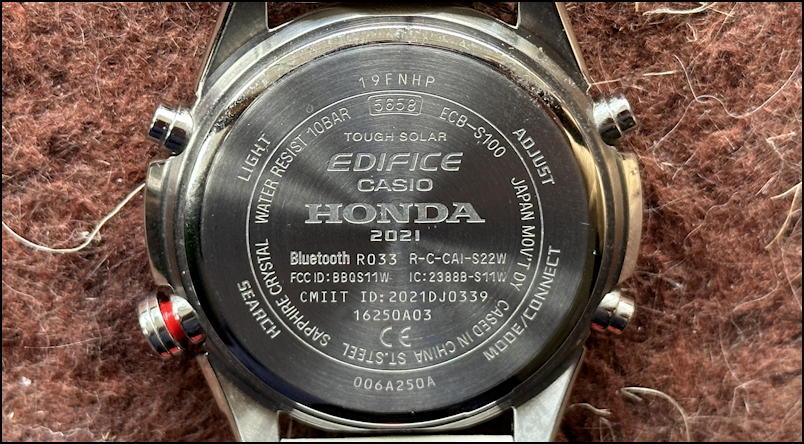 Notice that the outer circle identifies the functions of the four buttons, which is handy to remember. Much more important is the number in the box near the top – 5658 – and the actual model name, in this case, the ECB-S100. The other information is interesting if you're somewhat nerdy, with the FCC ID the United States wireless license, R-C-CAI-S22W indicating it's using BLE (Bluetooth low energy), and CMIIT ID related to the Chinese license required for wireless devices.
What's important, however, are the two items highlighted: Internals 5658 and Model ECB-S100.
GETTING THE RIGHT EDIFICE APP
Now you'll need to ensure you have downloaded the correct app for your Casio watch. You want CASIOWATCHES, which is the new unified app for their many lines. Here's the old and new app, side-by-side:
If you've been archiving lap data or similar from your Edifice in the Edifice app, you'll want to follow the migration information that "Edifice" now shows on launch. If you're starting anew or don't care about the historical data, download, install, and launch CASIOWATCHES. [iOS link | Android link]
LAUNCH CASIOWATCHES TO PROCEED
Ready to go? Let's do it! Launch the CASIOWATCHES app and tap on "My Watch" at the bottom. I already have another of my Edifice watches paired, but your display will likely be blank: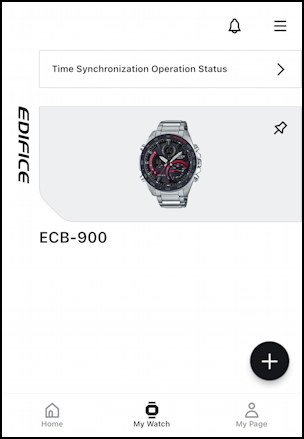 To add your new watch, tap on the "+" on the lower right. It'll now prompt you for that 4-digit number from the back of your watch:
Turns out that while Casio has hundreds of models in its Edifice lineup, a lot are cosmetically different but have the same internal module. It's that module ID that it's prompting for in this instance. Mine is 5658, but yours will likely be different. Enter it and tap "Next".
You'll then need to enter a model name (I call it style name, personally). Mine is the ECB-S100.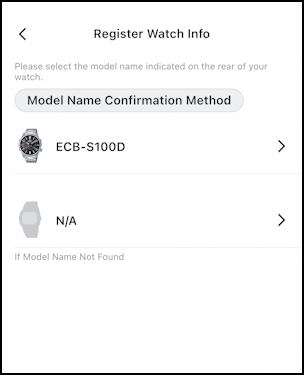 What do you notice here? There's no match for my Honda Racing watch. No worries, I'm going to choose "N/A" (not available) because it's still the right internal module so everything will work, it just won't have a nice picture. We can fix that later.
A tap on "N/A" and…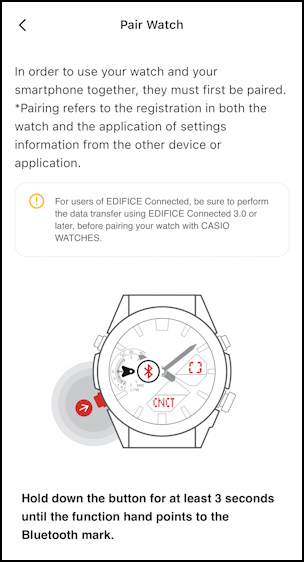 Every one of my Edifice watches does this pairing differently, so pay attention to what it indicates for your specific model. On mine, three seconds produces two beeps and a change in the inset dial faces to show "CNCT" for connected. After a few more seconds, the app recognizes the watch and pairs with it.
CASIOWATCHES PAIRED WITH AN EDIFICE WATCH
The screen goes grey and you suddenly see a progress display:
Once it finishes its handshake – maybe 8-10 seconds total – you'll see that the pairing was complete. If you were looking at your watch too, you probably saw it adjust the hour and minute hands to be perfectly in sync with your smartphone. On the phone, meanwhile, a rather surprising message appears that it's disconnected from the watch to conserve power:
Tap "Close", then tap on your watch in the list. Now tap and hold the appropriate button on your watch to connect. This time it'll be faster and you'll never have to enter model or style info again, and – the payoff for this entire task – will be able to finally program and set it up exactly to your preferences: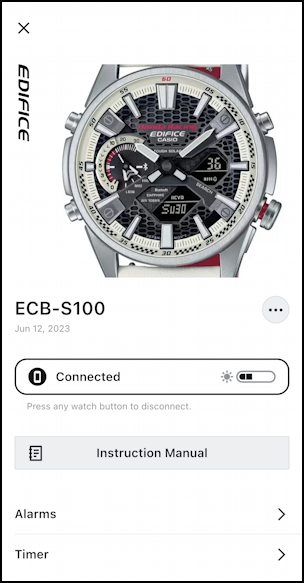 Note that you can use the "•••" button to rename the watch and choose any image from your library (I grabbed this one from the Edifice site via the Safari browser and a quick crop) to make it look like what's shown. Took me maybe 2-3 minutes tops.
CUSTOMIZE YOUR SETTINGS AND PREFERENCES
Now notice that I can see the battery level and even access the instruction manual with a single tap. Scroll down and it turns out you can set and adjust every single setting on your fancy watch: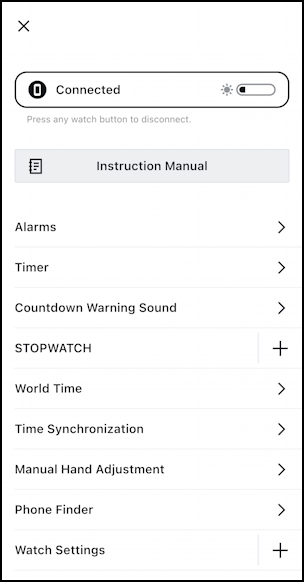 I suggest you check out Watch Settings and World Time to start, then explore all the many settings and options to see how easy it is to work with the Edifice watch. It's not a "smartwatch" but it's sure a lot smarter than an old Timex at this point too!
Finally, on my wrist, it really is a lovely watch, the Honda Racing edition of the ECB-S100: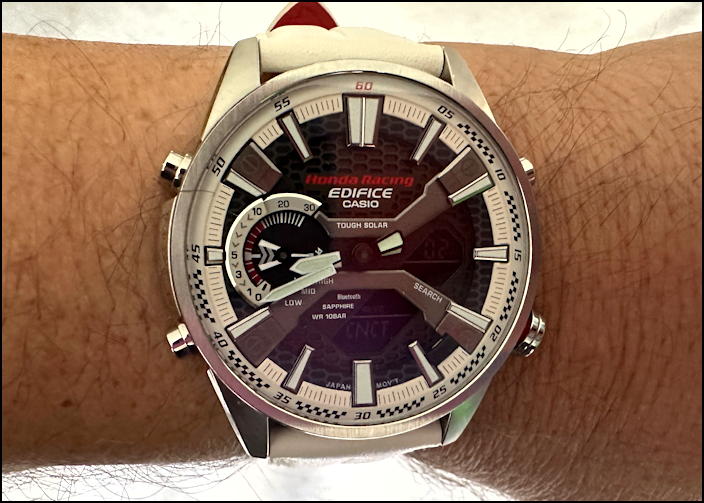 That's it. Pair the watch, and change the settings needed, then you can basically forget all about it for a few years, trusting that the app, phone, and watch will work together to keep you exactly on time!
Pro Tip: I have quite a few watch and smartwatch tutorials here on my site. Please check out my Apple Watch & Smartwatch Help for lots of useful content!