I really dislike what Apple did with the new Notifications that show up on my iPhone's lock screen. Is there some way to change it back to the older format so I can see everything without any interaction?
Smartphone software has gotten so good over the last few years that it seems developers struggle to figure out what they can change and improve to create a better user experience. Ya gotta keep upgrading, of course, and iPhone users tend to be better than most with quickly adopting updates from Apple. A typical cycle is that your phone auto-updates, you notice some curious changes in your user experience, then you realize that you're running a new version of iOS or Android. And then there are the occasional major changes to the user experience, new app icons, new spacing options, new notifications, even the "dynamic island" on the iPhone 14 line.
But while change is generally good, it's not always good, and a lot of people had the notifications on their iPhones change in relatively unexpected ways, which has caused more than a little grief in the user community. The good news is that you can switch the lock screen notifications back to the pre-iOS 16 format if you want. In fact, there are three different ways you can set up notifications and you can separately specify if you want detailed information in the notification itself or just that you received a notification from a specific app. Let's check it all out!
iOS 16 LOCK SCREEN NOTIFICATION FORMATS
There are three distinct formats for lockscreen notifications: count only, stacks, and lists. The simplest of them is "Count" and you can just barely see it on the bottom of this lockscreen view:
See it at the bottom? "2 Notifications". Very subtle, for sure.
Compare that to "Stacks", the new default setting for Notifications in Apple's iOS 16:
The "box" format of a notification, with the app's icon on the left, is the same, but the difference with Stacks is that newer notifications appear "over" older notifications. Compare that with "List" view:
Now it turns out that in any of these views, multiple notifications from the same app are going to stack (you can see that above in both the SwitchBot notifications and the stack of 3 messages from Ashley). Tap on a stack and it'll expand to show you each of the notifications from that app:
You can also get a view of all notifications, even those from before the last time you unlocked your phone, by swiping upward in the lock screen view: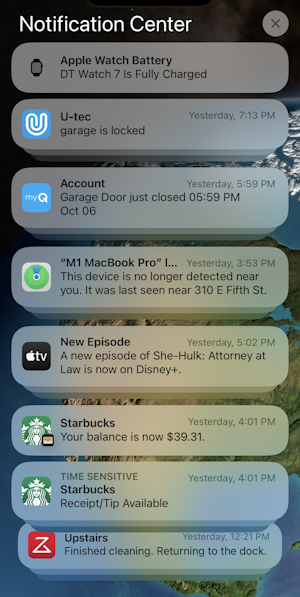 It's a tiny world unto itself, with its own rules and organization. Also, note in the above that Starbucks gets two different stacks because one is "Time Sensitive", as noted. We'll come back to these time sensitive notifications in a moment. For now, with these three examples shown, let's see how to change and try different options!
NOTIFICATION SETTINGS IN iOS16
Unlock your phone and go to "Settings"…
Luckily, "Notifications" are near the top. Tap on "Notifications".
There you can see the three main options demonstrated earlier: Count, Stack, and List. Choose the one you prefer, then lock your phone and wait a while to get some notifications and see how they are shown on the lock screen.
While we're here, though, go to "Show Previews" because this one is also important in terms of what's shown on the lock screen, though in a rather unintuitive way: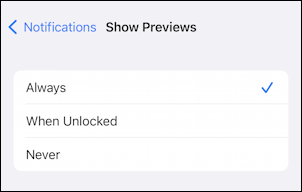 What's confusing is that if you specify "Never", it will still show the notification contents once the camera detects your face, even if you'd prefer for that not to happen. In other words, if you leave the room, the notifications are going to be appropriately vague, like "Messages: 1 Notification", but that camera's always analyzing what it can see and if you even look at your phone, they'll magically change to show you the notification contents. Cool feature, but it seems like there should be an option to disable that, don't you think?
PER-APP NOTIFICATIONS IN IOS16
On the main Notifications screen you might have noticed that each app has its own settings too. Very handy if you want to disable notifications from some apps but not others. This is also where those "time sensitive" notifications can be controlled. For example, from the Amazon shopping app:
Can't imagine why the Amazon app would have time sensitive notifications and should get special privileges? No worries, just disable it. Or you can turn off notifications entirely, stop them from showing up on the lock screen (as I have done by choosing "Notification Center" instead), enable or disable sounds, badges (on the app icon) and more. Lots and lots of customization, but the most important is "Allow Notifications". Over time you can make a mental list of apps that notify you but that you don't actually care about: For those, disable notifications.
That's it. Now you know quite a bit about how notifications work, are formatted and presented on the lock screen, and much more. I hope this is sufficient for you to get things set up perfectly for your needs!
Pro Tip: I've been writing tutorials for the Apple iPhone since it was first released. Please check out my extensive iPhone help area for lots and lots of useful content.