Typos have a tendency to creep into my Twitter posts and I don't notice until they're published. Is there any way to edit tweets after they've been published? How about with Twitter Blue?
From the beginning, Twitter has been the social media equivalent of a write-only hard disk: You published a tweet and that was it. You could delete it, but there was no way to edit or update it, even just a few seconds after clicking on that "post" button. In fact, the ability to edit tweets proved to be quite controversial and it took quite a while for Twitter to offer it as a capability at all. The issue people complained about was that someone could post something that upset others, then edit it to be benign and inoffensive.
Twitter finally solved this by having two constraints around editing tweets: first, you can only edit a tweet within 30 minutes of posting it (with a max of 5 updates during that period) and second, the entire edit history of the tweet will be visible to anyone who wants to click and see how it changed. There's a third constraint with tweet editing currently too that's worth mentioning: Only people who are paying for Twitter Blue have access to the editor feature. To show how it all works, I signed up @DaveTaylor for Twitter Blue.
POSTING A TWEET WORTH EDITING
Instead of just a mundane tweet, I thought it would be fun to ask ChatGPT to assist. I asked it to write "a limerick about being able to edit tweets on twitter". Here's how it did: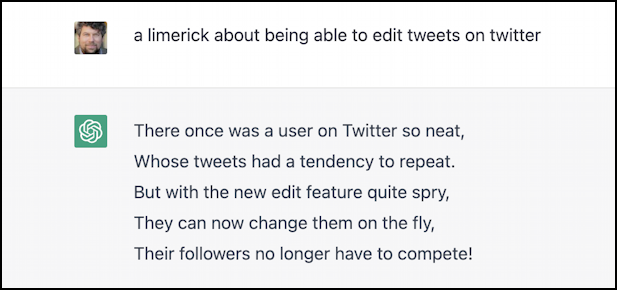 Not a great limerick, but plenty enough for us to proceed.
On Twitter, posting new content is easy enough…
There are plenty of other things you can do to bling out a tweet, of course, from adding pictures to a poll, emoji to tagging a location, but I'm just going to click "Tweet"…
The system actually has a time delay of about 10 seconds, during which time you can change your mind by clicking "Undo". Don't want to wait? Click "Send now" and it's posted.
HOW TO EDIT A POSTED TWEET ON TWITTER
Now that it's posted, the live post display is a bit different, including reaction icons:
Twitter offers me the chance to promote this tweet by paying for advertising and visibility, but that's a sidetrack for now. Notice, by the way, the blue checkmark adjacent to my name: Twitter Blue!
But… that limerick kinda bugs me as it just doesn't quite work properly. To fix it up, since it's only 1-minute old, I can edit the content of the tweet by clicking on the "•••" icon on the right. A menu appears:
Most of these everyone on Twitter sees – you can always delete your tweet! – but with Twitter Blue I have that last menu option: "Edit Tweet". A click on it and Twitter offers an interesting warning:
If you're okay proceeding then click "Got it" and you'll be in a simple edit window. For the demo, I'll make a few tweaks to the first two lines of the limerick and repost it.
IDENTIFYING EDITED TWEETS
Now my tweet reads and looks just slightly different to everyone: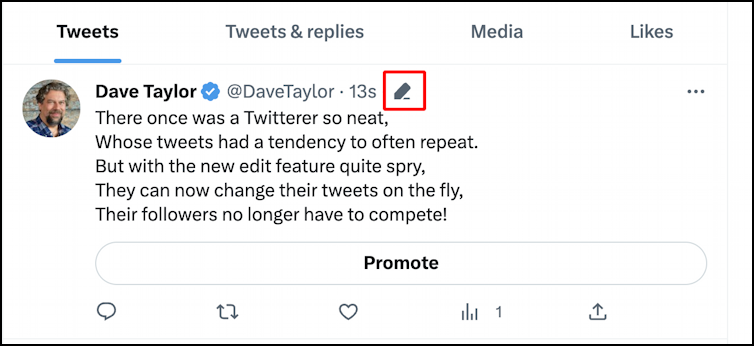 I've highlighted the new icon that's shown up: The pencil denotes that this particular tweet has been edited subsequent to being posted. Click on the pencil icon and you'll see more:
Look at the bottom: "Last edited 8:53 AM • Feb 9, 2023 • 1 View". Click on that info line and you'll see a history of all versions of the tweet: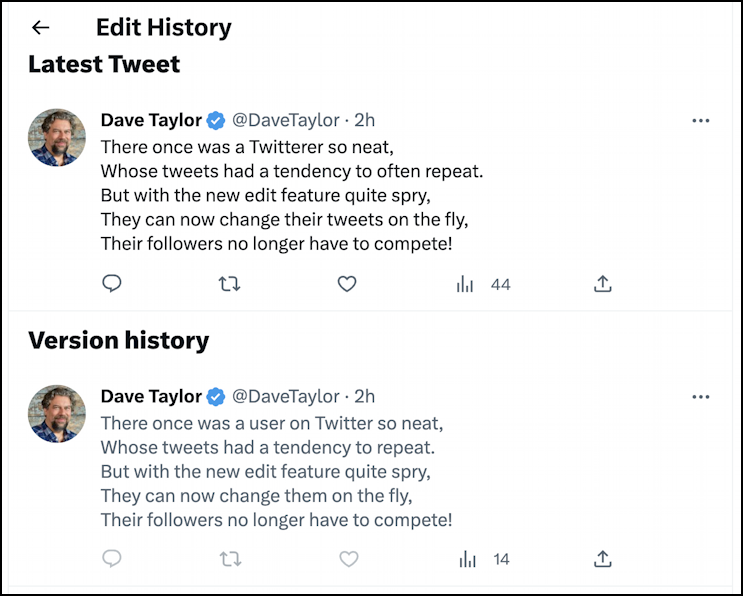 It would be the rare person who would notice the pencil icon and click thru to see what's been updated, but I do appreciate that the information is available. It's not obvious how big a deal it is that someone's updated their tweet, but now you know how to identify tweets from others that have been edited (look for the pencil icon) and that you can click on the pencil icon to see when it was edited and what they changed.
Oh, and if you miss that 30 minute window, you'll see this when you choose "Edit Tweet" instead:
That's it. Now, should you sign up for Twitter Blue? I'll let you decide if the modest monthly fee is justified for how you use the popular social media service or not.
Pro Tip: I've been on Twitter since the early days and have written lots and lots of useful tutorials. Please check out my twitter help area for more useful guides. Oh, and why not follow me, @DaveTaylor, on Twitter too? Thanks!