My boss wants me to track changes as I edit some documents, but I don't know how to do that. I know Microsoft Word on my Mac has change tracking, but how do I actually use it? Thanks!
Imagine, someone edits your document and you have to remember everything you'd originally written so you could see all of the things that have changed. Yes, rather OG, but still, change tracking really is a fantastic improvement for any material you have revised, edited, or rewritten. It's also been an essential part of Microsoft Word for years and years, one of the most important capabilities of the tremendously popular application. Add a couple of editors, implement multiple edit passes and it can be complicated as heck, however, a veritable sea of digital red ink. Fortunately, Word has ways you can minimize chaotic markup if you prefer.
Probably the most important thing to know with revision tracking in Word, however, is how to accept or reject the changes. Yes, you are empowered and can say "no!" to a suggested edit or change that you don't like. Did someone cut out a phrase you really love? You don't have to accept the edits applied to the document!
Let's have a look…
HOW TO ENABLE CHANGE TRACKING IN WORD
I'm going to be using Microsoft Word for Mac, but the Word interface is pretty darn similar across both Mac and PC at this point, so even if you're on a Windows system, you'll be able to follow along. Here's the top "home" ribbon toolbar in the latest version of Word: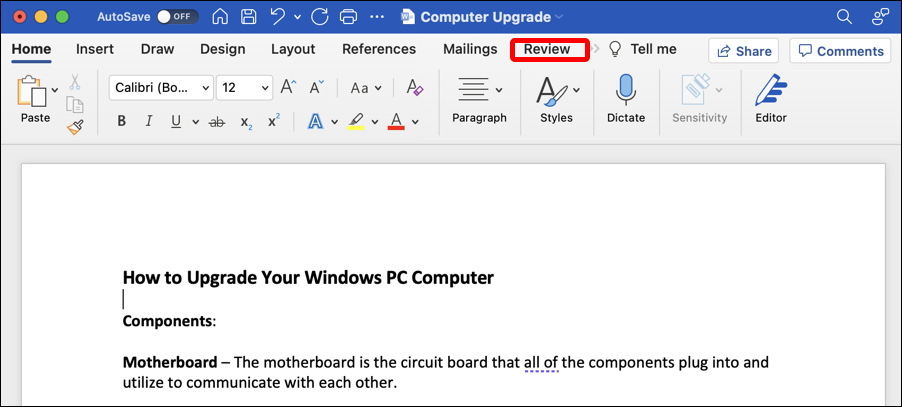 Yes, the control toolbar along the top of your document is known as the "ribbon" or "ribbon bar", though I expect you've bumped into that name before now. And yes, you can revise 'em to your heart's delight. The default view is "Home", as denoted by the blue line under the word "Home" on the top left. Click or tap on "Review" – highlighted above – to switch to the Change Tracking ribbon instead.
That looks like this:
One cool thing about Word is that these ribbon bars change appearance quite a bit as your overall document window narrows and widens. Try it! If you can, they work best with very wide windows, so that's how I generally edit docs.
Click on "Tracking" and a tiny window pops up: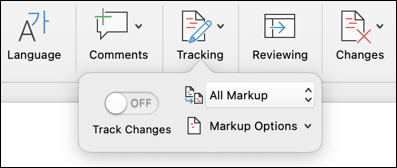 If you have a really wide window, all of these controls will be in the ribbon bar directly, but either way, you'll want to click on the control to turn ON "Track Changes".
SIMPLE VERSUS ALL CHANGE TRACKING
Once you've enabled Track Changes, you need to decide just how detailed you want those revision marks to be. There are two basic choices, as the "All Markup" menu shows: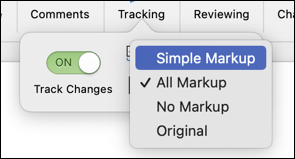 Simple markup is definitely more low key. If I change a sentence, all that's shown is a change bar on the left:

If I switch to "All Markup" (the default), a lot more shows up:

Notice that the changed text is now a different color and that there's an explanation of what else has changed in the right margin. The change explanations vanish once the edits are accepted or rejected, as does the dotted line, etc. These are for your convenience and once you get the hang of it, they're terrific, particularly if you have multiple editors.
As you revise the document, these margin notes can become rather intertwined:

Notice that it indicates formatting changes, along with words and phrase deleted. Words added are simply shown in red so they tend not to get margin commentary.
HOW TO EMBED A COMMENT IN A WORD DOC
Another really handy thing you can do with Microsoft Word when you're tracking revisions and changes is adding a "comment" to a specific word or phrase. To do that, click and drag to select the word or phrase upon which you want to comment, then click on "New Comment":

These comments then show up as yet more material in the right margin notes:

Notice that the word or phrase also has a subtle highlight, readers can also just move their cursor over that spot and have the comment pop up. In practice, this can be super helpful, particularly if you're reviewing content, not editing it.
HOW TO ACCEPT OR REJECT CHANGES IN MS WORD
Now let's imagine you receive a version of a document from your boss that already has a bunch of revisions. The Track Changes feature in Word shows you each and every change, but how do you accept – or reject – them so you can clean up all the revision tracking and keep working on the document?
That's what these two buttons are for in the Review ribbon bar: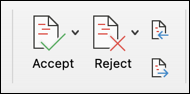 What isn't obvious is that there's a menu of even more useful options:
If you have a trusted editor in the pipeline, you can "Accept All Changes" (but remember that Track Changes is still enabled so it'll keep track as you keep working on the document unless you disable it). The most common is "Accept and Move to Next" so you can step through all of the revisions. The Reject button has similar features, including "Reject All Changes", which will probably get your boss just a bit miffed. Still, now you know how to use these features, and that's what's most important!
Pro Tip: I've been using and writing about Microsoft's Office Suite for many years. Please check out my  Office 365 help pages, along with my quite extensive MacOS Help Library for tons of additional tutorials to help you be a happy Mac user too! Thanks.