I have a lot of friends on Facebook. That's good. But what's not good is that some of them seem to like inviting me to weekly events that I either can't possibly attend because of where they live or because I just really don't want to go. What's the easiest way to block 'em from inviting me?
I feel your pain with my thousands of Facebook "friends" (I use quotes because, really, while many of them are friends, others are people I met at a trade show or otherwise am connected with but don't really know and probably wouldn't recognize if we were at the same party. Not really friends at all, are they?) I also seem to get invited to lots of events that I'm not interested in and really have no way of attending anyway. Opening night party in Manhattan for your new book? Unless the invite includes a plane ticket, I'm unable to attend. Great opportunity to join your exclusive webinar to learn fifty ways to earn a million dollars? It just ain't so and I'm not interested anyway. And why is a webinar an "event" anyway?
What makes this all more frustrating is that the default response if you don't explicitly decline a Facebook event invitation is to accept it and since I automatically have my calendar subscribed to my Facebook event feed, if I don't decline events they show up on my calendar, however banal or distant they may be. I really wish I could change that default to "if I don't respond in time, just assume I meant to click "decline".
Anyway, the day your question came in, I got another invitation from Facebook for a get-rich-quick event.
It started subtly:

You've seen that before too after you click on the "Events".
Click on "Invites" and let's have a look!

Sure, sure, 8-figure earner (which would mean he earns over $10 million a year) and he's going to waste his time hosting an online event? If I were earning ten million dollars/year, I'd be out playing and having fun. Wouldn't you?
Anyway, I don't really care whether it's legit or not, I just want to not only decline this event (easily done with the "Decline" button, of course) but want to block Davin from inviting me to subsequent events down the road.
That's easily done by just copying and pasting his name, then clicking on the three-horizontal-line button on the top right of the page to bring up the privacy shortcuts menu:
You can – and should – explore these settings, but for now, just click on "See More Settings" at the bottom.
That brings you to the main privacy and settings area in Facebook. On the left, look for "Privacy":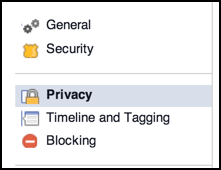 Click on "Privacy" and there are a number of sections, including the one you seek, "Block invites from":
You can see that there are some people already on the list in my case. Turns out, this is a really long list for me, muchly because of the "default to yes" setup.
To add Davin to the list, simply paste his name into the box adjacent to "Block invites from". Press return.
Done.
That's all there is. And down the road if you change your mind, notice the "Unblock" link adjacent to each person…