I love FaceTime, but one of my friends is on Android and has a PC, they're not part of the Apple world. Can I FaceTime with them on their Windows system or add them to a group FaceTime call?
It used to be the case that FaceTime was for Apple users and it was an exclusive club; if you didn't have gear with an Apple logo on it, you weren't able to join the club. Apple's been realizing that this closed ecosystem was causing frustration for users, however, and while there aren't yet apps for Windows or Android the latest generation of Web browsers are more than capable of supporting live two-way video! In other words, yes, you can indeed hook your friend into your FaceTime calls whether they're on Android, their PC, or they buckle under to peer pressure and buy an iPad or MacBook Air!
To demonstrate how to do this, it's going to require me bouncing back and forth between an Apple iPhone and a Windows PC running the latest version of Windows 11 and with Microsoft Edge as the default Web browser. Easiest is to start with the iPhone as the initiator of the FaceTime call. Notice that the process is the same if there are two people on the call or a half-dozen…
CREATE A FACETIME GROUP CALL
First up, fire up FaceTime on your iPhone, iPad or Mac system. Here's what you'll see:
At this point, don't tap on New FaceTime but instead tap on "Create Link": You need to send a link to your PC friend so they can get their Web browser to do the work as needed.
Once you tap on "Create Link", here's what you'll see: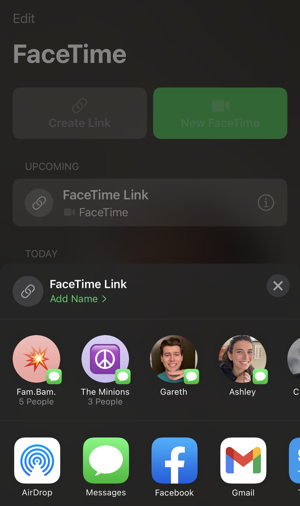 I'm going to just send the link via a Gmail email message, so I'll tap on the Gmail icon along the bottom. You could, of course, choose to send it via text message, Facebook, or any of a wide variety of different channels.
Next up is the message itself:
You can add more verbiage if you want, or you can just send the link (and even to more than one person!) with a tap on the Send icon once you've entered the recipient addresses.
Done. Now you'll just sit in FaceTime waiting for people to show up…
RECEIVING A FACETIME LINK AND JOINING A CALL
On the PC, meanwhile, once your friend clicks on the embedded FaceTime link, they'll see something like this in their Web browser:
Time for them to enter their name, either directly or with a bit of humor. Once they then click on "Continue", they'll have to allow the browser to access their microphone and webcam…
They'll need to allow the browser to access both their microphone and camera to proceed, and once they do, they'll finally be here:
Notice on the lower left the green "Join" button: If they don't click that button, they'll just look at themselves but never be part of the FaceTime call!
Once they click on "Join" they'll be in a holding queue for you, the FaceTime call originator, to approve. They'll see this:
Notice on the top "Waiting to be let in…". That's how they know they're not in the call yet, but in the queue.
Meanwhile, on the iPhone…
ACCEPTING A NEW PERSON TO YOUR FACETIME CALL
On the iPhone, meanwhile, I've started the call and the screen has switched to this:
Notice along the top that I haven't yet joined the call either! It's as if there's a separate room that everyone has to "step into". You can do this by tapping on "Join", or, easier, just review the person waiting to join the call. Check on who they are by tapping on "1 person waiting"…
Now you can see your friend in the queue – "Wants to join" – and what name they used ("The Notorious Dr D"). Want to give them the boot? Tap on the red "X". Want to allow them to join? Tap on the green checkmark icon.
Then you're connected!
TWO PERSON FACETIME CALL, IPHONE AND WINDOWS PC
On the PC they'll suddenly see you show up!
And on the iPhone, they show up:
That's it, you're on a two person FaceTime call, with one person on an Apple product and the other on a Windows PC! To end the call, you can either tap on "End" on the top right to drop them or they can "Leave" by bringing up their on-screen navigational window:
(In the above, the street view is the iPhone's camera, and the lower right is the view of the webcam within the Microsoft Edge browser on the PC)
That's it. Once you figure out what's what, it's actually pretty straightforward to have PC and Android users join the fun of a FaceTime call!
Helpful Tip: I've been writing about Windows for many years and now have an extensive Windows 10 & Windows 11 help area. Please check it out to find lots of additional tutorials and guides while you're here. Thanks!