I've been using Google Calendar for a while, but would like to have a backup of my calendar in Apple's iCal program so I can dump a copy of it onto my iPod and other iCal-compatible devices. But how the heck do I get data out of Gcal?
This is something doable, but it's darn tricky, actually, though you'd think that Google would make export as easy as importing calendars, but it just ain't…
You'll want to log in to your Google Calendar account, then click on Manage Calendars just under the list of calendar names on the left side: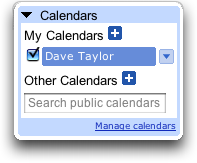 Now you'll see a list of your calendars and a second list of any shared calendars that you have connected to your account: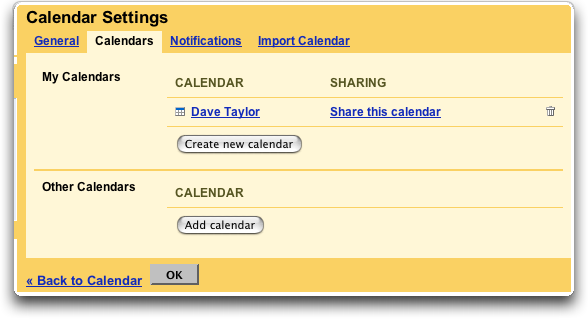 Next step is to click on your calendar — here I'll click on "Dave Taylor" — at which point you'll see a bunch of calendar settings. Scroll down to the bottom: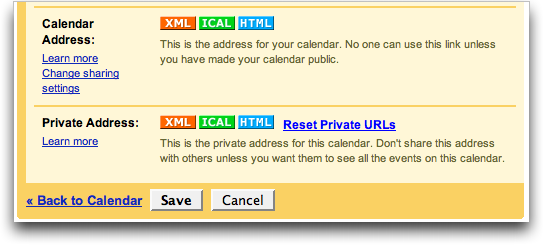 What you want to do is right-click on the ICAL button in the "Private Address" line (right click = ctrl-click if you have a one-button mouse) and chose either "download linked file" or "save link as", depending on what browser you're using: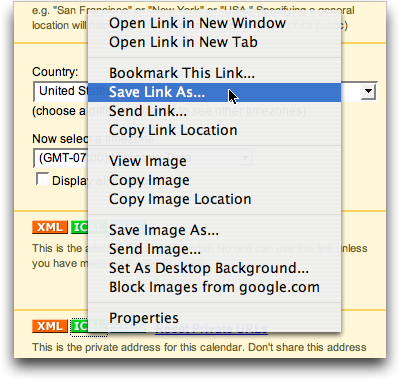 That'll give you a Google Calendar export in iCal format. Give it a while to export and eventually you will have a file on your desktop in ".ics" format, perfect for importing into iCal.
Open up the iCal data file by double-clicking it and iCal will start up and begin the import process. It starts by asking what calendar you should use for the import events: just choose "Untitled" for now: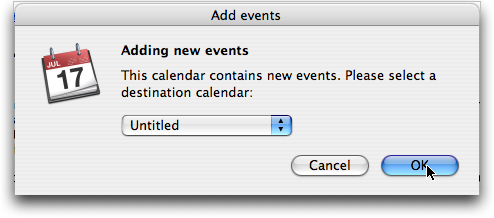 The next step in this journey is that you get to watch iCal slowly but surely bring your events into the program:



Eventually (my import took about seven minutes) you'll see your full iCal calendar, with all your Google Calendar events present. And that's all there is to it.
Note: if you want to set up a bidirectional pipeline or even automate the export of your Google Calendar into iCal, you'll want to check out the (currently in beta)
Spanning Sync
utility. One worth watching when it's out of beta and in full, safe production mode.