If you're like me, you've been watching video content on YouTube for years. But have you ever really dug into the video player to learn about all the many controls and features embedded in this powerful app? Here's a quick primer…
It's easy to get into a groove with technology, finding the button, switch and feature that you want to use and never exploring any other facet of a program, app or interface. That's one reason that kids seem to be so much better at technology, actually; they haven't yet found the optimal or easiest way to accomplish something so they click, tap and poke around, trying to figure out how things work. If your 8yo has ever gotten onto your smartphone, you know exactly what I mean!
Unfortunately, this also means that you probably aren't getting all the power out of common programs that you can. On the Mac, for example, did you know that you can edit and change video formats in QuickTime Player? On the PC did you know you could edit screen captures in the Snip & Sketch program to trim down their size before emailing them to your friends or family?
The same thing is true of the video player that's used to let you watch YouTube videos on your Mac or PC. Yes you can just click on the video to start playing it – or it might auto-play – but turns out that there's quite a lot that little player can do and some of its features are quite remarkable! Let's have a look…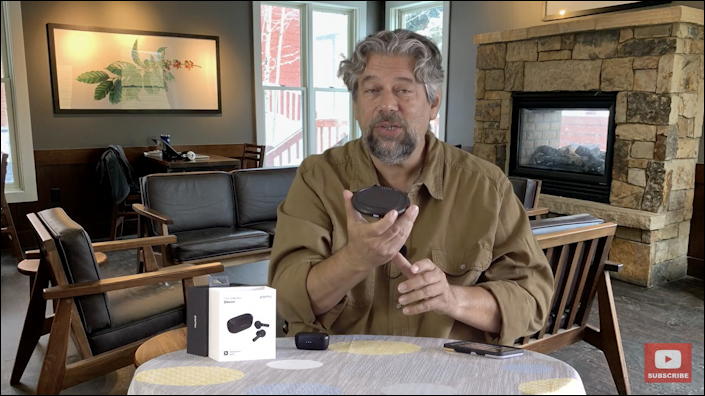 Here I am talking about a pair of earbuds in one of my own YouTube consumer electronics product reviews. If you've watched any of my reviews [all on the AskDaveTaylor on YouTube channel, check it out!] you're familiar with a view like the above, with the little red subscribe button on the lower right. Pretty straightforward.
Move the cursor over the playback window and a bunch of controls appear along the bottom: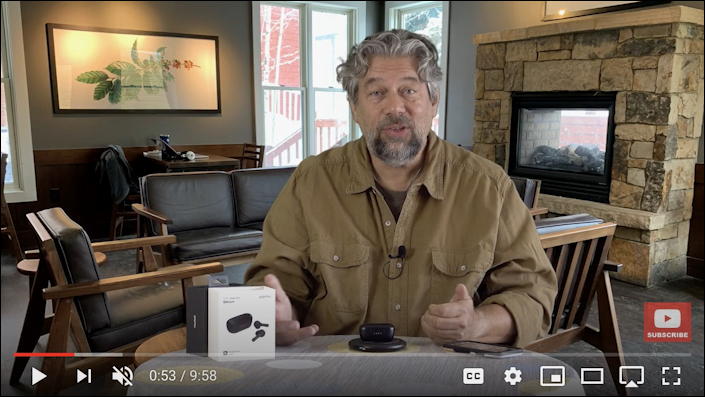 A few are pretty obvious, but what are all those little icons on the lower right? I bet you've never explored to see what they all do. So let's do that! Here they are, all just a bit bigger:

The left cluster are playback controls. Play/Pause, skip forward, mute / volume, and current time mark in the video and total video duration. In this instance, we're 0:53 minutes into a 9:58 minute video.
Where things get interesting is the right cluster. CC allows you to turn on closed captions (great if you want to watch but not disturb people with the audio portion), the gear icon is Settings (in the above, it's showing that I am watching a high definition or "HD" video stream), mini-player, theater mode, Airplay and full-screen. We'll dig into settings in just a second, but the mini-player pops up a new window that you can tuck into a corner of your screen to keep track of, say, a live streaming baseball game or engaging product review while your primary attention is on something else like a Zoom call with the boss 🙂
Theater mode basically stretches out the video to give you a larger playback view without leaving the current YouTube page. It's a great mode if you constantly wish that the YouTube viewer was just a bit bigger on screen. Airplay lets you wirelessly beam the video signal to a supported television or TV set top device, and full screen lets the video take over your entire computer screen. Went to full screen? Press the Escape or Esc key to return when you're done.
Settings can be one of the most important because it lets you fine tune exactly what video format you want and much more. I often use it to force high definition (which looks way better full screen) even if I'm on a slower network connection. Here are the basic settings: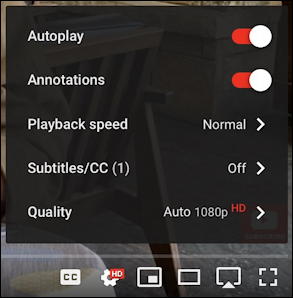 Generally speaking, the defaults are what you want, including its autodetecting the best playback quality, but it's nice to know that you can change things – including speeding up or slowing down the playback speed!
I have a variety of devices in the office so for me AirPlay offers a number of choices:

The AppleTV is actually hooked up to the Family Room Display; it and the Vizio 50 are both Vizio HD televisions with built-in support for AirPlay. This means that I can choose, for example, Vizio 50 and watch as the video switches to streaming right on the television, no wires required. A terrific feature and one I use just about daily!
Note that you might not have an AirPlay button if there are no options found on your local wifi network. If you have any Chromecast devices, however, a Cast button should show up instead. Or both, theoretically. Really want this feature but don't have either? Buy yourself a Google Chromecast unit (around $30), plug it into your TV and you're good to go!
Here's another fun thing you can try, something most people don't realize: Right click (or if you're on a Mac, Control-click) directly in the video playback window and you can bring up the playback menu: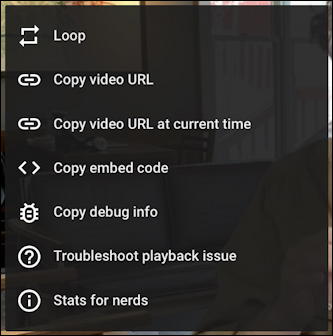 As you can see, some really interesting options, and doubly so if you're a bit nerdy. In fact, let's see what the Stats for nerds reveals about this particular video playback session:
What does it all mean? If ya gotta ask, well, maybe you ain't so much a nerd as you think! I don't understand it either, tho, so there's a data point for you 🙂
Finally, while you can easily choose Copy video URL from the context menu, if you want to share a video on social media, the best way is to use the YouTube share window. Just below the playback window should be this cluster of information:

Likes and dislikes are a good feedback mechanism but in this instance it's the SHARE feature we want to utilize. Click on SHARE to proceed and a window pops up: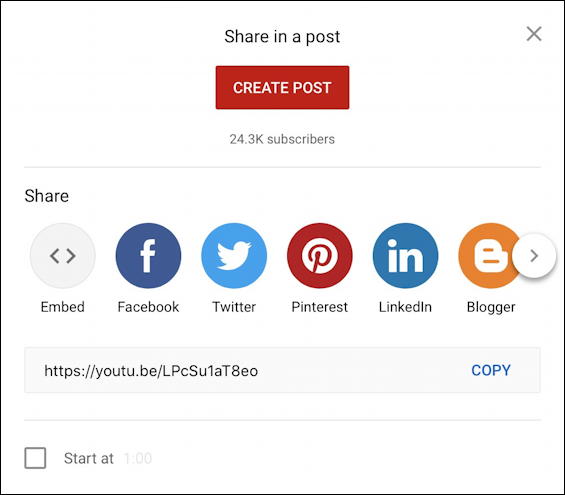 That's it, the best and smartest way to share a video. Notice also on the very bottom you can actually share it so the video starts at a particular moment too, rather than telling people "skip to 3:17" or similar. Just adjust the video progress bar to get to just a second or two before your desired start point, then from this SHARE window, click "Start at". Then share it on Facebook, Twitter, Pinterest, LinkedIn, etc etc.
That's it. Lots of really cool features and capabilities hidden in that YouTube playback window. Try them out, let me know what you think!
Pro Tip: As a YouTuber – AskDaveTaylor – I have learned quite a bit about how to work with and get the most out of YouTube. Please do check out my other YouTube help tutorials for more ideas for viewers and video creators both. Thanks!