My clients like to work on shared documents in Google Docs. That's fine, but my Internet connection can be spotty and it's really frustrating to have my documents "go offline" and be unable to edit them. How can I enable offline access for Google Docs?
I like to think of Google Docs as having evolved in two distinct phases. First, there was the always-online version where you could edit within a Web browser as if it were a standalone app. Then, phase two, the ability to actually work on documents while you were offline, with all of your changes and updates saved and auto-applied once you were online again. It's a pretty cool trick if you think about it, with the only problem being that while you're editing offline, your clients have no way of knowing that you're changing things. But… that'd be true if you were using Microsoft Word or Apple Pages on your local system too, right?
It's pretty easy to set up Offline Access for Google Docs, but it's going to work best in Google Chrome or any of the Chromium-based Web browsers like Microsoft Edge. I use Edge, so that's what I'll utilize for this tutorial, but the process would be completely identical in Chrome. Ready? Let's get to it!
REQUEST OFFLINE ACCESS IN GOOGLE DOCS
To start out, I'll jump into Google Docs by going to docs.google.com and changing it to show only my docs, sorted by last access date: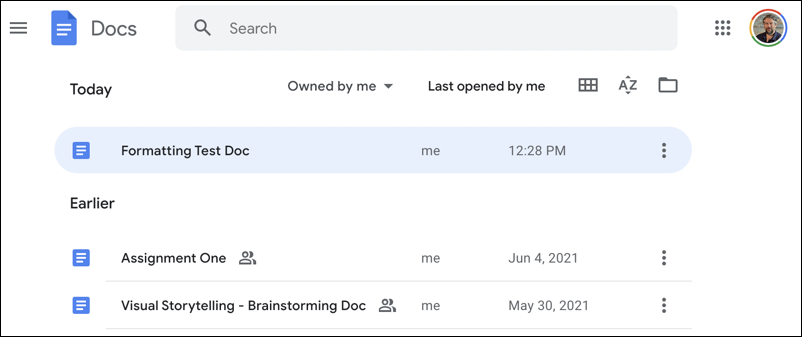 I'm going to set up offline access for "Formatting Test Doc". To start out, a click on the three vertical dots on that particular file's entry here in list view offers this menu: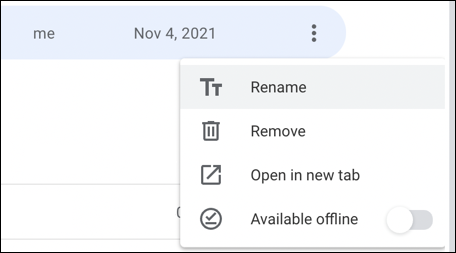 As you might guess, the key is to click on the slider icon adjacent to "Available offline". Once you do that, you'll immediately be prompted to install the necessary Chrome extension:
Time to install the extension.
INSTALL THE GOOGLE DOCS OFFLINE ACCESS EXTENSION
It's easy enough, click on the "Install" button (or, if you want to get here a different way, go to the Extensions library and search for "Docs Offline"). It moves you here: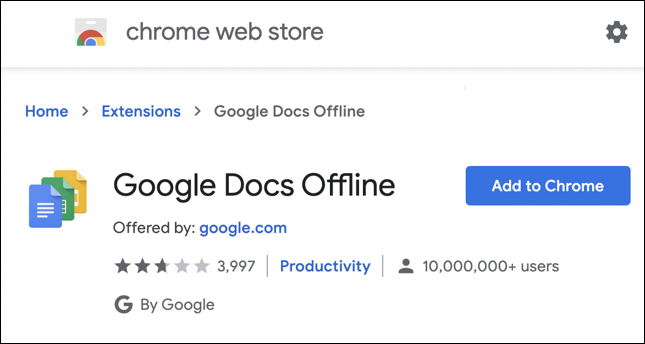 Yes, you need to be online to install the offline access Chrome extension. 😆
Click on "Add to Chrome" (even if you're using Microsoft Edge) and it's a matter of a few seconds to have it installed and ready to go. Good news is that  there's no reason to quit and restart the browser either; it just adds the new feature immediately.
ENABLE OFFLINE ACCESS FOR GOOGLE DOCS
Now go back to your Google Docs view and click on the three-dot icon again. On the menu you again see "Available offline" but this time when you click on the switch to enable it, you'll see this prompt:
Unfortunately, it doesn't appear that you can pick and choose individual documents at this point, it's an all or nothing step. Once you click on "Turn on" then it'll start downloading copies of all your documents in the background, while showing you this on the lower left edge:

Now, finally, you'll see that slider switch in the doc's preferences menu blue:
Note the tiny icon adjacent, the checkmark and line in a circle. That shows up again in the overall list view to denote which documents are available offline:
Open up the document and when you view information about it by clicking on the tiny cloud icon, you will see that it's available for offline editing too:
Interestingly, if you are offline, the status adjacent to the cloud changes as you make edits:
That's it. You should now be able to work on your client docs without worrying about your spotty connectivity!
Pro Tip: I've written quite a bit about Gmail and Google services. Please check out my Google Docs, Chrome and Gmail help library for lots more tutorials while you're visiting!