I'm enjoying using Google Play Music and love that once I upload my music I can access it anywhere from my Android phone or laptop. But I wish I didn't have to keep switching to my Google Music tab in Chrome on my Mac to skip tracks or pause the music. Don't they have a mini-player like iTunes?
Ten years ago it would have been hard to imagine that we'd have such a ridiculous wealth of choices in the music space. Between the curated music channels, the streaming services, the live radio stations and the customizable playlists, it's a whole new world for music lovers regardless of your genre. I'm old school, however, and have hundreds of CDs full of my favorite artists and soundtracks and want to listen to my music more often than I want to listen to semi-random music that's supposedly "similar" to mine but is just as likely to be from a band I dislike.
On a nice big desktop computer it's fairly easy to allocate a dozen or two gigabytes of storage to music, but mobile devices and more expensive SSD drives mean that space might just be needed by something more important to your daily work. Enter the cloud music service. And Google Play [the official name, not "Google Music" or "Google Play Music"], of course, ties neatly into the Android world too, so all you need to do is log in and have a live Internet connection and you can listen to your entire music library, access all your playlists, favorite artists, etc, without wasting a megabyte of precious local storage.
But it's hard to have an elegant user interface on a service that's based in a Web browser page. Which is why it's great that Google just added a miniplayer to Google Play. Your timing is impeccable!
When you're on Google Play, the bottom strip of the window looks like this:

Lots of options (one of which is from Chromecast, if you're wondering about the square with the wifi "waves" on the lower left). The link to tap for this task is the three vertical dots adjacent to the track title.
Click on it and a menu appears: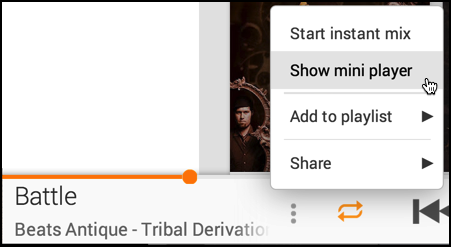 "Show mini player" sounds like a good option. Is it really that easy?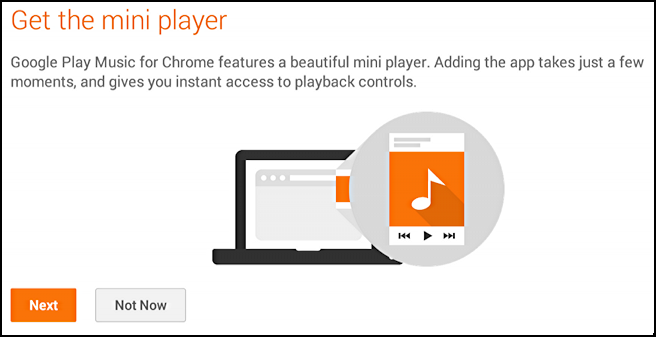 This is only in Google Chrome. In other browsers it's just not an option for now.
Click on "Next" to proceed and it'll download and install "Google Play Music" (ah, here it is called that. So confusing):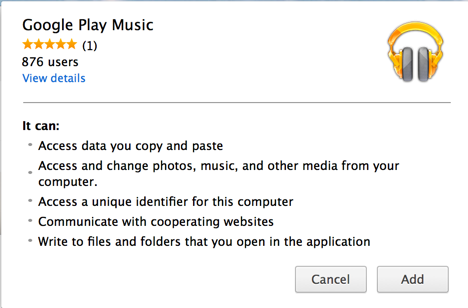 Assuming you click "Add", of course.
And it launches! Now on the lower right corner of your screen is a pop-up window: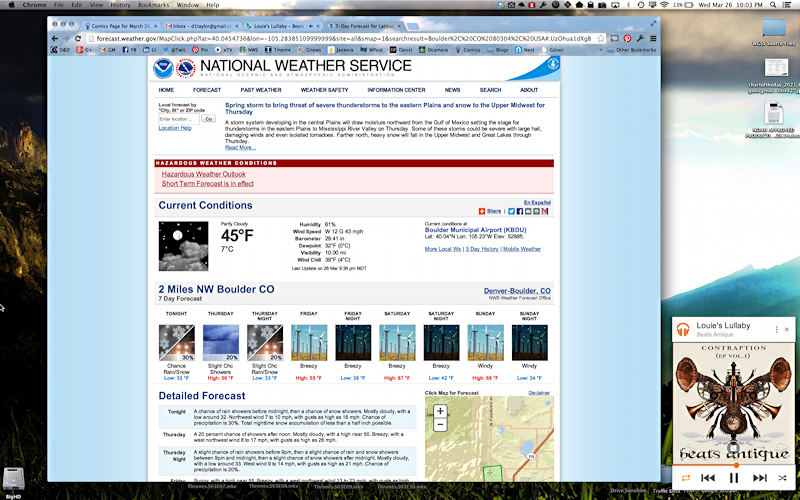 Let's look a bit more closely: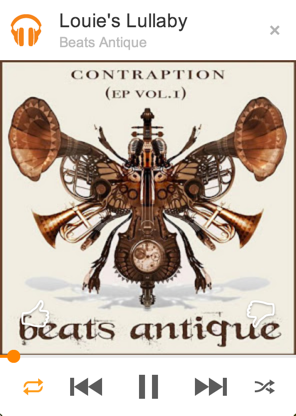 Very nice. Don't get too zealous about closing the Google Play tab in Chrome, however, or you'll end up with this instead: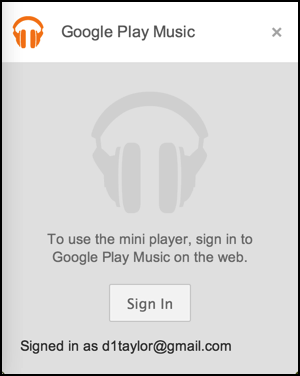 Not so good. Still, if you can keep it open — or even minimize that window in Chrome — it works really well and makes your music collection far more accessible and enjoyable.