I just got an email from eBay asking me to update my personal info. But I'm very skeptical about scammers and don't believe it's legit. How can I tell if it's really from eBay?
You're spot on to be skeptical and suspicious of every email that shows up in your inbox. While there are companies that send legitimate messages to you inviting you to click to log in, check your account status, verify your email address, whatever, there are also lots of scammers and spammers out there. They'll send you bogus messages called phishing email that will look legit but take you to a fake Web page so that they can collect your account information. Not good.
Which makes it even that much more surprising that the major online companies are still sending out emails with login links and buttons, actually. You'd think that they'd just stop so that there wasn't the continual question of whether the message you received was real or not.
But eBay does indeed send out these sort of messages! Let's have a look…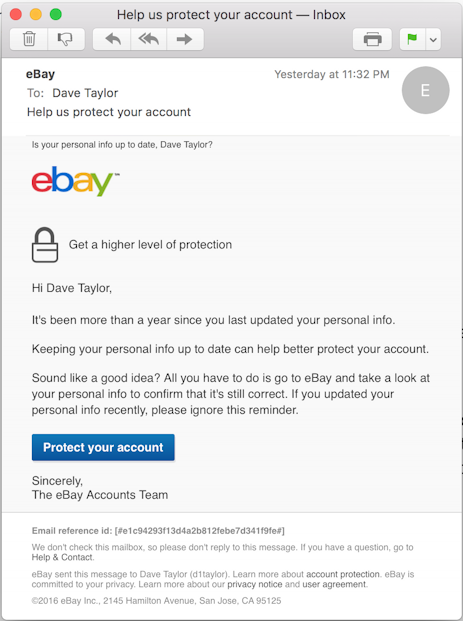 It certainly seems plausible and looks legitimate. It includes my name twice and doesn't have any misspellings or other indications that it might be a scam. But there's that huge "Protect your account" button. Hmmm…
Fortunately if you move your cursor over the button, it'll show where it'd take you:

Yeesh, quite the URL! But it's the very first part you want to study closely:
http://rover.ebay.com/rover/0/…
That's clearly an ebay.com domain, but you have to be careful: it's a redirect that lets eBay track who clicks on the email, and it's later in the URL that the target page is specified "reg.ebay.com". Again, legit.
So this time, I'm going to click on it.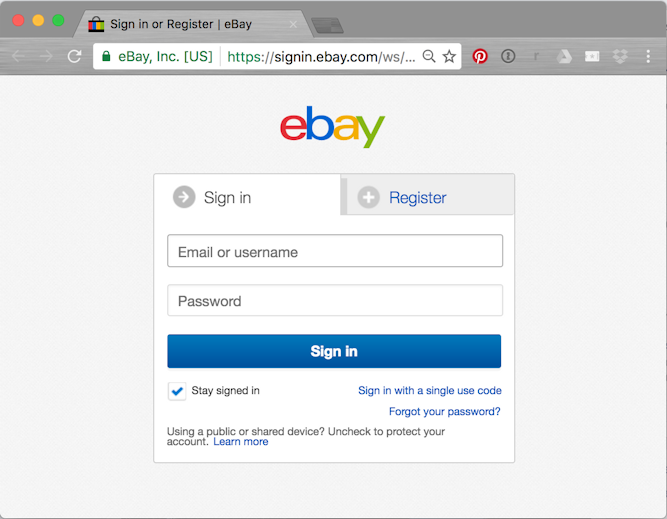 Here you want to look very closely at the URL in the address bar. "https://signing.ebay.com/" is definitely okay.
I'm running Google Chrome, so there's another thing I can do: Click on the certificate owner's name (in this case "eBay, Inc. [US]"). This pops up a menu with more info about the security certificate:

If this were a different name, even a plausible sounding name like "Account Verification Dept." or "User Security LLC" I'd immediately leave the page. Companies like eBay, Amazon, and Dell should have their own company names on their security certificates, no questions asked.
In this case, it is legit, a valid email sent from eBay that encourages you to update your personal information. But stay skeptical and suspicious. It's a smart way to approach the online world!