Just got an Android phone and I'm pretty excited about it, but now I need to add all my contacts. What's the easiest way to do so? Running Android 11.
While it's tempting to talk about all the amazing features and demo the cool games and productivity software you can add to your Android phone nowadays, truth is that at heart it's a phone. This means that part of the core functionality is to be able to store phone numbers, bring them up easily and call people whenever you want. No surprise, it's pretty easy to add contacts to your phone book. I mean, really, is there any more core functionality for any smartphone than being a phone? 😁
If you're signed into your Google account, your contacts should migrate from device to device magically (just as they do through iCloud if you're on an iPhone or other iOS or Mac device). Even if you are in that unusual position of starting from scratch, that's okay, as long as you have phone numbers or email addresses written down, you can easily add them to your new phone. I recommend associating photos with each person (ideally their photo!) from the very first contact you add, but that's up to you. I'll show you how to do it in this tutorial, however…
HOW TO ADD SOMEONE TO YOUR ANDROID PHONE BOOK
The easiest way to add someone to your phone book is for them to have called or texted you. Look at the Recents list in the Phone app. Tap on the person's phone number – just once! – and it expands to show you just a bit about that particular call:
This is a spam call, but if it was my friend Hermione Granger, say, I could easily tap on "Add contact" and it would automatically fill in the phone number field and let me add the rest. Sadly, Hermione didn't call me, so I'll have to add her contact from scratch. To do that, still in the Phone app tap on Contacts on the lower right. This shows up:
As I've highlighted, it's Create new contact that you want to choose, right at the top. If you don't have any contacts yet, it's even easier: that'll be the only entry shown.
Once tapped, the default fields for a new contact in Android are first name, last name, company, phone number, phone type, email address and email type:
Again, while you might want to add nicknames, I find it very helpful to have proper first and last names. After checking my notes on Hermione's contact info, here's what I have: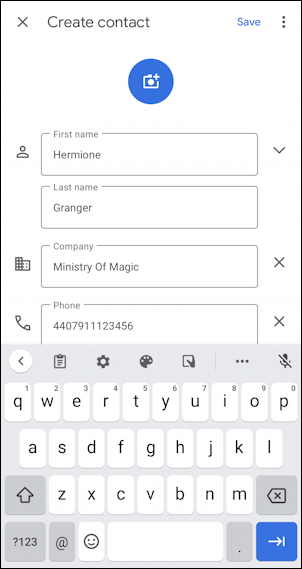 Once you're done entering information, tap on "Save" on the top right and you've got your first contact. Congrats!
Now you can search for them from just about anywhere you might enter a name, including Phone and Messages:
But we forgot one thing: To add a photo for Ms. Granger! Let's fix that.
HOW TO ADD A PHOTO TO AN ANDROID CONTACT
The first step is to actually get a photo of the person on your phone or Android tablet. Perhaps they have photos online, in which case you can just do a quick search and download one. Hermione doesn't, but actor Emma Watson who portrayed her in the popular film series does, so I'll grab one of those for simplicity.
Now it's time to go back to the Phone app, into Contacts, then tap on her entry. I'll see something like this:
Tap on the big blue Edit contact button on the lower right. Now pay attention to the purple "H" at the top, because it'll change: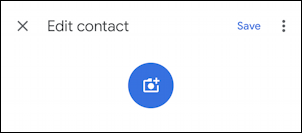 Tap on the camera icon (it's a "+" superimposed on the icon, if you're curious) and it'll offer you two choices: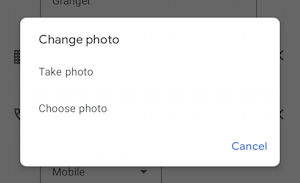 If they're sitting in front of you, of course, you can just take a quick snap and use it, but if not, "Choose photo" offers the ability for you to look through your photo library to find the image you've saved, downloaded or had them send you. Here's the picture of Emma Watson in my Android photo library I'll be using for this purpose:
A tap and it's not added, it's loaded into the photo cropping tool: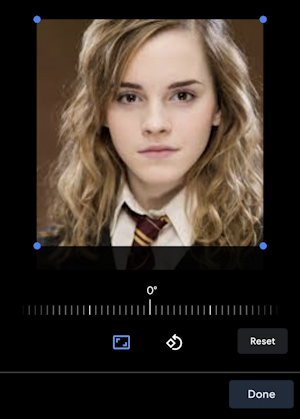 You can tap and spread your fingers to zoom in or out, tap and drag to move the center focus, and even tilt things if you prefer them being akilter (or not). All good? Tap on "Done" on the lower right and the photo is saved:
That's a nice contact entry, with full name, phone number, email address, company, and a memorable photograph. A win: win. Now to see if Hermione is able to get muggle mail or whether that email address is just a spoof…
Pro Tip: I've been writing about Android since the beginning of the operating system. While you're visiting, please do check out my extensive Android help area for lots more tutorials and how-to guides. Thanks!