I have a long, complex password for my Google account, as the company recommends. Great. But every time I log in to my Chromebook I have to type it in again, which is tedious! Is there a way I can log in to my Chromebook with a PIN as I do on my smartphone?
I completely understand your frustration when it comes to logging in to a Chromebook. We're so used to fingerprint scanners, facial recognition, even simple numeric PIN sequences that having to type in a long, complex password each time is pretty awful. Indeed, the surprise is that ChromeOS doesn't prompt you to set up a PIN for easier login when you're first setting up your account, but no worries, it's easy to add after the fact.
I will warn you that you will need to type in your password again at least once. Props to you for having a long, complex password! I recommend at least 12 characters, a mix of uppercase letters, lowercase letters, digits, and a punctuation mark or two. You should also set up two-step authentication for your Google account too for added protection. Not sure how? Please check out this article from Google: How to set up 2-factor authentication for your Google account.
Now let's get to it!
ACCESS SYSTEM SETTINGS ON CHROMEBOOK
In case you haven't figured it out yet, you access all your system settings and preferences on a ChromeOS system by clicking on the time and shortcut icon tray on the lower right. That brings up a shortcuts window: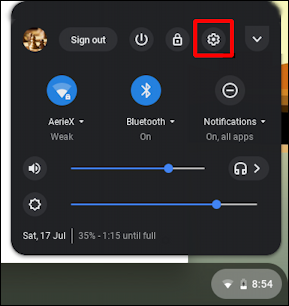 As highlighted in red, you access ChromeOS settings by clicking on the gear icon. It's a bit confusing because it opens up another tab in Chrome itself, but remember, Chrome basically is ChromeOS, so it's not just Chrome settings, it's settings for the entire Chromebook.
There are a lot of different areas, all nicely explained on the Settings page. Scroll or swipe down to find the "People" section, which will look like this: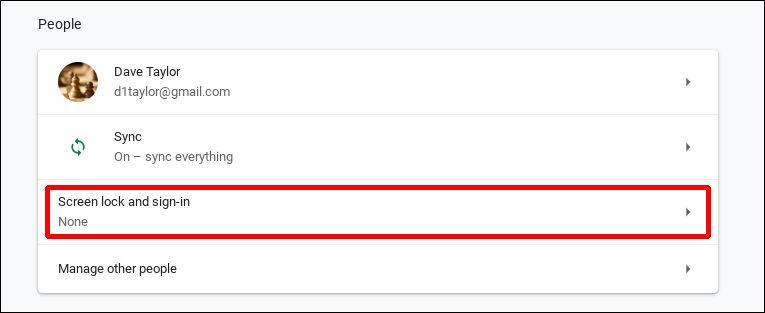 You'll want to click on "Screen lock and sign-in" to add the PIN. Do so and it prompts for your Google password again: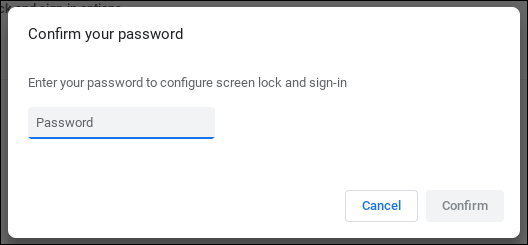 Why does it do this? To ensure someone else doesn't monkey with your Chromebook while you're away!
SWITCH TO USING A PIN FOR CHROMEBOOK LOGIN
Once you've confirmed your account password, you'll see the relatively few options for your account: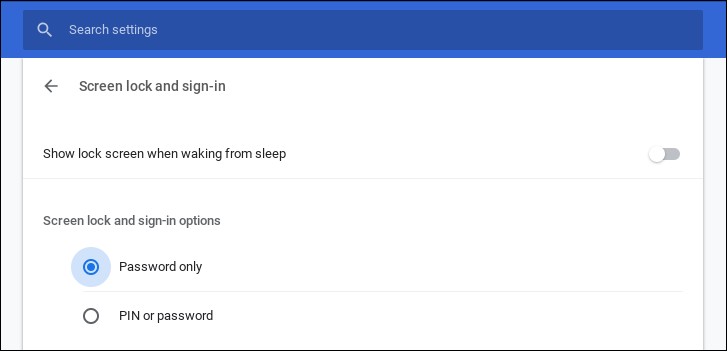 If you worry that someone is going to pop open your Chromebook when you step away, enable "Show lock screen when waking from sleep" (which is way less annoying when you can enter a PIN to log in, rather than yet again typing your account password).
To switch from password only for sign-in to PIN or password, click in the button adjacent to "PIN or password". A new button magically appears:

Almost done. Click on "Set Up PIN" and it'll prompt you twice for a secret sequence of digits: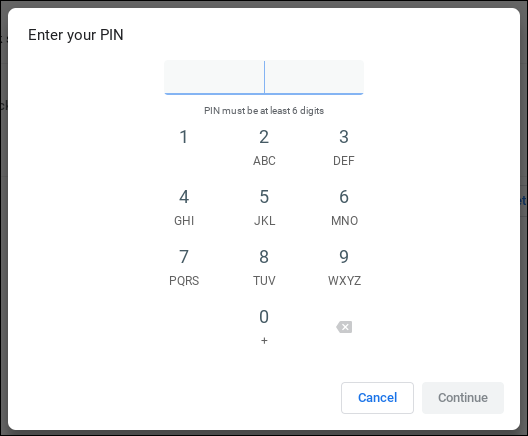 As shown in very small type, it needs to be at least 6 digits, so you could use the first 6 digits of your Mom's phone number, your driver's license, or whatever numeric sequence will be easy to remember.
Enter it, click "Continue", enter it again, and you're done.
CHROMEBOOK LOGIN SCREEN PIN OR PASSWORD
With this set up the login screen on your Chromebook will change rather dramatically: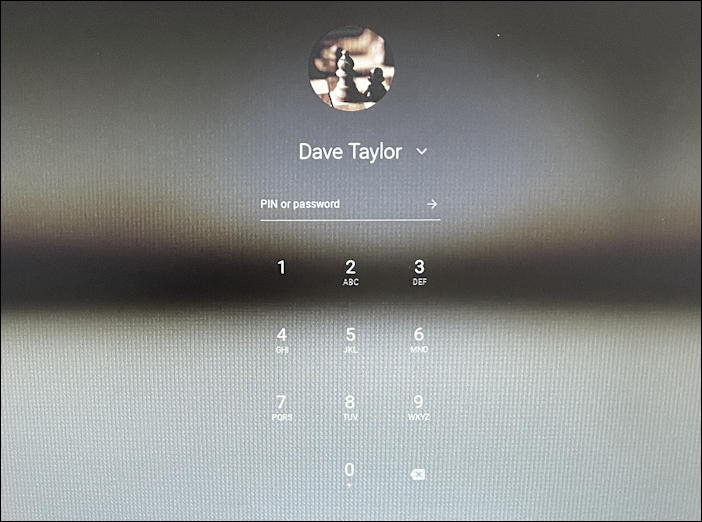 You can also use the computer keyboard to log in if you don't want to move to a digit, click, move to the next, etc. Done. Easy!
Pro Tip: I've been writing about operating systems for many years. You can find a lot more useful tutorials in my computer basics help library here on the site too. Why not check it out while you're visiting?