Is there any easy way to change some of the system icons in Windows 10 without applying an entirely new theme? I don't want everything to change, I just want to change a few icons on my Desktop…
Icons in a modern graphical interface are just image files in a special format, so it should be no surprise that you can indeed change any of the icons on your system to something else with a few mouse clicks. Well, a few mouse clicks and some images that you've either created or downloaded in the correct format. And there are Web sites that are just massive archives of Windows-compatible icons too, so the process is more fun than complicated.
Your first step is to find a good place to download a few icons, and the recycle bin is a tricky one because you want two matching icons: empty and full. Think about it: Your current recycle bin icon denotes whether you have pending files ready to "recycle" in that particular special folder (it's a folder, not a bin!) or whether it's empty of all "trash". In other operating systems, interestingly, it's just called the trash can. I guess Microsoft decided that since the electrons don't actually go anywhere, it's more of a recycling process to make 'em ready for the next storage task. 🙂
I like IconArchive.com, but before we go there, let's just start with our baseline, the default Windows 10 full recycle bin icon:
Now hop on over to IconArchive.com or your favorite icon repository. Icon Archive looks like this:
As you can see, I've already typed in 'recycle' for the search. There are quite a few matching icons. Pages of 'em. Here's just a small sampling:
Since I'm looking for empty and full icons and tend to have fairly tame preferences for mods to my system, I'm going to grab the empty and full recycle bin icons on the right side of row 2 above. Click an icon and you'll see this:
These are all available in a variety of formats, but I suggest you pick ICO for the standard Windows icon file format. Also take a note of any license and usage limitations: The above icon is fine for personal use, for example, but you wouldn't want to use it for your commercial theme.
Download the empty and full icons in ICO format. I suggest naming them, ingeniously, empty.ico and full.ico.
Now you're done with the Web browser, you can close it up. To get to the right spot in Microsoft Windows 10 to change system and desktop icons, do a search for "desktop icon settings":
Oddly, it won't let you get directly to the correct window so you have to go through Themes and related settings. Not too much of a hassle, just click on the icon on the right side search results. Then scroll down to find this set of options:
Choose "Desktop icon settings" from this list and a small old-style Windows settings window pops up:
You can see the desktop icons that are easily changed. Note that there are two Recycle Bin icons too, as discussed earlier: full and empty. Let's start by replacing "Recycle Bin (empty)". Click to choose it, then click on "Change Icon…" below. Another, smaller window pops up with Microsoft's set of icon options. They're not terrible if you want to explore:
We already have new recycle bin icons ready to go, so instead of perusing the list click on "Browse…" and move to the folder where you saved those downloaded icons from IconArchive, then choose the corresponding new icon:
A click on "Open" once the correct icon's selected (and you can really confuse yourself by picking the empty icon for full and vice versa!) and you'll see a preview of the new icon:
Empty looks good! Go through the same steps for the Recycle Bin (full) icon and you'll be here:
Ready to make it so? Click on "Apply" on the lower right and watch what happens to your actual Desktop trashcan, errr, recycle bin icon! Mine changes from what was shown at the beginning of this article to the new image: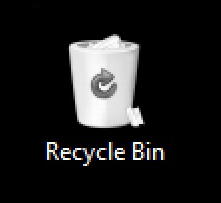 You can go through the same process with any system icon and have some fun updating and upgrading your Desktop. Want to go back to the defaults? Notice the "Restore Default" button on the Desktop Icon Settings window. That's why it's there!
Pro Tip: I've been writing about Windows 10 for eons. Please check out my quite extensive Windows help area for tons more useful tutorials while you're on the site. Thanks!