I've become increasingly concerned that my LinkedIn profile data is being used by advertisers, even when I visit other sites. Is that possible? Can I turn it off??
It's not only possible, it's one of the ways that LinkedIn generates revenue from its millions of users. If you think about it, you've already entered quite a bit of data about yourself and your career, along with your email address and phone numbers. Many users also include their home address in their profile, so LinkedIn also knows your geographic location too.
To be fair, they aren't hiding the fact that they reserve the right to sell your information to third parties and have a number of settings in your profile – yes, in the newly redesigned LinkedIn too! – that let you control what's shared and to whom. To some extent then it's really somewhat caveat emptor and up to each of us to go into those same settings and preferences on LinkedIn and disable anything that we're not comfortable with them doing. Certainly the default is to share as much as possible, which doesn't sound much in alignment with your own desires! 🙂
To start, you'll want to click on your tiny profile photo on the top navigational bar:
As shown, choose "Settings & Privacy" from this menu. That will reveal a page with lots of choices, but you want to focus your attention on the left side where there's a primary set of four categories of settings from which you can choose:
There's more to explore on this page, but for your specific request, click on "Data privacy and advertising".

Here's where some people gasp and say "what? when did I say that was okay??" but whatever your reaction, it's easy to change and disable these options. Click on one to open it up and both read more about what they're talking about and turn it off, as desired: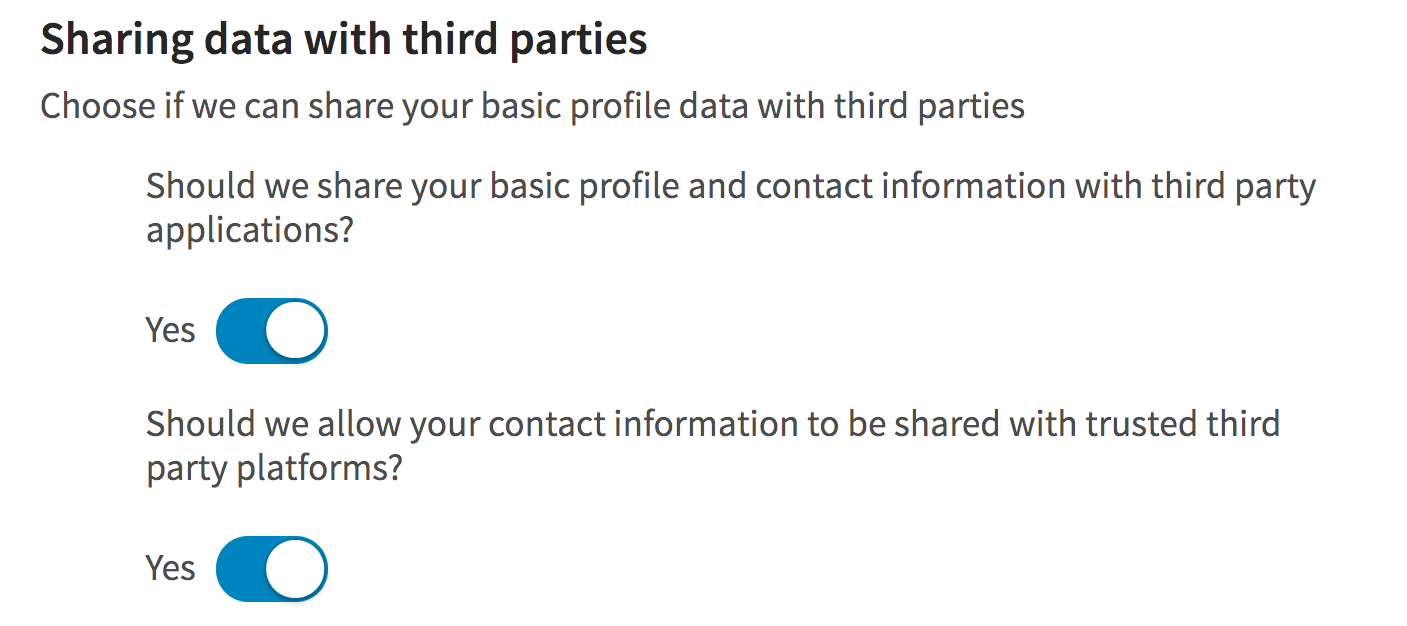 By my way of thinking, the second one should always be disabled, but you might want to disable both of these options to increase the privacy of your personal data. To change a setting, simply click on the slider icon and it'll switch to "NO".
Almost done! Click on Advertising preferences while you're here in the LinkedIn Data Privacy & Advertising area:
This is the one you're most likely wanting to click and change to "NO", so do that. Again, notice that LinkedIn isn't hiding anything, they explain exactly what they're doing here. You just need to know that it is a setting so you can change it.
One more bonus thing while you're here: Please enable two-step verification. It means that if someone has your password they still can't log in to your account without also having your smartphone handy. It's a must in my opinion, particularly in this era of repeated major password and account theft by hackers. And it's easy to enable, as you can see:
Mine's already turned on, but if your two-step verification is turned off, give it a try. The slightly greater hassle when you need to log in is more than justified by the fact that you've just made your account far harder to hack.