I use Venmo all the time with my friends, but somehow my friend list includes an ex and a couple of other people I don't want to see. But they show up in my feed. Can I unfriend people in Venmo?
Venmo is a pretty slick payment system created by PayPal and perfect for splitting checks at a restaurant, sending someone your share of a fill-up on a road trip, or any other person-to-person transaction. It's also a social payment system with transactions generally showing up in the public feed (though without the amount of the transaction). Want to pay your roomie for those slices of pizza you stole at 1am? You can do that, but then the rest of the world will know you paid them for something at 1am. Hmm…
It's all fun and you can hide any transaction you want (they're public, friends only or private) but the list of friends does seem to automatically scan your address book or something to find matches. I know that there are people on my friend list who I know, but have no idea how they were added. So being able to "unfriend" them is an entirely logical and useful capability.
As an example, my daughter was friends with a young man named Garrett quite a few years ago. They've both moved on, but somehow he shows up on my friend list. Weird, really. So here's how I unfriend him and remove his transactions from my own Venmo feed…
First off, you can see Garrett charged someone else in his family for Thai food, the transaction's smack-dab in the middle of my feed screen:
Notice that tiny globe icon? That means all of these transactions are public. Also note that the value of the transaction isn't shown, so in that first transaction Tony might have paid Kim $4 for beer or $170. Who knows?
To unfriend Garrett, I need to head to the settings menu. That's accessed through the so-called hamburger menu button on the top right (three horizontal lines). A tap and this set of options appears: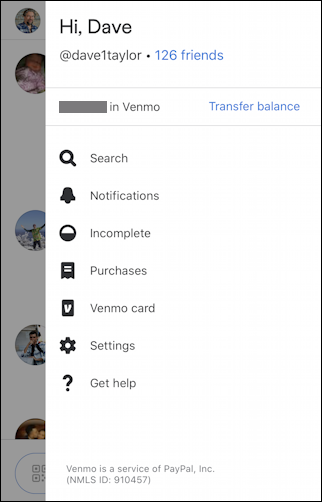 None of these are what I need, however. It's the list of friends that's the pathway to unfriend Garrett, so I'll tap on "126 friends" to proceed. This brings up a standard phone book-style listing of people and their Venmo accounts, sorted alphabetically. A quick swipe down to the letter "G"…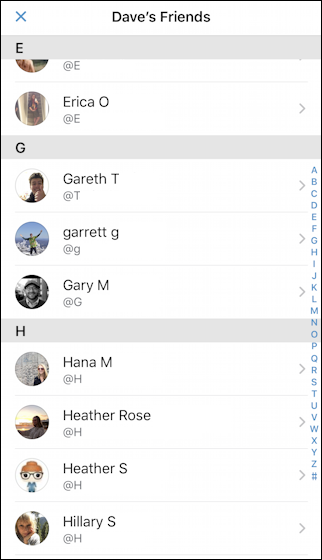 (obviously I've masked some information for my other friends, including everyone's actual Venmo ID)
There's Garrett, right in the middle of the "G" section. A tap on his name reveals his full Venmo profile: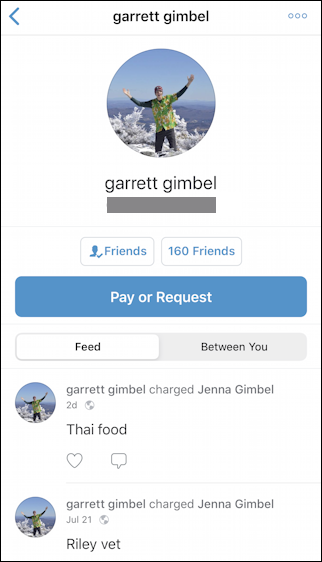 A cheery profile pic and 160 friends. He's popular! But I want to unfriend him as we haven't talked in many years nor do I imagine our paths will cross. To do that, I tap on "Friends" just above the Pay or Request button. Not obvious, I know, but it works. A confirmation pops up: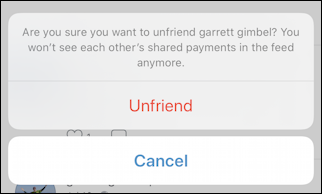 Yup, it's time for us to unfriend. Does Garrett get a notification of this? Possibly, I'm not sure whether friends on Venmo are symmetric or not, but either way, I'm confident he won't mind or be upset!
Did it work? Yes. You can see now in his profile that the "Friends" button has subtly changed: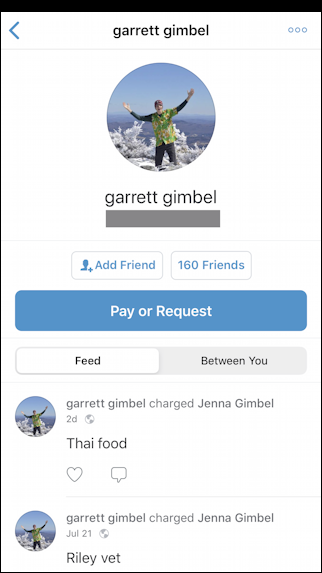 And that's it. Now you can step through all your Venmo friends and axe the ones you don't want to see, whether it's your ex, former friends, or that jerk from the party last month whose name you would prefer never to have darken your phone screen again!