Privacy is a big deal to me and I keep reading from people about how the new Facebook "Messenger" app for the iPhone accesses all your phone numbers and other personal data on the device. That sucks. Is there a way to use Messenger but disable or block its access to the rest of the data on my phone? Especially my contacts and their phone numbers!
We are definitely in an age where privacy is something that we need to fight to retain, as more and more programs are trying to sneak their way into the wealth of data we have on our phones, computers, tablets, etc. Wait until we have wearables that are tracking where we go, who we are in proximity to, and more. Privacy is going to be even more imperiled in that world.
Having said that, Facebook Messenger doesn't really do much that the main Facebook app hasn't done for years in terms of accessing data and your privacy. The main Facebook app can access your phone contacts already if you grant it permission, it's done under the guise of "find your friends on Facebook" and, in the other direction, "add Facebook profile photos to your phone contacts" on the phone itself.
Further, you can opt out with Messenger, though as with so many things on the Internet, people don't investigate and instead share half-baked paranoia about something — almost always on Facebook, ironically — and so I still read about people who are refusing to install Messenger on their smartphones because they don't want Facebook accessing their phone directory. Okay. But you can disable it too.
Let's have a look, shall we?
Here's the main screen for my Facebook Messenger program:
See at the bottom the icon for "Settings"?
Tap on it.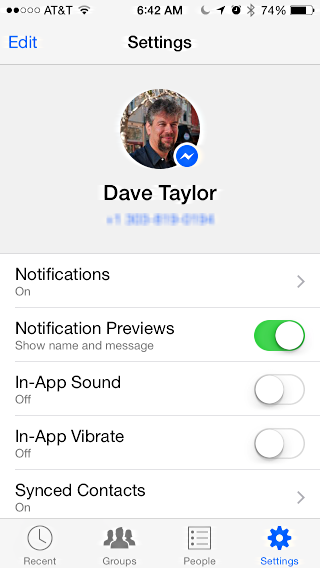 The last entry on Settings is the one that's important here: "Synced Contacts".
By default, it's turned ON, but you can change that! Tap on it and a prompt appears at the bottom of the screen:
Tap on "Stop Syncing" and it'll confirm that's what you want to do with a fairly dramatic second prompt: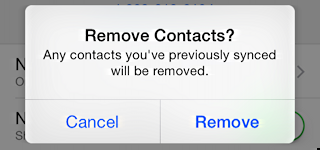 Still not sure what it means? Don't worry. In fact, check it out: when I click "Remove" it whirs along with a pretty neat looking progress indicator…
And here's the surprising thing. When you're done, nothing appears to have changed: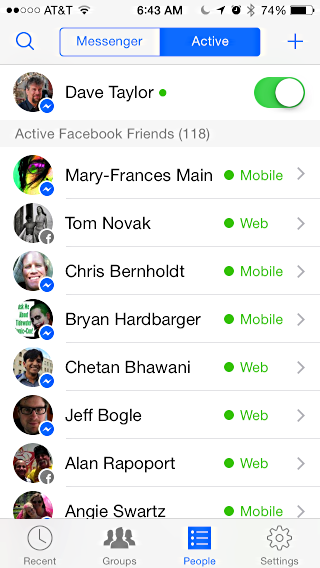 Everything still works just fine, everyone'e still in your Messenger list, and now your privacy is good to go.
So there you have it. No paranoia, no Internet rumors. Just the facts on how to quickly and easily disable contact syncing…