I don't know why Apple changed it in Big Sur (MacOS 11) but the time display in the menu bar is so faint I can barely read it now. How can I fix it so that the time and date are higher contrast and readable?
That's one of the first things I noticed when I installed MacOS 11 Big Sur on my Mac system too, actually: the time display on the menu bar had mysteriously become quite a bit fainter. I thought perhaps I could find a setting somewhere to fix it in the Date and Time but… no. The time display in the menu bar isn't even controlled from there anymore. In fact, it has changed completely, going from being a link to Date & Time system preference to being the button the launches the Notifications window. Now I like the new Notifications center quite a bit and having it be something you can launch from a big target like the time display is a definite improvement over MacOS X Catalina, but how do you get to the settings?
After much experimentation and poking about I have actually found out how to increase the contrast on the time displayed on the menu bar! Let's start with the related question of how to change what is displayed, then we can talk about how to increase that contrast to make it more readable too.
For reference, here's the default menu bar time display on my MacOS 11 Big Sur MacBook:

Why did Apple choose to have a default that was lower contrast for something that's arguably the most useful of all the elements on the right side of the menu bar? A darn good question!
HOW TO CUSTOMIZE THE TIME DISPLAY ON YOUR MENU BAR
To find where you can tweak and change what specifically is displayed in your menu bar, you'll need to pop over to System Preferences… off the Apple menu. Here's the latest iteration of all those icons: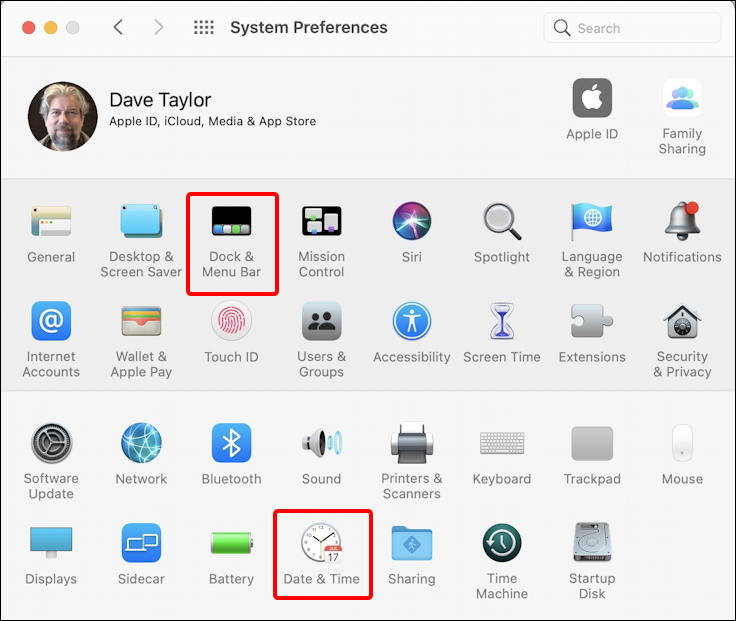 If you're an old school Mac user, you'll make a beeline right to the Date & Time system preference because that's where the time display on the menu bar has always been located.
In Big Sur, however, that ain't right, as you can immediately see: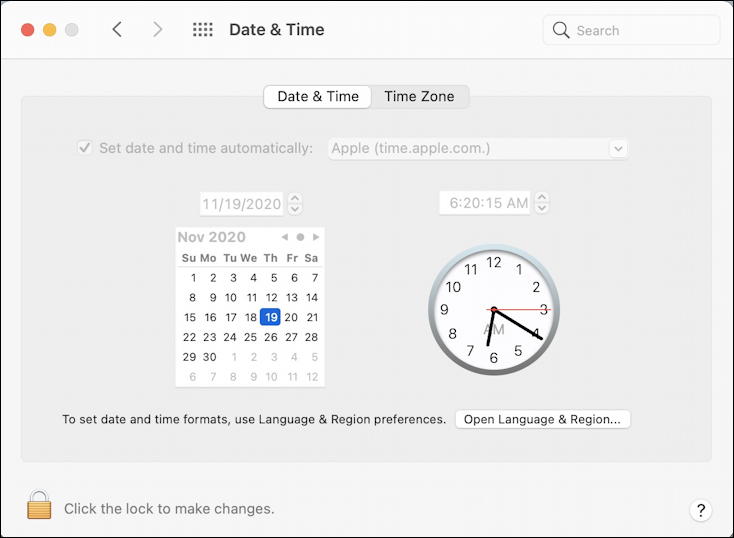 If you have a good memory, you'll recall that the two tabs along the top used to be three tabs and that the third choice was "Menu Bar" or something similar. But it's gone.
So where is it? Turns out it's now tucked into the "Dock & Menu Bar", a newly reconfigured system preference window. But it's not obvious where you'll find it either: You need to scroll down the left side until you find "Clock" and click on it. Then, finally, all of those time and date display options for the menu bar appear: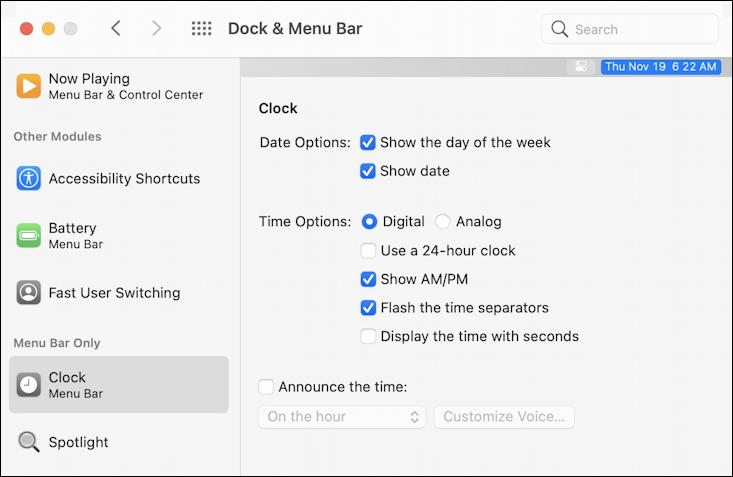 As you can see, I like to have day of week, date, and digital time with AM/PM displayed. Do I not know whether it's ante meridiem or post meridiem? I do. I just like to see it as part of the display! You can tweak and adjust to your own heart's content, making it either super compact or quite informative.
HOW TO FIX THE CLOCK DISPLAY IN THE MENU BAR
But that still leaves the annoying puzzle of how to fix the low contrast date and time display in MacOS 11 Big Sur. And the fix is something I stumbled across quite inadvertently. You need to Option-click on the time display and it'll change to a higher contrast color choice. Option-click again and it'll go back to "Big Sur default". Documented? Nope. Useful? Heck yeah.
Here's an example of the Big Sur default:

and the change when Option-click is used:

Then I wondered whether it would hold true on a black menu bar too, or whether it was grey/black as the two possible color choices. Good news is that it is actually switching between low contrast and high contrast, as you can see:

where it's barely readable at all, and…

Hopefully the change survives a restart, but at least you now know that fixing this pesky user interface mistake in Big Sur is just an option-click away!
UPDATE: Apparently this works differently on the new M1 Apple Silicon MacBooks. Since I don't have access to one of those to test, I am unsure what the alternative secret keystroke is to get the contrast fixed.
Pro Tip: I've been running various versions of MacOS since the beginning and have a huge number of tutorials here on the site offering up MacOS Big Sur help. Please do check them out while you're visiting, I'm sure you'll find more of value!