Just bought an Amazon Echo and it seems like a really cool device except for one rather funny problem: my daughter's name is Alexandra and we call her "Alexa". And Echo then starts listening to what we say. Crazy. Can we have the Echo use a different name instead?
I checked with the development team at Amazon and they suggested that the easiest and most logical change would be to change your daughter's name to Gertrude or Enid. So that's my answer.
Just kidding! 
Actually, a lot of Amazon Echo owners have requested the ability to change the name of the device — Amazon calls it the "wake word", by the way — but at this point there are only two possibilities, either "Alexa", the default, or "Amazon", which should be a lot easier for you than changing your daughter's name!
To change it you'll need to actually use the Alexa app (used to be called the Echo app) on your smartphone. Launch it and you'll see the results of your latest query to the Echo. For me, it's a local weather forecast: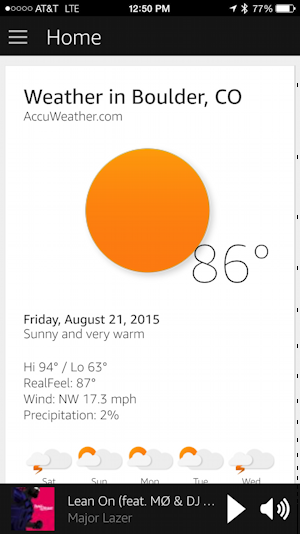 Tap on the horizontal lines box on the top left of the screen and you'll get to the main menu, with its many choices and options:
You might need to swipe to scroll down a bit to see the same matches I have. You want to find Settings and tap on it.
The result is a bunch of different settings you can tweak and tune: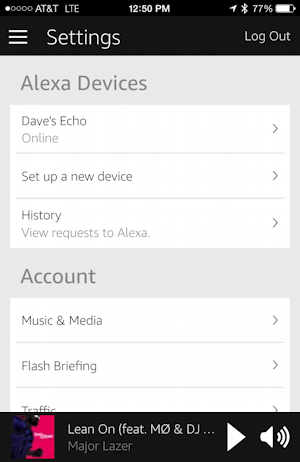 The very first entry should be your Amazon Echo. Good. Tap on it.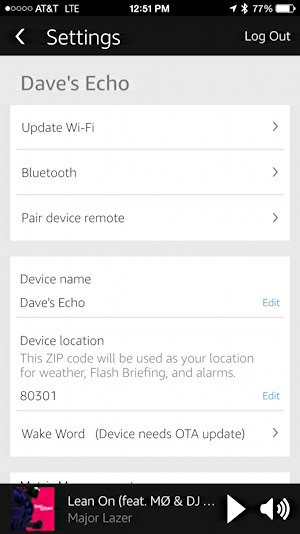 You want to find the entry labeled Wake Word and tap on it.
Notice in my case that I've been experimenting with the setting so the app's telling me that the Echo needs an "over the air" update. That just means a restart.
The Wake Word setting gives you exactly two options: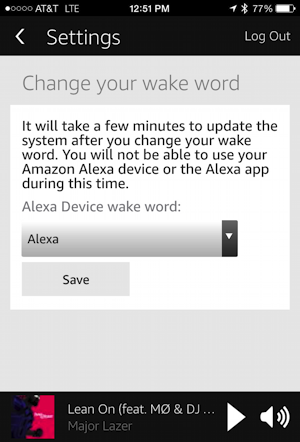 Tap on the menu and it'll offer up "Alexa" (as shown) or "Amazon".
Change yours to Amazon, tap Save and wait a few minutes for it to adjust. Then you should be good to go and talk about your daughter in front of the Echo without it randomly triggering!