I'm just getting started with the Plex Media Player and it's pretty cool. I'm wondering, though, sometimes it picks really weird posters for the movies in my library or just doesn't show one at all. Is there a way to change or fix the image?
Always nice to hear from a new Plex user: I've been a fan and user of Plex for quite a few years, and find it works great with its Mac, Android, PC, and even Smart TV clients. My server runs on an Apple Mac Mini server 24×7 and I mostly watch it on my Vizio televisions, all of which have a Plex client app available. There are definitely some tricks to getting it to work well, not the least of which is to learn how to name your media files to give the server a head start identifying the content so it can match things up.
My recommendation is to use all lowercase letters for filenames and include the year of release in parenthesis as part of the name. For example: "The Batman (2022).mkv" or "National Treasure Book of Secrets (2007).avi" or similar. The Plex software is surprisingly good at finding matches for additional information and posters, but particularly if there's more than one version of a title, it might not be able to differentiate between, say, the 1954 original release of Sabrina and the 1995 remake.
FIXING PLEX MOVIE INFORMATION AND DATA
Still, even with that approach, sometimes it doesn't get things right, and that's where edit mode in the app can be a great solution. Open up Plex.TV in your Web browser and log in to your Plex account and it'll show you what's in your library automatically. Each entry will look like this: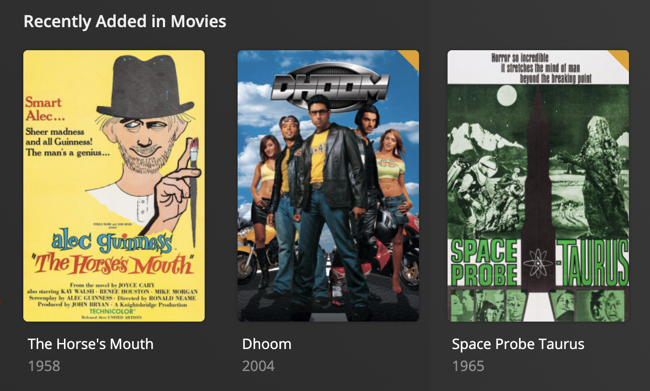 In this instance, the Plex system has picked a poster for the wry, hilarious 1958 Alec Guinness comedy The Horse's Mouth that I don't particularly like. Simply move the cursor over the movie poster or image and a number of buttons appear: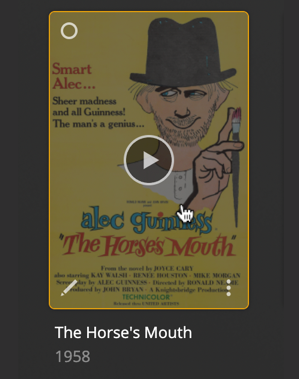 You can certainly press Play if you want to watch the movie but instead click on the pencil icon on the lower left corner. A window pops up with lots of useful and interesting information you can tweak related to the title: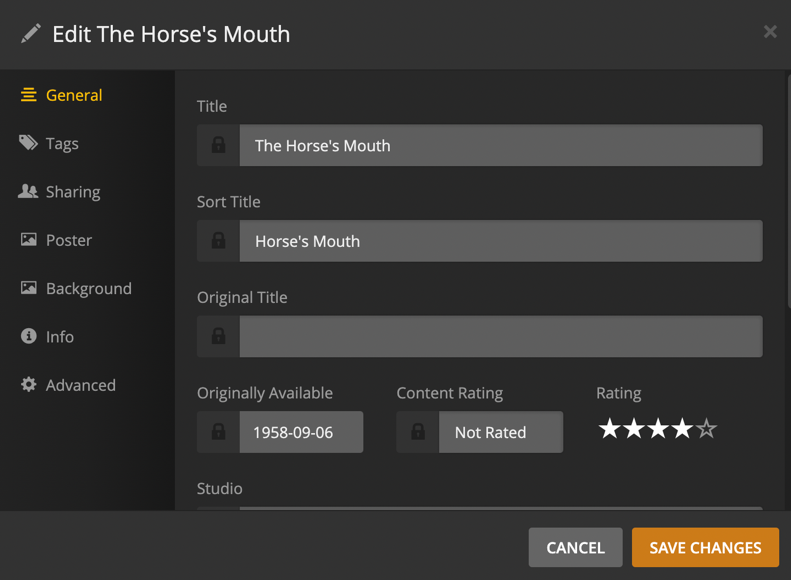 Most important to check on the "General" information window is that the title and sort titles are correct and that the release year is accurate. I don't worry about the month and day of release (here called "originally available") but having it all tagged by release year is a great way to differentiate versions and releases.
Click on "Tags" if you want to be a completist and get all the key info for a particular film: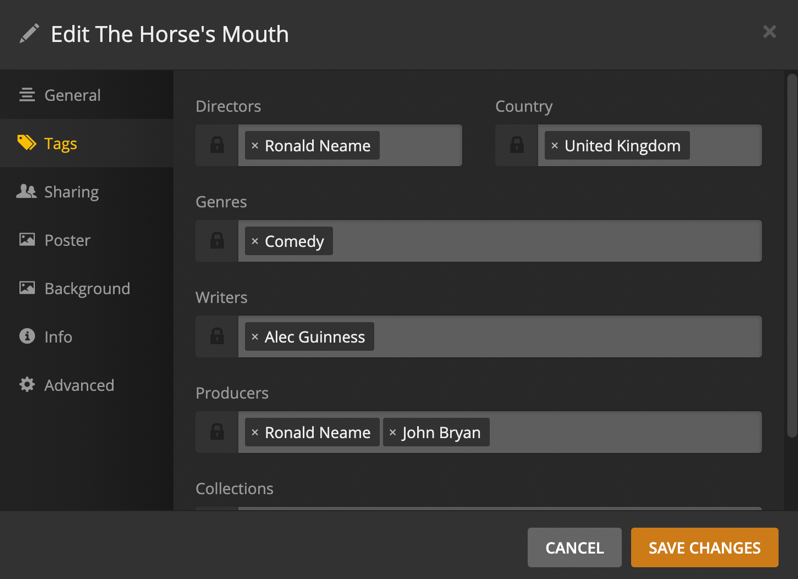 This information will typically be added by Plex upon first encountering the film in your library, but you can always find this sort of information at the Internet Movie Database IMDb.com. In the above, Plex has done all the heavy lifting. Making sure this is specified lets you sort by genre, find other movies with the same director, writers, or even country of production, etc.
HOW TO UPDATE A PLEX MEDIA MOVIE POSTER
Click on the fourth entry on the left side of this window, "Poster", and you'll be in the right spot to choose another poster for the movie, or even upload one of your own.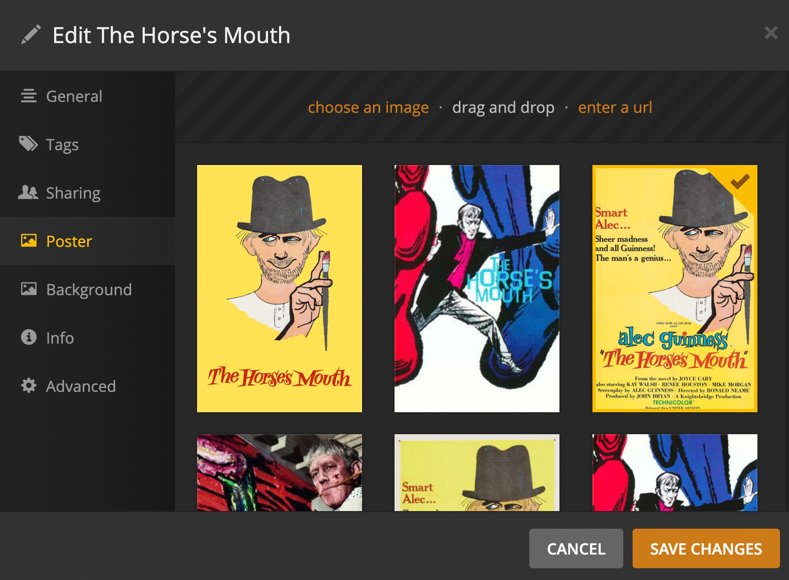 You can see that there are two primary posters for this film The Horse's Mouth and a snippet of a third on the lower left. These are also generally automatically added by Plex that you can switch between with a click and a Save Changes. Don't like the choices? Open up another tab and use Google Image Search to find an image you prefer. Save it to your desktop, then click on "choose an image" and you can select your new graphic.
If the image uploaded correctly, you'll see "this artwork was uploaded successfully", as below: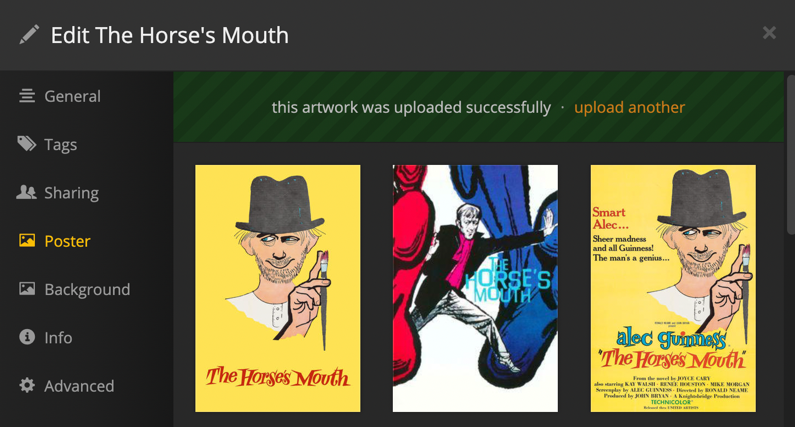 One more thing to check while you're editing your media information: "Background". This is the image that will be used as the wallpaper for the movie's info page on the TV app, as I'll show in a moment. Meanwhile, you can choose from a variety of movie stills and, sometimes, artwork: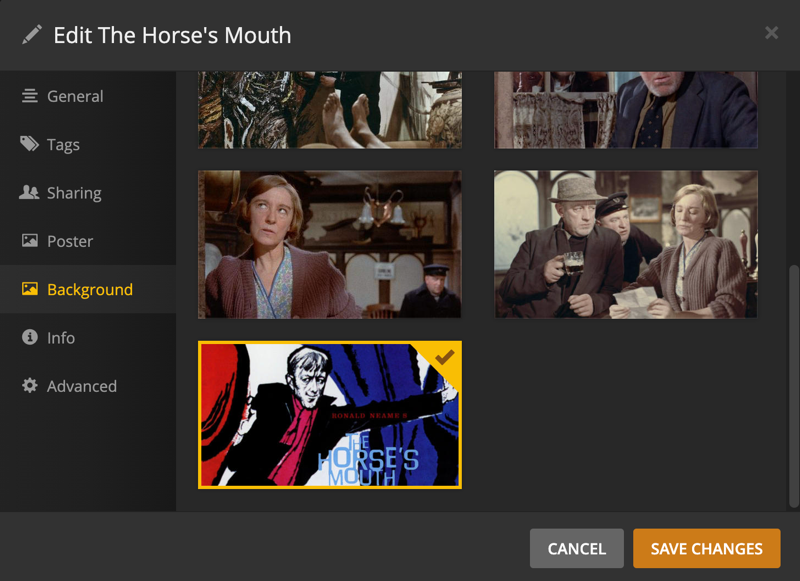 In this instance, I'm choosing the red, white, and blue graphic since it's going to look really cool in the subsequent info page.
THE PLEX MEDIA AND MOVIE INFO PAGE (PC vs TV APP)
This is where it can be a bit confusing, because if you stay in the Web browser then that version of the Plex app shows the movie poster, choosing a background color based on the poster image color palette: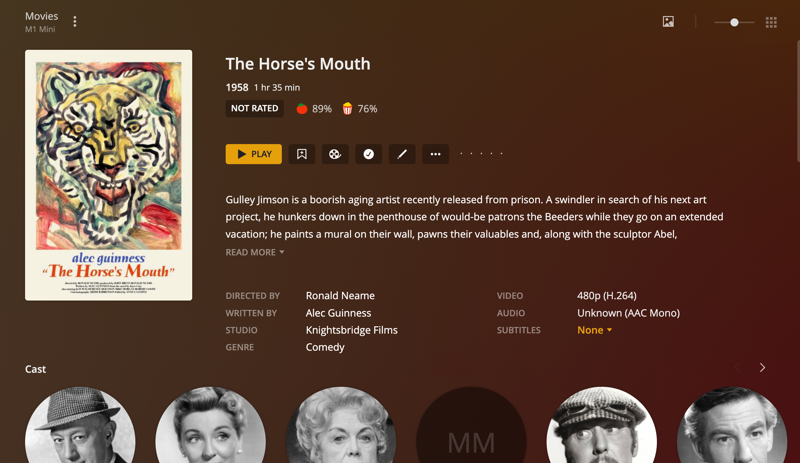 You can now see the poster I found for the Alec Guinness movie; way more interesting than either of the ones offered by default! At the same time, notice that the background image is not being displayed. That's just how Plex works in a Web browser.
When I switch to the Plex app on my Vizio TV, however, the info page is entirely different:
Same information, but a clearly different layout. I'm not sure which display I like better, but as long as I can get to my media, it's all good.
What's important is that you now know how to change the poster art and the background art. I recommend you make it a habit to correct the basic information about each film and other media you add, then pop into a Web browser to fix missing posters and pick your favorites!
Pro Tip: I have a number of tutorials on how to work with the Plex Media Server here on the site. Please check out my Plex Help Library for more info to ensure you get the most out of your Plex!