Looking for a tiny, affordable speaker that will let you enjoy music, podcasts, audiobooks or even phone conversations while on the go? Altec Lansing has you covered with the amusingly named Baby Boom XL speaker. Here's my review…
If you're going to be sitting within a foot or two of your smartphone, a lot of 'em have surprisingly decent little built-in speakers. Talk radio? Podcasts? Listening to an audio book while in the car? They'll do the job if that's all you have. But if you want to have better sound, if you're a fan of music and want to hear the full range, well, that iPhone or Android device just isn't going to cut it. If you've tried, you already know this. It's just physics: the tiny speaker just can't produce lower frequencies.
That's why fabled audio company Altec Lansing's new Baby Boom XL (yes, that's the product name!) is an interesting alternative to consider: A speaker that's small enough you can slip it into the back pocket of your jeans – or clip to your bag or backpack with the included carabineer clip – but has significantly better sound than that iPhone buzz.
Haven't heard of Altec Lansing? The company has been making audio gear since 1927, starting with movie theater equipment and gradually branching out into hifi and home stereo. Their speakers powered the Woodstock music festival too, as a fun bit of trivia!
Here's the Baby Boom XL up close: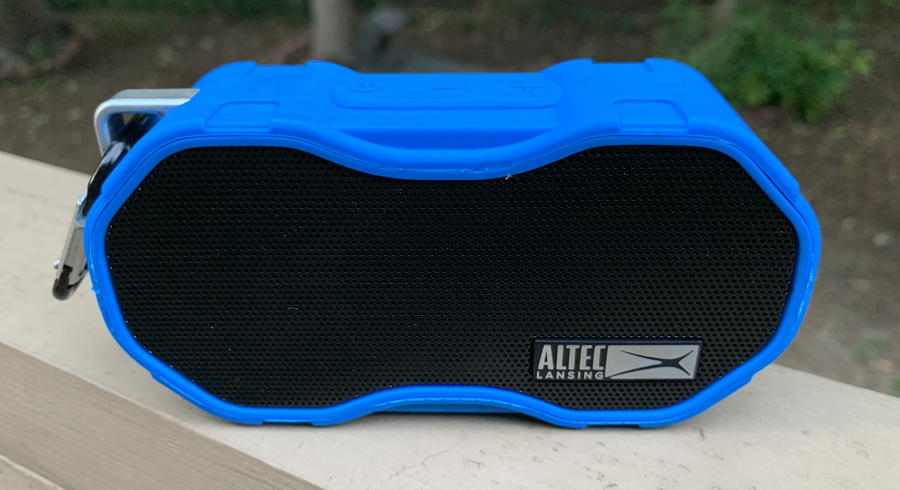 Looks big, but it's not. In fact, it's about as long as an iPhone Xs Max: 5-inches long and 2.5-inches tall. Look closely at the above photo and you can see the onboard controls too: A bluetooth button, a "-" button and a "+" button. These each have double duty, so the bluetooth button also functions as pause/play and answer call / hang up. Did I mention it has a built-in microphone and you can use it as a portable outdoor speaker phone?
The other buttons also have multiple functions, as is common with these units: press and hold "-" and instead of lowering the volume, it'll move to the previous track. "+" does the same, but jumps to the next track on your playlist. Handy!
The unit has a six hour playback battery that you charge from underneath with a MicroUSB connection. Plug it in on your way to the trailhead and you'll have music for hours while backpacking up a fourteener here in Colorado: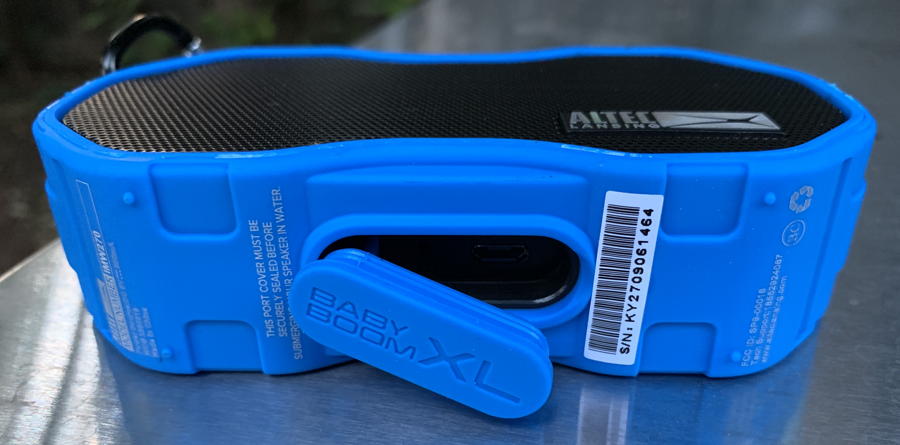 The Baby Boom XL is also IP67, making it both water and dust proof. Heck, it even floats if you have it fall out of your kayak while tackling a cat-5 rapid. Of course, finding it at the bottom of the run is up to you, but the bright colors should hopefully help with that recovery task, as needed. This scenario is not covered by the warranty, so good luck. 🙂
You can even pair two of these Baby Boom XL speakers and get a tiny stereo setup, perfect for inspirational trailhead base camp music the morning of the ridgeback triple black diamond hike. Or, perhaps, the big work project where having some lively tunes will help the time go faster…
Now, to be fair, don't get the Altec Lansing Baby Boom XL expecting that it will compare favorably to that high-end setup in your living room: just as there are physics laws preventing a smartphone from having great bass, there's also a certain imposition of physics that means that while the Baby Boom XL sounds good, it's still a tiny speaker. If you want to impress people at the beach with your massive wall of sound, this is not your speaker. If you want to scare away the animals with industrial grunge at max volume while on the trail, you might need something a bit bigger too.
The Baby Boom XL does sound surprisingly good, though, and having it sit on a flat surface will improve the bass response compared to dangling from your backpack. Just keep in mind that it's a 5″ x 2.5″ speaker designed to be tough, rugged and priced under $30 ($29.99) so please do set your expectations accordingly. And yet it does sound decent and would be perfect for a hotel room while you're traveling, a replacement speaker for a car where the stereo system has failed, or even a highly portable dorm music system for while you're studying or wrapping up your dissertation.
Altec Lansing Baby Boom XL speaker, in various colors. $29.99 at BestBuy.com
Disclosure: I have been compensated in the form of a Best Buy Gift Card and received the product for free in return for this review and social shares. Thanks, Best Buy!