Is there any way to set up Facebook to show me a summary weather forecast for my area every few hours or if there are news events? I'm pretty sure Facebook has weather forecasts…
As the joke goes, do you want the good news first, or the bad news first? The good news is that Facebook does indeed have a weather forecast tool and you can use it to check the current weather and forecast for any city in the world. Even with pretty pictures, no less. The bad news is that there's no way to automatically have that forecast show up in your regular Facebook timeline, either every 'n' hours or otherwise. However…
You can check the forecast any time you want, and you can also enable notifications for weather for a specific location, whether it's your own or another city for which you have an affinity instead. Let's have a look at how all of this fits together!
First off, on the left side of your Facebook home page feed is a section labeled "Explore":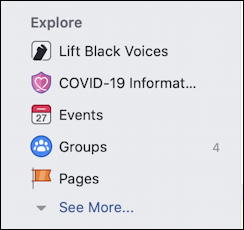 This varies a bit and you can see that the top two are topical for the Black Lives Matter movement and the Coronavirus. But have you ever clicked on "See More…"? Click on it now and you'll find out there are a lot of other areas in Facebook to explore: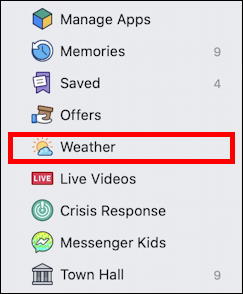 One of the options, as highlighted, is weather! A click and I see the forecast in my local area of Boulder, Colorado: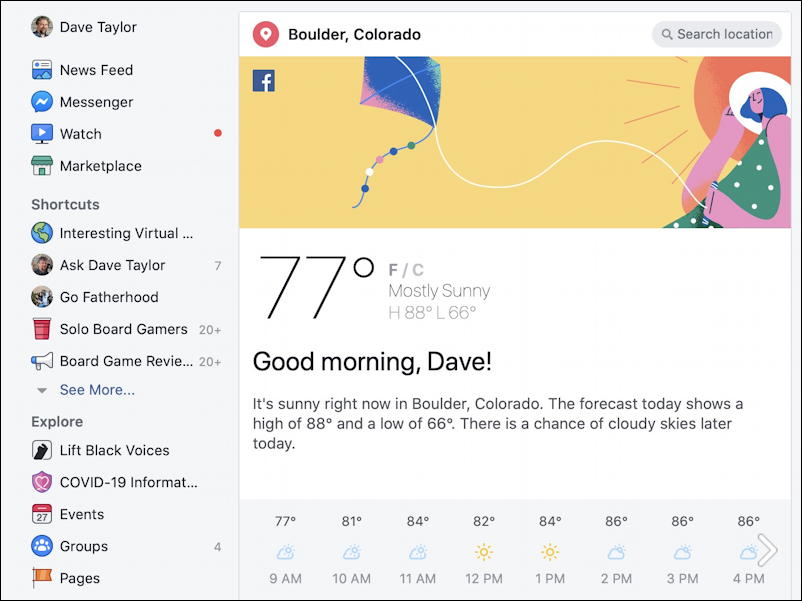 Very nice and a typical summer day with the heat pouring on later in the afternoon, even as clouds roll in.
See that "search location" box on the top right? You can use it to check the weather in other areas too, like São Paolo:
But before you  look for other areas, go to the bottom of the weather box and you'll find that you can enable notifications for local weather: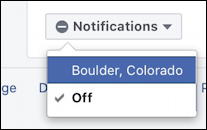 Now you can check out São Paolo and even set up notifications for its weather in your timeline too, if you're so inclined. Oh, it's rather rainy in São Paolo today, if you're curious: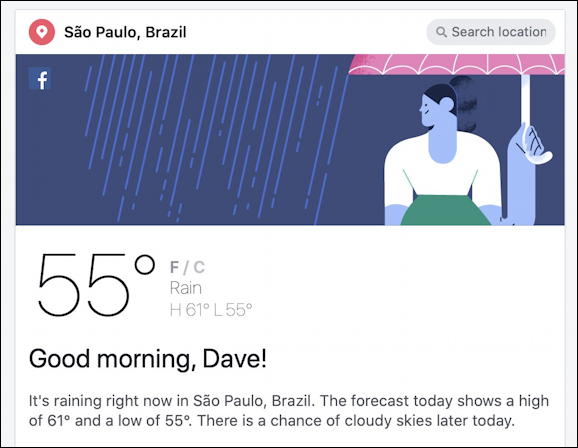 Don't want to go through the "Explore" menu? You can pop directly to facebook.com/weather/ for a local forecast or you can also just use the search box at the top of every Facebook page to search for 'weather', in which case here's what shows up as match #1:

As of right now, that's the best you can do to integrate weather into your Facebook experience. Fortunately there are quite a few other weather sites you can utilize as needed too!
Pro Tip: I have a lot of Facebook Help pages here on the site, and I also invite you to follow Ask Dave Taylor on Facebook too. Thanks!