I sync my iPhone with iPhoto on my Mac system so that I can also have some of my best photos on the phone. I'd like to post a few to Instagram too: how do I access photos not in my "Camera Roll" in Instagram on the iPhone 5?
Rather to my surprise, digging around in Instagram reveals that you can indeed access other photo albums on your iPhone than just the default Camera Roll. Knowing that, you can use the sync feature with your iPhoto album and even post photographs from months or even years ago if you're so inclined. I know, I posted a photo from about six months ago as part of creating this particular article.
There is a bit of a philosophical issue here, though, as Instagram is really intended to share what's happening right now images, rather than simply be a shared photo album or gallery. For the latter, I think more of Pinterest or perhaps even Flickr or your own blog or social media channel. But then again, there's nothing wrong, per se, with posting older images, unless you do so incessantly, in which case people might complain or, more likely, just unfollow you.
As with much software, the Instagram app programmers doubtless believe that we'll find everything intuitive so they don't have any visual indicators of what to do.
Let me show you.
First off, here I am in Instagram, looking at the view on the iPhone 5s camera: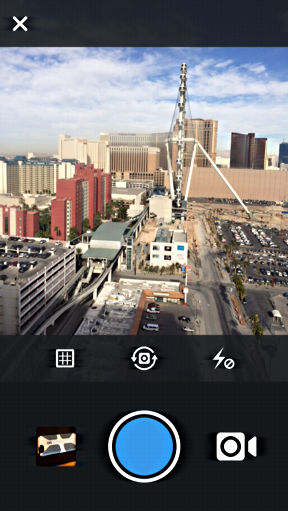 Yes, I was in Las Vegas, pointing the camera lens out the window of my hotel room if you're curious. What you see is the new Ferris wheel from a straight-on angle.
Tap on the box on the lower left, however, and you get a strip of the four most recent photos in the Camera Roll and the top half of the four below them: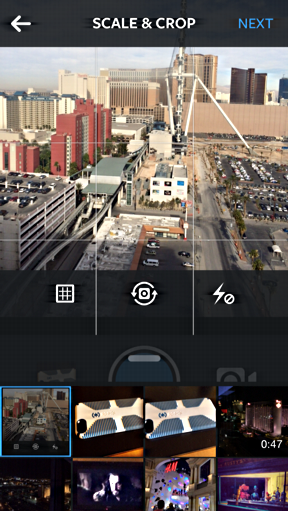 You can tap and drag the bar separating the thumbnails from the Instagram photo elements upwards if you want to see more of your pics at the same time, something you might have figured out by the grey dash that shows up as a "drag handle" over the shutter circle button.
Tap and drag downward on the photo thumbnails, however, and look what happens: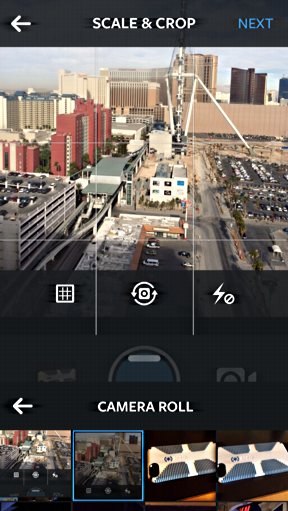 Ah, that's promising!
Tap on the leftward pointing arrow adjacent to "CAMERA ROLL" and you'll see that you can now access the entire list of all photo albums: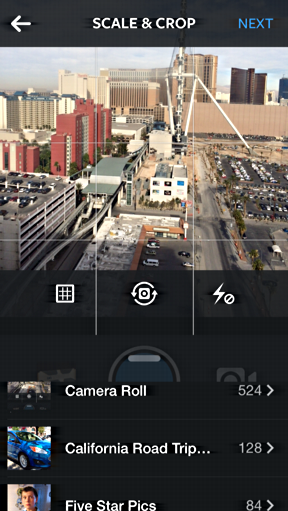 I'll tap on 'California Road Trip…" which has 128 photos.
Now I'll see all the thumbnails for that and can swipe up and down to find the image I seek: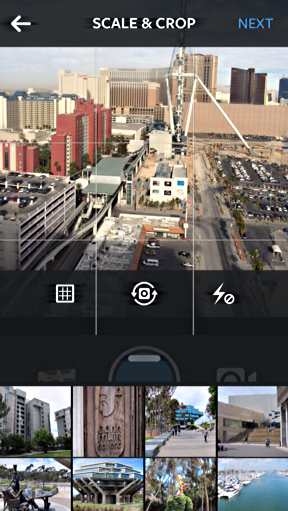 The one I want is a ways down, so I'll swipe until I find it, then tap.
As with any photo you'd pick out of the Camera Roll, it shows up and you can zoom, pan and otherwise adjust it to work perfectly for your next great Instapic: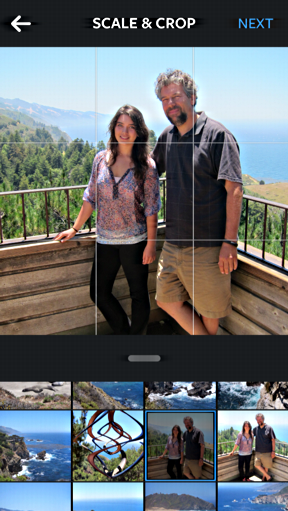 That's it. Now you know the secret downward swipe gesture that lets you access any of the photo albums or galleries you'd like on your iOS 7 device (because this'd work in Instagram on any device you could use, not just my iPhone 5s, of course).
The only weirdness I'll mention is that the next time you go to use Instagram you'll find that it'll still be looking at the specific album you've chosen. It doesn't automatically "snap" back to the Camera Roll, so you'll have to swipe downward to find the album name, tap on the left arrow, find "CAMERA ROLL" and choose it. Not too difficult, all in all.