I really love the copy/paste feature in Windows 10, but it also drives me crazy because I can't back up or access earlier content if I accidentally overwrite the buffer. Is there ANY way to access a history of the paste buffer in Win10, perhaps through a third-party app or utility?
One of the unsung heroes of modern computing is the ability to copy and paste content from one window to another, or even from one app to another. Heck, nowadays you can copy from one device and find that content in the clipboard paste buffer on another, which can be extraordinarily handy. Until it's not, and you wonder what happened to the content you already had loaded into your clipboard before an inadvertent Edit > Copy changed it without you realizing. Of course, copy & paste has been a mainstay of computer interaction for decades and was invented by Larry Tesler of Xerox PARC way back in the 1970s.
Anyway, for an idea that's been around for over fifty years, it's surprising how it's still mostly dogged by some fundamental design mistakes too, and doubly so given the extraordinary speed, storage, and capabilities of even our modern watches and phones. Top among them is confusion between pasting "with styles" versus a plain content-only paste, and clipboard history. There are third-party apps that offer this capability, but what if you just want to enable it and have it be part of the core Windows OS itself?
Good news! Windows 10 now offers a built-in clipboard history that can remember up to 50 items you've copied into your clipboard, in order, and lets you easily paste any of the historical entries. Finally. So let's have a look at how to enable it and use it…
HOW TO ENABLE WINDOWS 10 CLIPBOARD HISTORY
As with every other feature of Windows, it turns out that there's a control panel just for the clipboard. Betcha didn't know that!
To get to it easily, just search in the TaskBar for 'clipboard':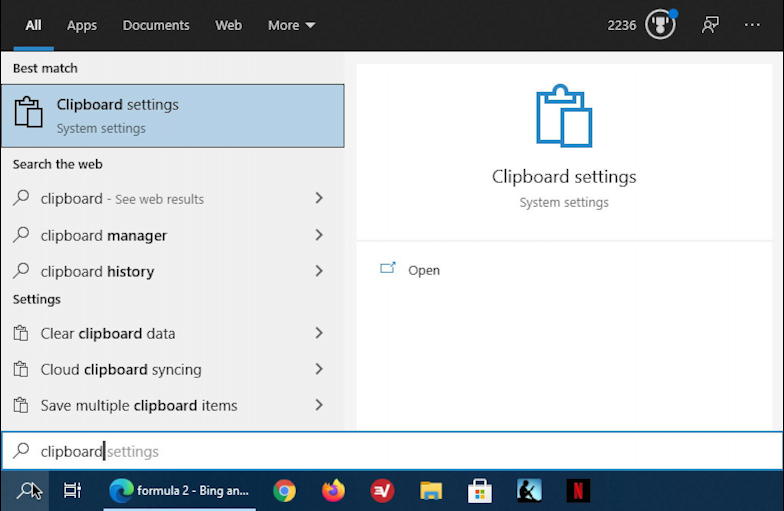 As shown, you're looking for "Clipboard settings" in System Settings. Click or tap to open up this window and you'll see: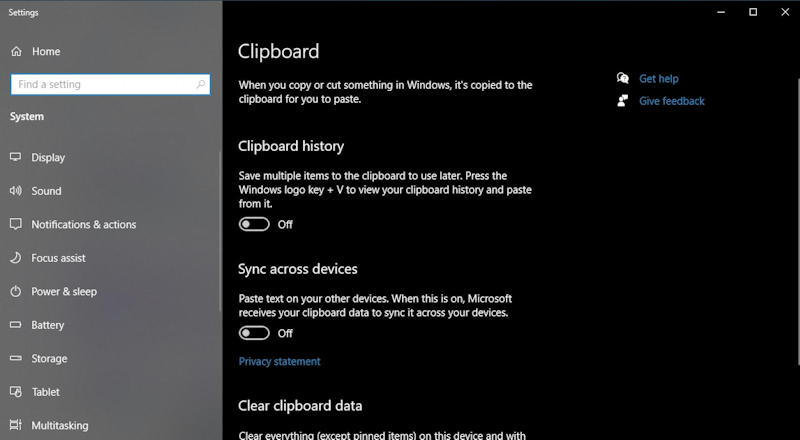 Turns out you can enable or disable the Sync across devices clipboard if you want and you can clear your clipboard data if you want, but let's focus our attention on the very first section: "Clipboard history". Go ahead and click on the toggle to turn it ON.
While you're here, you can turn on Sync across devices too, if you're curious, and it'll offer a bit more control: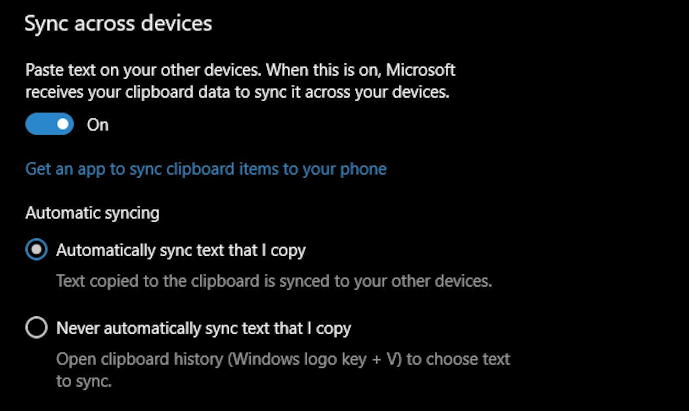 By default, this syncs your clipboard content across PCs, which means that you could have the weird situation where you Copy something while on your work computer, then Paste it on your home Windows tablet or 2-in-1. Very modern. Note that you can also disable automatic syncing on this particular device, so you could have work -> home machine, but prevent home -> work system if you prefer.
You can go ahead and close this window now, once you've enabled Clipboard History.
USING THE WINDOWS 10 CLIPBOARD HISTORY
Once enabled, the clipboard history on your PC will silently and automatically be archiving older clipboard content every time you perform a new Copy action. For example, if I highlight a passage from this particular Web page and copy it…

… the PC has no indication that anything's improved with the Copy/Paste experience. In fact, if you continue to use either Edit > Paste or the Windows-V keyboard shortcut to paste, you might wonder if the feature's even working.
The secret is to use the keyboard shortcut Windows+Shift+V. In other words, a capital V for the paste. Instead of just dropping the contents of the Clipboard, it then pops open a window with the last few Copy passages displayed: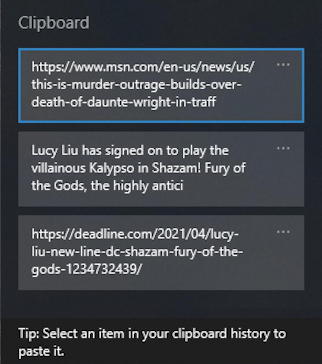 In this instance, you can see that I copied the text, but then also copied a URL afterwards (the topmost entry) which would normally have replaced the previous clipboard content. Instead, both are shown. Simply click on the one you want and it is pasted into the current app. Super easy, really.
Want to lock one of these entries into your clipboard history forever? Or delete one since you know you'll never reference it again? You can do either by simply clicking or tapping on the tiny "•••" link in the box: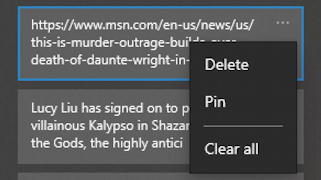 That's it. Darn easy, and a great feature to enable and use on any PC!
Pro Tip: I've been writing about Windows 10 for quite some time and earlier versions of Windows before that. While you're visiting, why not check out my Windows 10 & PC help area? Thanks!