High-quality marketing materials can be expensive when you don't know how to source cheaper alternatives. Here are some tips for gathering affordable supplies for promoting your local business without crushing your budget.
Here are five easy ways to create or source affordable marketing materials:
1. Buy promotional items in bulk, but be particular about the items you buy
Buying anything in bulk will save you money versus a small quantity and constant reordering and shipping costs, but it only works under two conditions:
1. When you have an active need for a large quantity of items, and
2. The items you purchase will help your marketing efforts.
Discounts don't always save you money
Just because you can save $500 by purchasing 10,000 pens, doesn't mean you should. If you only need 100 pens, you'll save far more than $500 by only buying the quantity you need – discount or not.
Choose your promotional items wisely
Just about everyone prints custom t-shirts and hands out custom keychains, but are those items worth producing? You can customize just about any item with your brand or logo, but will they help your marketing campaign?
T-shirts are popular, but if nobody wants to wear them, they'll just end up at Goodwill. Keychains are small, but people already have their keys on a keychain. There's no reason to switch to your keychain unless it's unique or functional in a new way.
The lesson isn't to avoid t-shirts and keychains; it's to create the right t-shirt design and source the right keychain.
Choose promotional items that people will want to use or give to their family and friends. The whole point is to get your brand and logo into people's awareness, and that won't happen if your promo items get thrown away.
Another tip for choosing promotional items is to remember that when you're exhibiting at conferences and trade shows, people will be picking up a multitude of trinkets. It's worth sourcing more unique items for large events to increase your item's chance of surviving beyond the day.
2. Don't overspend on paper materials
Presentation is everything, but you don't need to buy top of line paper materials to impress your leads. Most paper marketing materials end up in the recycle bin. It doesn't make sense to spend a ton of money on something that won't be used long-term.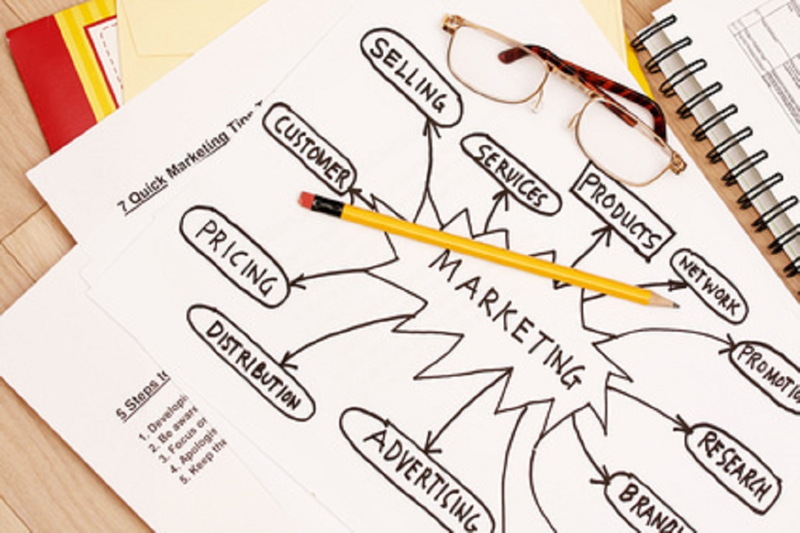 Use an online print shop like Printing Center USA for brochures, flyers, and posters. Online shops don't have the same overhead expenses traditional print shops have, so they can pass the savings onto their customers. This means you'll get the same high-quality materials for less.
3. Use Walmart's online promo store
It's probably no surprise that Walmart sells promotional items online. They sell all kinds of products including coffee mugs, bags, clothing, table cloths, USB chargers, and breath mints.
Walmart's promotional store is a reliable alternative to the abundance of other stores you might not be too sure about buying from.
4. Get business cards printed online
Business cards can be expensive, but they don't need to be. Check out the business card templates from Moo. You can buy extra fancy cards with gloss and gold foil if you want, but you don't need to. Even the lowest quality cards are already of high quality.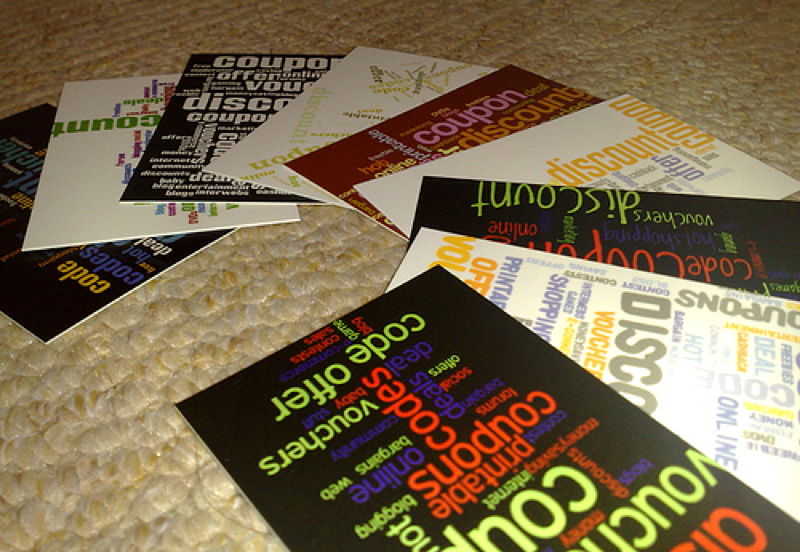 Moo is a little more expensive than Vistaprint, but the quality is higher. Buying business cards from a cheap source will cost you more in the end because you'll probably need to have them reprinted. Also, Moo provides more templates than other competitors, which means you can design a great card without having to hire a graphic designer first.
5. Print basic flyers at your local FedEx Kinkos or UPS store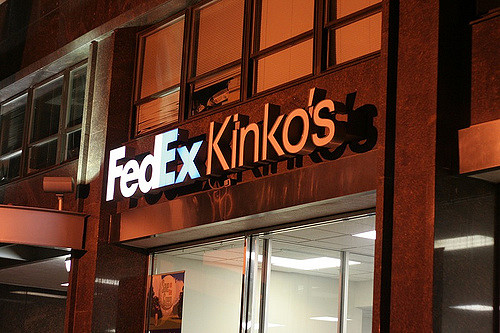 Basic flyers that don't require much precision can be printed cheaply at FedEx Kinkos, a UPS store, or even Office Depot. This option is great for posting a small quantity of flyers around town, on local bulletin boards, or at the office.
In most cases, you can email your file ahead of time with instructions so your copies will be ready to pick up when you arrive. FedEx Kinkos will let you print your copies when you arrive by entering a special retrieval code into the copy machine's touch screen display.
Some UPS stores will charge you their fee for using the computer, even though it's being used by an employee. Call ahead to determine what you'll be charged before sending your request.
Know when to use higher quality materials
Occasionally, you might need to use gold foil and glossy paper. However, most of the time you don't need to get that fancy. You'll save the most money by knowing the difference.
And that's it. Between those five suggestions you should be able to produce lots of great marketing collateral and materials for your business without crushing your budget or burning through cash. Now, go market!