I don't know why, but the latest video I uploaded to YouTube doesn't have a thumbnail image. In fact, YouTube couldn't create any thumbnails. How do I fix it so that it's not just a dull grey box?
Every so often the oompa-loompas behind the scenes at YouTube seem to slip up. They don't create a bad tasting candy bar like they would in Willy Wonka's factory, but something else weird goes wrong instead. And every so often you upload a video to YouTube that plays just fine when you view it, but somehow as the system created the multiple resolution versions of your file, it didn't additionally create the usual three thumbnails from various spots in the video sequence itself.
Bad oompa-loompas!
Unfortunately there's no "regenerate thumbnails" option, so you're going to be left to your own devices in this particular instance. It's not too bad, though, if you know how to capture a section of your screen and save it as an image, because that's what we'll use as the replacement.
To start, here's what one looks like: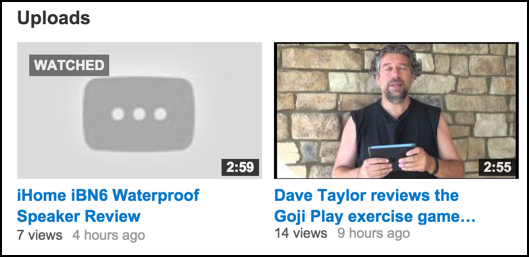 The iBN6 review is encode the same was as other videos, uploaded the same way, it just… didn't get a preview. Weird.
To fix it, create a suitable thumbnail image. I did this by playing the video and pausing it at a good point, then using Cmd-Shift-4 on my Mac system to click-drag to capture a subset of the screen. On a PC you'll probably find it easier to capture and save the entire screen (with Print Screen) then use something like Microsoft Paint to crop it down.
Either way, have an image ready to go that's approx the right dimensions — wider than it is tall — then go back to YouTube and look for the following buttons under your video clip:

Click on "Video Manager" and you'll see a listing of all your videos, approximately like this:

See the "Edit" link just below my own iBN6 video? That's what you want to click on.
Now you'll see something just like this: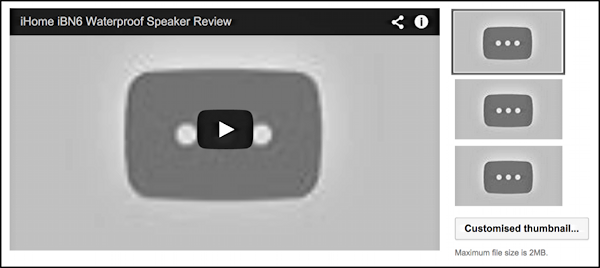 Three thumbnail options, zero that have any data. Those darn oompa-loompas!
Now that you've found the right spot, simply click on "Customized thumbnail…" below them and select the image you've saved from your screen capture program.
Instantly, it's fixed: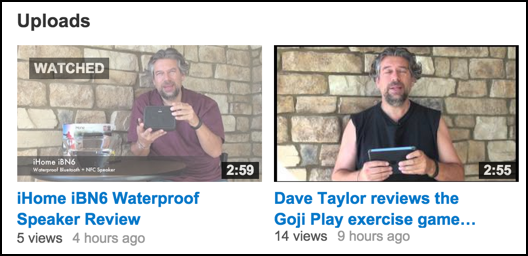 Wasn't too difficult once you figure out how to create the screen capture from the video itself, and where the upload button is hidden!
And now, I'm off to talk to Mr. Wonka…