Is there any way to get walking directions to places I want to visit from within Yelp on my Apple Watch? I don't want to be pulling my phone out of my pocket all the time when I'm downtown…
While not many people are talking about it, the Yelp app for the Apple Watch is quite good and surprisingly feature-full even on the little tiny Apple Watch screen. You can look for specific types of venues, read reviews, and, yes, get directions, whether you're on foot, driving or trying to get there with public transportation (in most areas, at least).
I tested this feature out a few days ago while visiting the beautiful little town of Santa Fe, New Mexico. I really needed a good coffee fix, so instead of pulling out my phone or using a bigger screen, I simply tapped through on my Apple Watch.
Here's how that all worked out…
First, launch Yelp by finding the white flower logo on the red background from the App screen. Don't remember how to get there? Just push once on the Crown then swipe around to find the proper icon:
Start it up and you have a set of primary options from which you can choose:
It might know me or it might be a default option, but yes, please, Coffee & Tea.
A tap with my finger and I can swipe through the closest options:
Turns out that Holy Spirit Espresso is a wonderful, kitsch option, but there's another choice just below it that I want to read about too with its five-star reviews:
And look, ArtfulTea is 500 feet away. That sounds rather ridiculously close (though Holy Spirit Espresso is only 150 feet away!)
A single tap and you'll be at a screen with more details (though without swiping down you won't realize it). Swipe down a bit and you'll see the venue's location on a tiny map, as you can see here:
This doesn't show your current location, but that's okay, it shows the venue's location and street address.
Ready to walk or drive there? Easy. Tap on the map.
Now it gets a bit odd because the first generation Apple Watch is a wee bit underpowered. So instead of seeing the address, it shows "Unknown Location" for a few moments, but it does show estimated transit times: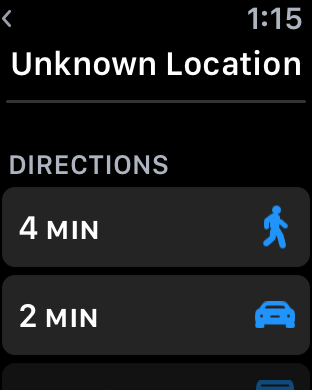 Walking seems reasonable? I mean, 4 minutes. That's not far!
Tap on the walking transit estimate (or vehicle estimate if you prefer to drive anyway) and it'll show start & stop on a map:
At this point you'll get clear step by step directions that include distance until next intersection, which direction to travel, etc. Here's a sample (though this is of a different route, not El Dorado Hotel in Santa Fe to Artful Tea. Just so you don't get confused!)
That's all there is to it. Once you get there the Maps app on your iWatch (errr… Apple Watch) will automatically know you've arrived and while it won't quite phone ahead your order, it does make everything delightful simple. If you get confused, by the way, pull out your phone and it'll have the same directions, just with a nice, big map!