I hate my printer. There's always something wrong with it. But I gotta print things out, so I gotta cope. Now the Dock icon has a little yellow triangle "warning" on it. What the heck, man? What does it mean and how do I fix it? I'm running Mac OS X Mavericks.
Ah printers. While most of us need hard copy of materials, whether it's a paper to turn in at school, a letter to Mom or the latest artwork, we really haven't achieved the so-called paperless society that was promised a decade ago as computers really began to become ubiquitous. Problem is, printers are a pain to work with and there's something about the complexity of sending data, having the printer receive it, and having it successfully come out of the printer as desired that seems to make things difficult.
On Windows, the system ostensibly sneaks onto the Internet and finds the proper driver, but more often than not I find that it just says "can't find the right driver" and either just quits or offers to use a generic printer driver which rarely actually works.
On the Mac, the process is quite similar, though at least with the rise of Internet and AirPrint printers they're all visible immediately (in the old days you had to know the IP address of the printer, something you'd obtain by printing the "config" sheet on the printer itself).
Still, even in 2014 there are aspects of printing that are still needlessly complicated and difficult. One thing that's improved, however, is that printers are now able to communicate back to local computers about things like paper jams and, yes, low printer ink.
And it's the latter that it sounds like you're seeing with the yellow "warning" symbol on the Dock icon. My guess is that it looks like this: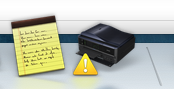 To find out what's going on, click on the icon. Then the printer driver window will pop up:
See the "Settings" button? Click on it to get more details on the printer configuration, driver version, etc:
Some elements, like the "Show Printer Webpage…" will vary on a printer by printer basis, depending on how sophisticated it is, so if you don't have that button, don't worry too much. Instead, click on the "Supply Levels" button along the top. On a color printer, you'll see the levels of each ink:
Depending on what kind of things you print, your colors tend to be consumed at different rates, which is a huge pain because it means you can't just "replace 'em all" but instead have to pay close attention to maximize the number of printouts per color. You can see that on my Epson Artisan 837 the Cyan, Magenta and Yellow are getting low, while Light Cyan, Light Magenta and Black have all been very recently replaced so are full.
For comparison sake, on a laser printer that doesn't have color printing capability, the Supply Levels looks more like this:

Same basic idea, and as the levels get dangerously low, the warning symbol will again show up on the printer icon in the Dock.
So now you know. Click on the Dock icon next time and it'll tell you what the problem is. And you can fix it. Hopefully!