In the early days of the Internet, back when we called it a "dirt road" and were delighted when email bounced from UUCP connection to UUCP connection as is slowly wound its way from one end of the topological jungle to the other, email mailing lists were quite the cool thing.
Years have passed and we now have sophisticated web-based discussion boards, blogs and many other venues for interpersonal interaction, but email remains, to me, the killer application, and it's on my mailing lists that I encounter the freshest thinking and most valuable information.
I can remember when there were two main places to find mailing lists too (other than the List of Lists and other short-lived directories), Topica and Yahoo Groups. Google's added its own collection — of course — with Google Groups too, but in many ways, Yahoo Groups was always my favorite place to look for people with similar interests.
Which is why it's so distressing to see that it's become an absolute safe haven for porn and spammers in ways that were unanticipated when Web-based lists were first envisioned…
Rather than just talk about it, let me show you a group invitation I just received: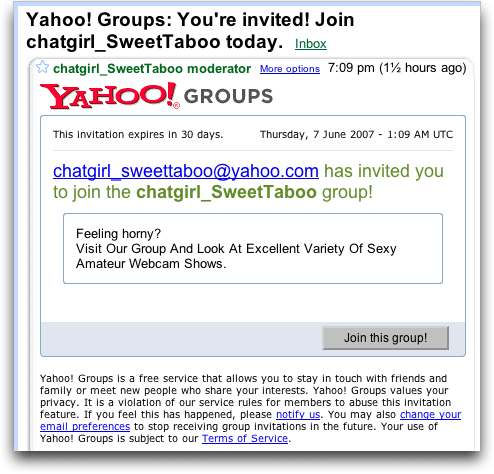 Clearly this violates the terms of service of Yahoo Groups (at least, I certainly hope it does) but I find it fascinating that I get a lot of spam from many sources, but Yahoo Groups is the only Web-based mailing list management service that has started delivering this sort of junk to my mailbox. And this isn't the first. I'd estimate that I get two or three of these every week that creep through my spam filter, and indeed, you can imagine that even Google's Gmail service has a tough time differentiating a spammy or porn Yahoo group invitation from a legitimate group invitation, so it's pretty sneaky/smart on the part of the spammers.
Sure, I can ostensibly report this group invitation to Yahoo, but they are unlikely to take action against these spammers, and if they do, will it do any good anyway?
Have you seen any porn or spam invitations of this nature, and what's your opinion of this intrusion into what I certainly still view as one of the pearls of the Internet community?