We've all gone into the Direct Messages area in Twitter just to see that there are message requests from unknown users. What the heck? Here's a fun and somewhat irreverant guide to unsolicited private DM spams and scams in Twitter…
Let's start out on the right foot; most people who reach out to you on social media networks of any sort are either spammers, 'bots, or other undesirables. Since it's so cheap and easy to communicate with unknown accounts, it hasn't taken long for the corners and edge of the Internet to be completely overrun with questionable characters, almost always masquerading as someone other than who they actually are. Which, I suppose, makes sense since if you're communicating with unknown people about something that's probably not legit, why would you want to expose yourself to abusive responses?
But then again, perhaps there are lovely people who are staggered by your online wit or otherwise legitimately reaching out to offer you a special deal, partnership, or something terrific for free. Free, I say! Okay, it's not very likely, but who knows. At this very moment, one of 'em might have just DM'd you, as we Twitter folk call Direct Messaging, the SMS Text Message equivalent of the Twitter world.
FINDING YOUR HIDDEN TWITTER DMS
Even Twitter, the much beleaguered social media service that's a shadow of its former chaotic self, knows better than to have these unknown communications get front-and-center visibility in the app. I'll be using the Twitter for iPhone app, but you can follow along on your Android system too, as desired. To start, open up the app and tap on the envelope icon on the lower right. You'll go into "Messages" and probably have some conversations with accounts you follow shown: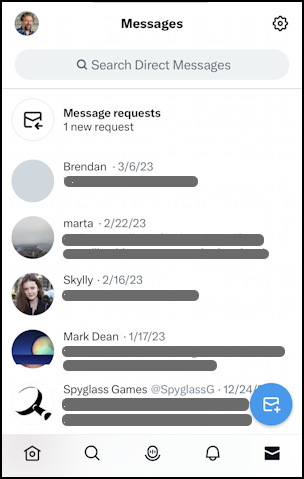 You can see my most recent interaction was with Brendan just a few days ago, on 3/6/23. But above that is what we're most interested in: "Message requests". I have 1. Who is it?
A tap reveals, well, not much:
At least it defines what a "Message request" is: A direct message from someone you don't follow. Sounds like it might just be a bit ominous, but let's see… Tap on the blue "Show" link.
Who are these people, and why do so many seem to be bogus accounts? I mean, who would want the account name of rdkzbx54agrhoz? Let's find out: Tap on a particular DM request and Twitter will show you what they've sent…
THE WORLD OF DM MESSAGE REQUESTS
First off, how about rdkxbx54? Let's find out:
Well, someone who appears to have joined this month and has zero followers wants to know "what a cyber romance would be like". This is a classic first step to what's known as a romance scam and these can be quite dangerous. Notice it's prompting me to switch to Telegram and interaction with "Katie3344" to "know one enough better". The typical scam involves building a trust relationship then her telling you that her sister is in jail, she can't feed her parents, whatever, but can you please send some money to help? Gift cards from Walmart are fine.
Uh, no thanks.
At this point you can "Block or report" if you want to mark them as a scammer or other dangerous account, or you can just "Delete".  I generally block them though most accounts have been deleted by the time you go to reply to them anyway. Like my almost-new-pal Linus Chung:
Why a suspended accounts DM requests aren't just automatically wiped out too is a bit of a puzzle, but it's very common for you to bump into these. Just know that they tried to scam others and were given the boot. As it should be, actually.
Some DM requests are even easier to identify as scams when they simply try to get you to follow yet another account:
Again, joined March 2023, 0 followers. David, I'm sure that's not your name – and I'm also sure that's not your photo in the profile pic image – so this is yet another easily one to "Block or report".
Hopefully it doesn't take too long to go through all of these and delete, block or report them. Got a legit one? Amazing! Tap on "Accept" and you can actually begin communicating with them through Twitter. But be careful; why is someone trying to direct message you rather than just publicly mentioning you in a tweet?
Once you've cleaned out all the junk you'll probably get the purple hand:
No-one actually knows what this graphic means, but it looks problematic: does this stuff wash off?!?
ELIMINATE UNSOLICITED TWITTER MESSAGES
Turns out that there's a Setting you can change to get rid of all unsolicited Twitter direct messages from accounts you don't follow, actually. Tap on the gear icon on the top right of the Messages screen and you'll get to Privacy settings. Check out the very first option:
Disable "Allow message requests from everyone" and you'll solve the problem. While you're here, also enable "Filter low-quality messages" because, well, why wouldn't you do that? Done? Tap "Done". Done.
Pro Tip: I've been on Twitter since the early days and have written lots and lots of useful tutorials. Please check out my twitter help area for more useful guides. Oh, and why not follow me, @DaveTaylor, on Twitter too? Thanks!