I know that Facebook tells you when it's someone's birthday, but I don't use Facebook. How about LinkedIn, though? Can you wish someone happy birthday on LinkedIn?
Back in the old days, it was up to us to track birthdays all by ourselves. Remember getting an annual calendar and then spending the time to go month by month and copy across all your important birthdays? Mum, your brother, your boss, etc., if you didn't copy them across you were quite likely to forget them. The rise of personal computers and modern tech made it a lot easier, however, and now you are likely to get notifications of birthdays from people you don't even know on a daily basis!
And LinkedIn is no different. As long as your friends and colleagues have entered their birthdays into their LinkedIn profiles and you're connected to them, you'll be able to see their birthdays and even wish them happy birthday as desired. LinkedIn doesn't, however, make it as easy to work with as Facebook because some of the birthdays – but not all – show up in your Notifications. Enough chat, let's have a look!
You're already familiar with the main LinkedIn navbar:

Click on "Notifications" and you should see a list:
There are various things that can show up as notifications, but it's the second entry that you want: "See who's celebrating".
Click on that and you'll move to a list of everyone's birthday:
You can see that both Heather and Tristan have birthdays today! In fact, the list can be quite a bit longer if you have a lot of links on LinkedIn and they've entered their birthdays into their profiles.
Want to wish one of 'em an actual happy birthday? Okay! Click on "Say happy birthday" and it opens up a chat window: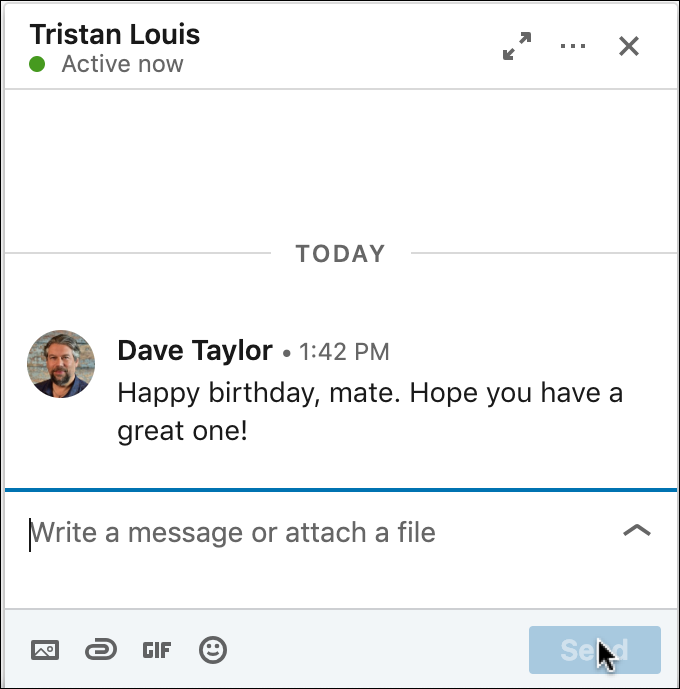 If you're so inspired, you can add an image or graphic, or even tap into the terrific animated GIF library from Tenor that LinkedIn makes a single click away. Just click on the tiny 'GIF' letters on the bottom row and yet another window pops up, this time with animated GIF images. Type in a word or phrase, press Enter and it'll quickly show you a long set of animated GIf choices:
Look through them, find just the right one – tip: cats are never inappropriate on the Internet – and you're good to go. Better yet, have a closer look at that "see who's celebrating" list and you can actually see a few days into the future too, so you can anticipate birthdays as needed!
Pro Tip: I've been writing about LinkedIn for a long time – and more serious themes too – so please check out my LinkedIn help while you're here on the site. Thanks!