I saw your recent article about how to find whose birthdays are today on Facebook but you focused on the Web browser interface. I use Facebook Mobile and don't see any Events or Birthday link. How can I find out whose birthday it is and wish them a happy birthday on my iPhone?
In many ways the Facebook Mobile interface is quite similar to the Facebook web browser interface. Space constraints obviously mean that there are some differences, however. Sometimes they're pretty simple changes, like a button being on the bottom of the screen instead of on the left, but other times it can be fairly complicated. For example, on the mobile interface Messages ends up being an entirely separate application, rather than just one of many entries on a navigational menu.
Birthdays are one area where the Facebook Mobile team seems to have just entirely dropped the ball. The solution, as you'll see, ends up being a search shortcut, of all things. Which means that every single time you want to find out whose birthday it is you're going to have to do a search to get to that shortcut page. Seems like an odd interface choice to me, but it is pretty easy once you know how to find that shortcut. So let's have a look!
To start out, here's a pretty typical Facebook Mobile home screen: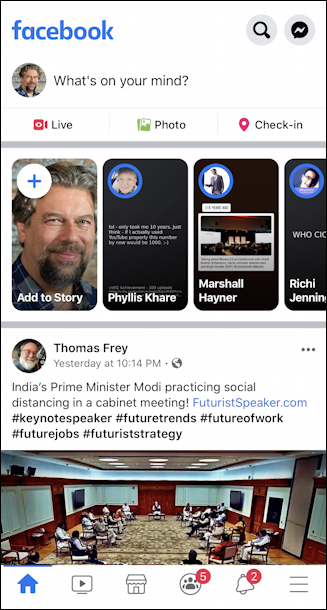 You're undoubtedly quite familiar with this interface. But how often do you use the powerful Facebook search feature? It's really a great way to navigate the service and bounce around from favorite groups to pages to people's profiles. It's also how we'll find birthdays. Tap on the magnifying glass icon on the top right to proceed, then type in "birthdays", as shown:
See that first match with the little green icon? That's the shortcut. In fact, it even says "Facebook Shortcut" in case you didn't realize that's what it was. 🙂
Tap on "Upcoming Birthdays" and you'll get to a super helpful page that shows current, upcoming and even recently passed birthdays:
In this instance, you can see I was already on the ball and have wished a happy birthday to everyone on my friend list for today through the Web interface. I try to do that every morning, because who doesn't like a cheery "happy birthday!" on their page?
Look just a bit lower, however, and notice that I missed Leslie's birthday on the 21st. Oops. A belated birthday wish is pretty darn easy to enter if that's what I desire.
One day later, there are less birthdays but the demo is a bit more interesting: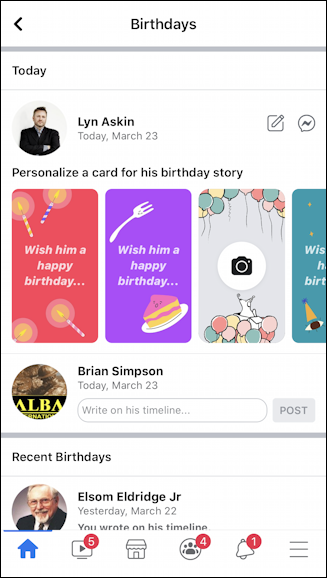 Lyn has his profile set up so that people don't write on his timeline but instead can contribute to his "birthday story". Facebook recognizes that and offers some very fun templates, as shown. Below that, Brian has a much more typical setting and there's a little box wherein it's a breeze to wish him a happy birthday.
Some people have a charity identified for their Facebook birthday, others either hide their birthday entirely (in which case they just won't show up on your list) or don't allow people to write on their timeline, share a story, or anything else. In the latter case, if you know them well, send 'em a text or email! 🙂
And that's it. Now you know the secret Facebook Shortcut to keep up with all your friends birthdays and wish them a happy birthday (or, as I like to write, 'happy anniversary of the day of their birth') from your phone!
Pro Tip: I've been writing about Facebook since it was a college student only dating site. Please follow AskDaveTaylor on Facebook for fun and unique content, and check out my extensive Facebook help area for lots more useful tutorials too.