I have an LG V20 that I want to give to my brother because I've decided the iPhone's a better match for me. He's ready to pay for it, but I want to wipe it clean of my messages, phone numbers, photos, etc, before I hand it over. How do I do a complete reformat of an LG Android smartphone?
Turns out that all modern devices have a reformat option, which is a bit amazing. From an iPad to an Android tablet to a Windows Mobile phone, somewhere, buried deep in the settings and preferences is a reformat or "factory reset" option that wipes all your data, personal information and generally restores the phone to its original as-shipped state.
Before we go further, however, I'm a bit surprised that you got an LG V20 and have decided you'd rather use an iPhone. Our experience with the V20 is that it's a terrific mobile phone option with lots of neat features, including the tiny second "status" screen at the very top of the device screen. Of course, the fingerprint scanner in the center of the unit's back is something you need to get used to, but I'm actually guessing that it's more about the operating system on the device than the device itself?
In any case, you're lucky to have such a fantastic brother who will purchase the phone from you, not just ask you to give it to him. He's a keeper. 🙂
Back to the phone, however. Start by going to "Settings":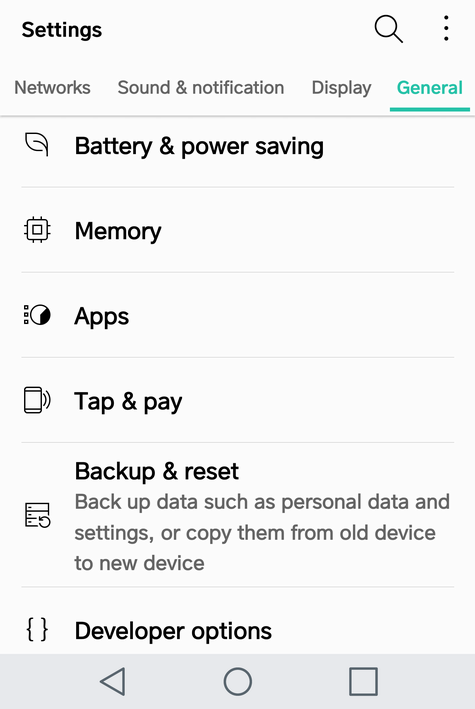 You'll want to make sure you're looking in the "General" category, then scroll down to where the LG shows "Backup & reset", as you can see in the above screen capture.
Tap on "Backup & reset".
Lots of smart, different ways you can back up your data that hopefully you've already been availing yourself of before now, but at this point, of course, it's a bit too late to worry about! 🙂
To proceed, tap on "Factory data reset" at the bottom. The phone will now detail exactly what will happen if you proceed: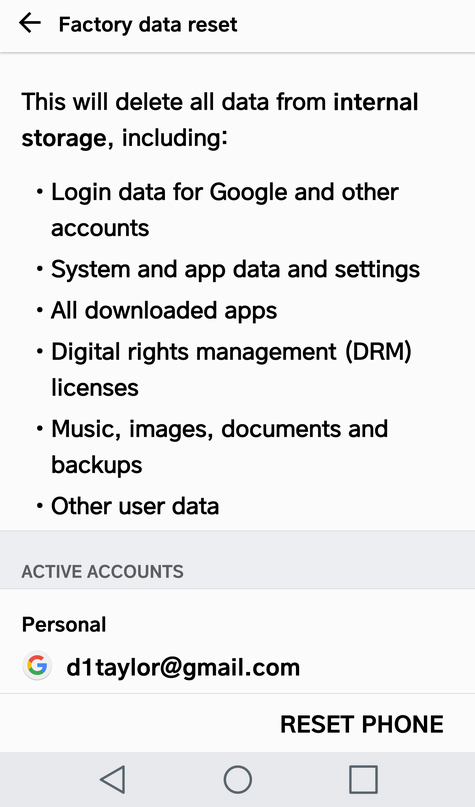 This is what you want, right? There's no going back once you've done a factory reset, so make sure you do have a good backup, copy of your phone book, archived copies of any photos or videos you'd like to retain, etc.
Ready? Tap on "RESET PHONE" at the bottom.
You'll need to prove you're the authorized owner of the phone…
Why do they do that? Because it'd be a disaster if some prankster could just pick up your phone when you weren't looking and reset it! So, easy enough, enter your security PIN and tap "Done".
Since this is such a dramatic step, the phone will now prompt you not once, but twice to ensure you really want to proceed. First time it's this: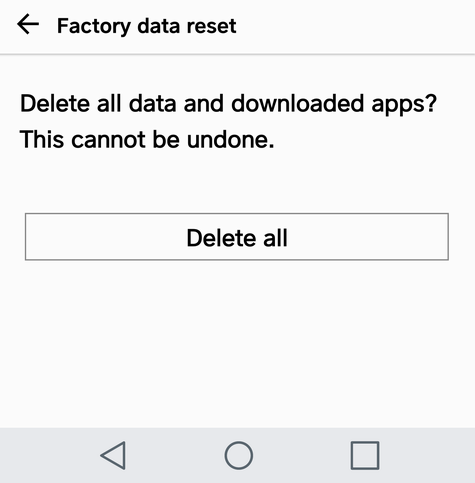 To proceed tap on "Delete all" and then it'll again ask if you really want to proceed. You do, right? Because the next time you say yes, there really is no going back…
Tap on "RESET" to do a full wipe and factory reset of your LG V20 Android smartphone and, as it says, it'll restart a couple of times and do all sorts of weird – and time intensive – things. Eventually, after a few minutes, it'll restart and look exactly like it did when you first pulled it out of the box:
Done. Reset. Ready for your brother! If you're paranoid – or selling it to someone who isn't part of the family – you could also pull out and destroy the SIM card at this point too. Good luck with your new iPhone!