I had a loaner vehicle from the Toyota dealership while my RAV4 was being fixed and before I turn it back in, I want to erase my phone from the system and wipe any data that might have been downloaded via Bluetooth. But I can't figure out how! Help!
Adding new Bluetooth connections to a modern vehicle infotainment system is a fairly common task, but unpairing and deleting phones? That must be far less common because it's often a surprisingly confounding task with modern vehicles. I get it, infotainment systems have a lot of tasks they're supposed to accomplish, but it's surprising how often something that might seem easy to a developer at the car manufacturer ends up being completely baffling to an end customer. I am convinced that just as we had millions of VCRs flashing 12:00 in earlier decades (because it was too confusing to set the correct time) there are millions of cars that aren't set up properly for their owners because the task is just too convoluted.
As it happens, I've written about how to unpair your phone from a Toyota entertainment system back in 2018, but I just tried the task on a 2022 Toyota Corolla and it had me stumped for a few minutes before I figured out how to get to the right spot in the settings and configuration. As a result, this is an updated tutorial, though once we get to the right spot the process is basically identical.
FINDING THE REMOVE BLUETOOTH PHONE BUTTON
The biggest challenge is to find where the Bluetooth phone settings are actually located and you can delete one of them. There are a number of places you can find the list, but tap on your phone entry and it'll show you lots of options, except remove. It's not obvious to me why Toyota couldn't just add "Unpair" and "Remove" as additional options on all these other screens, but there's only one path to the button we seek…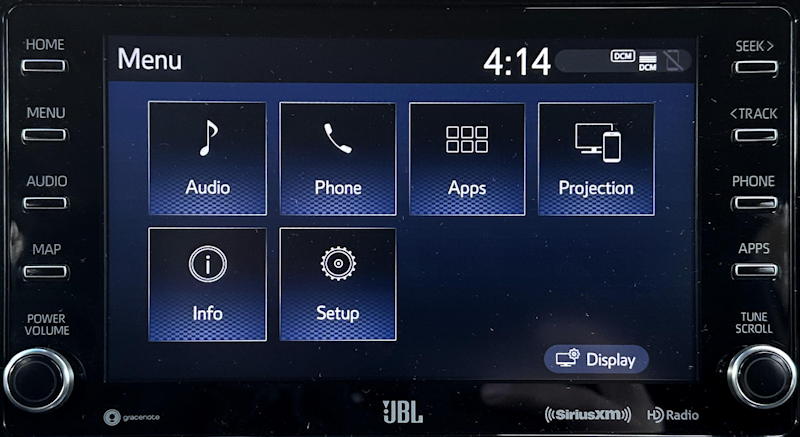 You have to reach the above display and you can't get there from the APPS button, the PHONE button, or any of the buttons or touch areas on the HOME screen. The only way to get here is with the MENU button on the top left.
To be honest, this is probably the hardest part because if you're like me, you're busy looking on the screen for the setup button and it's just not there (until you press MENU). Once you do see it, tap on "Setup" to continue.
Now choose "Phone" from the menu on the left. "Bluetooth" lets you add phones, but not remove them.
Finally, you'll see a list of registered phones:
Don't tap on the phone you want to remove even though that's an entirely logical step to take. Instead…
REMOVE A PHONE FROM A TOYOTA INFOTAINMENT SYSTEM
What you need to choose is the "Remove" button on the lower right. That's the secret doorway into the removal area of the Bluetooth devices on a Toyota vehicle. Now things make sense:
Choose your phone – in my case, I'll choose "iDave 14 Pro" – and it'll confirm you want to unpair it and remove all of its contact and other information from the vehicle's database:
You sure this is what you want to do? Then tap "Yes" to proceed.
After a moment or two, you'll see this flash on the screen:
And that's it. Mission accomplished. Now you can safely turn in the loaner, knowing that neither the dealer nor the next loaner recipient will have access to your contacts and address book.
Pro Tip: I've been writing about basic computing, including automotive systems, for many years. Please check out both my auto tech help and computer basics tutorials to see what other helpful articles I've written!