I've heard that Windows Vista Ultimate has two different firewalls included; I want to be able to scan both incoming and outgoing data. How do I do that? Does it matter which firewall I use?
It's true; Windows Vista Ultimate does contain two separate, but very different, types of firewalls:
The generic Windows Firewall, which is accessible through the Windows Security Center
The Windows Firewall with Advanced Security, which is available through the Start menu search feature
If you want a true bi-directional firewall, you'll want to use the latter! Finding it can be a bit of a chore; however; you can best reach it by:
Click the Start button.
Type "firewall" in the Start Search box at the bottom of the Start menu.
Select Windows Firewall with Advanced Security.
Click Continue.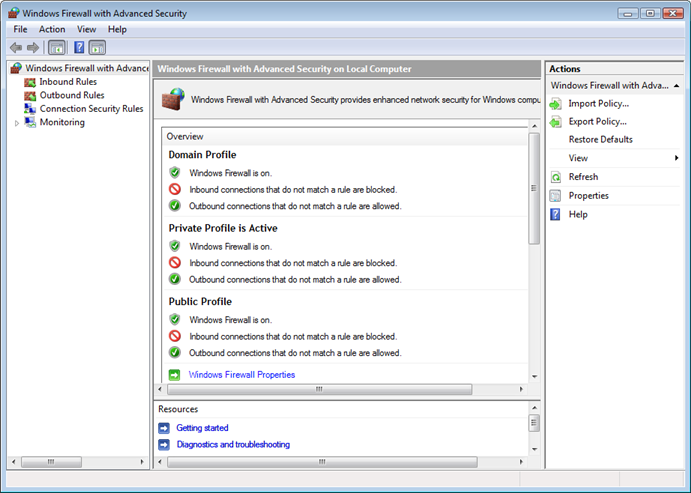 The Windows Firewall with Advanced Security appears using a Microsoft Management Console (MMC) window. The center panel displays an overview of your firewall settings. By scrolling down the panel, you can access firewall properties. These allow you determine the firewall's state (on/off, monitor inbound/outbound/all traffic), logging, or settings for each profile as shown below.
In the left panel of the application, there are icons for inbound and outbound rules, connection security, and monitoring. Let's first set up inbound rules for configuring how the firewall manages incoming data packets. To do this:
Click Inbound Rules.
Click New Rule… in the Actions panel; the New Inbound Rule Wizard appears.
Select the Rule Type.
Select the Program.
Select the action to take; either block the connection, allow it, or only allow it if it secure.
Select the Profile to apply (Domain, Private, or Public).
Add a name and description (optional).
Your new rule appears among the list of inbound rules, as shown below.

You can set rules for outbound connections and connection security in a similar manner using these options from the left panel. All of the features mentioned above are unique to the Windows Firewall with Advanced Security; the standard Windows Firewall doesn't let you perform these tasks.