It's not often I say this, but the process of shrinking down a photograph or other image file is actually easier to accomplish on a Windows system than on a Macintosh, which is kind of weird because the Mac is generally a lot more graphics friendly. Problem is, there's not even a rudimentary graphics editor included in Mac OS X, whereas every Windows PC includes Microsoft Paint, which might not be a direct rival to Adobe Photoshop, but unto itself, it's a surprisingly capable little utility.
In Windows 8, of course, there's the challenge of finding the app, but, again, just about every Win8 system I've used has it as the default program to use when you double-click on a photograph, image, or really any file that's a JPEG, GIF or PNG.
So let's have a look.
To demonstrate, I grabbed an image of a delicious Italian dinner that we'll want to resize from its current dimensions to 50% of that, a target width of 400px.
How big is it? Well, your first impulse might be to just hover the cursor over the icon on your Desktop, but that doesn't offer up the actual dimensions: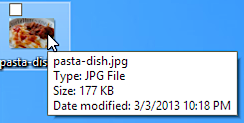 To find out the current dimensions, you can open it up in Paint, but let's right click on the image instead, then choose "Show Properties" and choose the "Details" tab:
You have to scroll down a tiny bit, but there are the dimensions: The current pasta image is 800px wide by 532px high. That's too big!
Let's resize it by double-clicking on the icon. It should then open up the photograph in MS Paint. If it doesn't, right-click on the icon and choose "Paint" from the "Open With" options.
You'll now see the image shown with lots of tools available for editing and modifying:
Click on the "Image" option, second from the left on the toolbar:
No surprise, "Resize" is the option you want. Choose it and a window pops up with a variety of choices:
I'm not really sure when you'd ever want the horizontal or vertical skew capability, but if you do, now you know where it is found. 🙂 More usefully, the top portion offers you the ability to resize by percentage (the default) and by a specific pixel count.
Most importantly, notice the "Maintain aspect ratio" checkbox. 99% of the time you'll want to have that checked so you don't distort your photo or other image as you resize it.
Click on "Pixels" and you'll see the current dimensions of the image appear;
Since my goal is to have the photograph ultimately be 400px wide, I'll simply type "400" into the horizontal dimensions box. The vertical dimensions automatically change to keep the existing aspect ratio:
Looks good. Click "OK" and the image is promptly reduced in size:
To save it over the larger version of the image, simply click on the floppy disk icon in the title bar (it's that tiny blue and white icon one from the left) or click on "File" and choose "Save" or "Save As…" from the File menu, if you'd rather give it a new name.
Either way, mission accomplished. Nicely done, too!