I'm confused. I run Windows Defender, and ever since I updated from Internet Explorer to Microsoft Edge, it wants me to enable "App and Browser Control". What is it, why should I enable it, and do you have it turned on for your PC, Dave?
While it took eons for Microsoft to finally own that it was not just responsible for the Windows operating system but for keeping us users safe while using the OS, they did. The result was Windows Defender, now known as Windows Security. Updated weekly – and sometimes more often – it actually does a really good job and for most users, is plenty enough antivirus and malware protection to keep your PC safe and sound. If you're the type who scrounges around on the dark web and installs apps from questionable sites, well, then you probably already know you need tougher defenses against all the malicious software that can be found online!
What's really good about Windows Security is that it's from Microsoft so it's very elegantly integrated into your Windows experience and doesn't slow things down or unnecessarily drag your system or interactions. Not every malware program can make that claim, as long-time PC users can attest. It can even detect when you haven't enabled something that would help you be even more protected from the dangers of the Internet, and that's exactly what you're seeing.
YOU REALLY SHOULD ENABLE APP AND BROWSER CONTROL
When I added a few new Web browsers to my Windows 11 system, it didn't take long for Windows Security to have the same warning. it's very subtle; a tiny yellow warning icon appears above the Windows Security shield on the Taskbar. Hover your cursor over it and you'll get a very succinct explanation: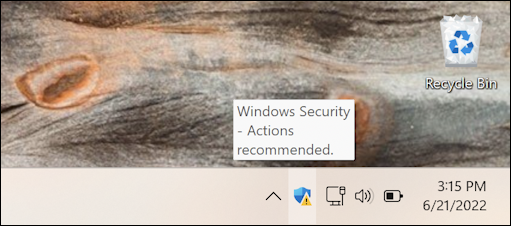 At least it says "recommended" not "required" or "critical", right? 🙂
Click on the Taskbar icon – or launch Windows Security from the Win11 search box – and it'll show you all the major areas it's working to keep your PC safe: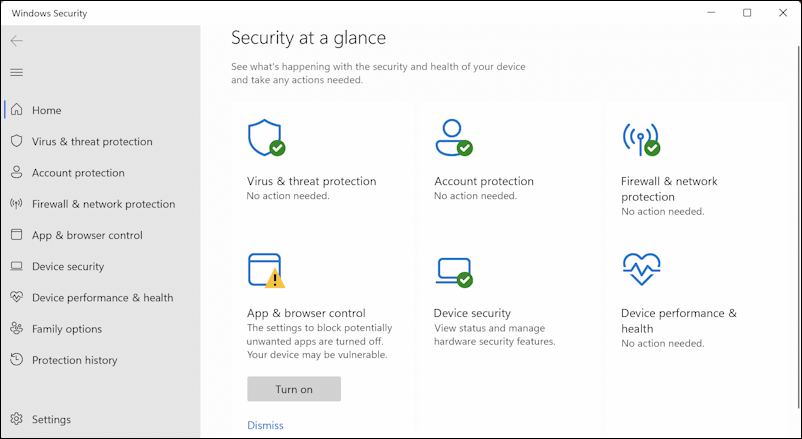 You can just click "Turn on" if you want to wrap this up and move to the next thing, but I always like to learn as much as possible before I enable something, even something from within Windows itself. It says "The settings to block potentially unwanted apps are turned off. Your device may be vulnerable." but… let's find out more. Click on "App & browser control" and it'll explain: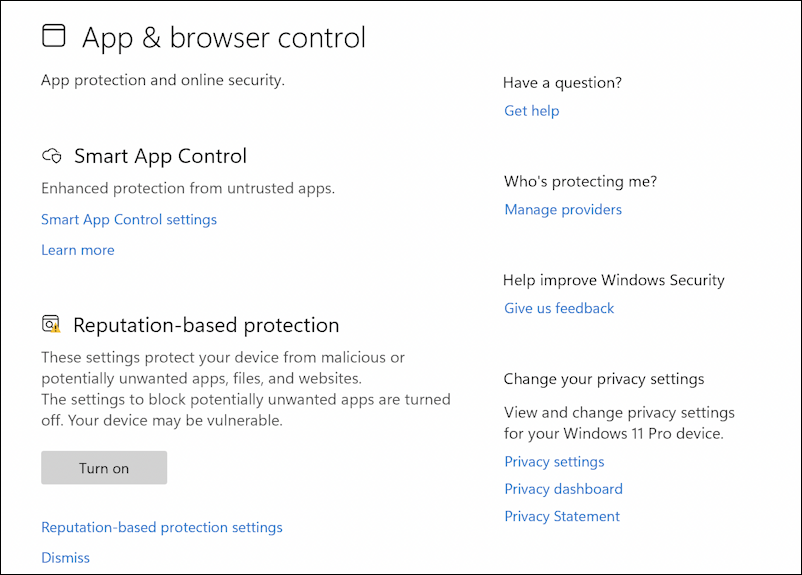 I already have Smart App Control enabled, but it's the Reputation-based protection that I need to enable. Specifically, Windows Security can help keep you safe while you're using a Web browser, so why not enable it?
Click on "Turn on" at this point and, like all good Windows programs, it'll prompt to confirm that you really do want to enable it to have special access to your OS: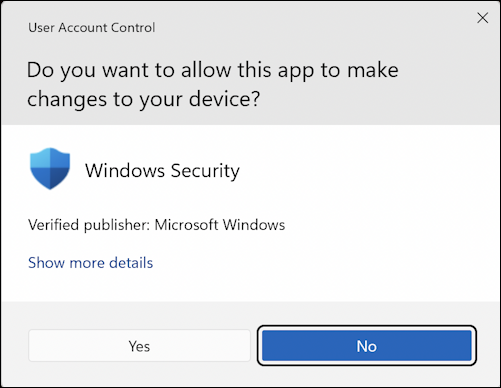 You can proceed safely as long as it looks exactly like the above. If you see a different publisher, back up and try to figure out why it's not showing the correct Windows Security program. Was it replaced by malware? Do you have some malicious software on your computer?
Assuming it's all correct, click on "Yes" and it'll enable the Reputation-based protection.
CUSTOMIZING REPUTATION-BASED PROTECTION SETTINGS
There are a number of areas that you might want to tweak before you're done, however, so let's have a look. Once you enable this setting, the "Turn On" button vanishes, so click on "Reputation-based protection settings". There's a lot here, so let's start with the first few: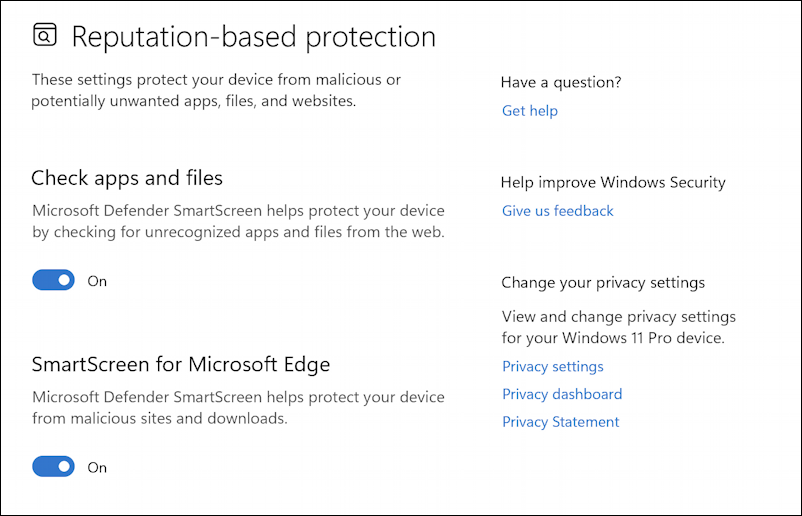 The too-long, didn't-read summary is I enable everything on all of my Windows PCs. But it's smart to know what it's doing – and what it isn't doing – to help keep your PC safe. SmartScreen is important, but scroll down a bit more and a far more important setting is revealed: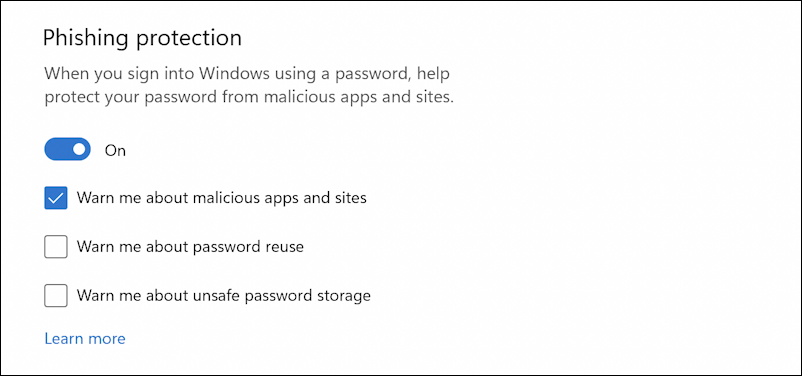 Hackers and scammers are increasingly sophisticated, so it's smart to enable phishing protections: Even the best of us can be tricked once in a while, so why not have Windows Security help keep an eye on the sites you're poised to visit?
There's one more section to check too…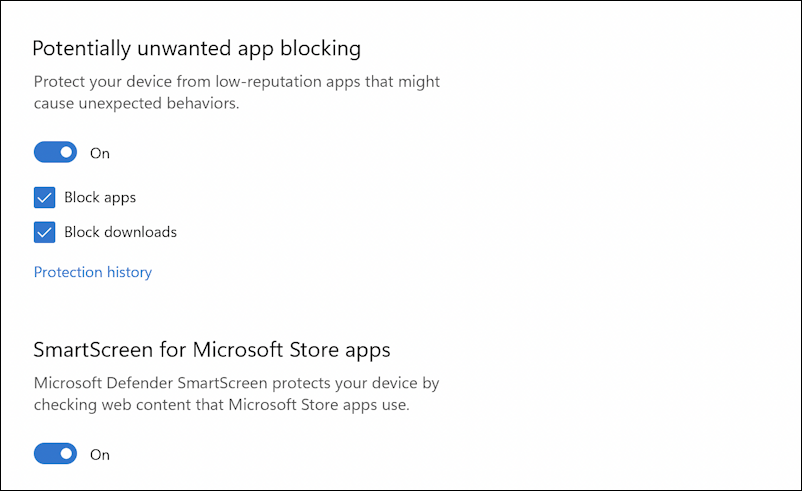 Unwanted apps? SmartScreen for the app store? Again, why wouldn't you want to enable this?
Check to ensure everything else is enabled then why not run a Virus & Threat Protection quick scan? Well done.
Pro Tip: I've been writing about Windows since the beginning. While you're here, please check out my extensive Windows help area for hundreds of other useful tutorials and how-to articles. Thanks!