I'm going crazy trying to rearrange my Win8 desktop to my liking: every time I move an icon somewhere on the screen, it snaps back to the left side without explanation. How do I get my Windows 8.1 Desktop to lay out as I desire?
What you're seeing is a feature, not a bug, believe it or not. OS designers have been wrestling with the tricky issue of icon placement on the desktop — and in folders — since the beginning of the graphical interface, trying to find that perfect balance between having things automatically arrange themselves neatly and giving users the power to tweak and modify as desired. Worse, Windows is the prime offender in this regard because so darn many apps like to drop shortcuts onto the Desktop, which means that if you're a Windows user, odds are good that you can't even see your wallpaper because you have so many icons!
While the Desktop seems to be completely different to individual folders where you can change the view settings, in fact they're all one and the same. There are two settings that are affecting your ability to manage your Desktop, and both likely need to be changed.
To start, here's a typical scenario: You drag an icon or folder to a specific spot on the screen…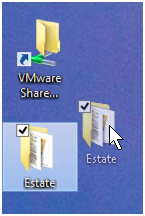 Just to let go and find that it bounces right back to the starting point.
Frustrating!
To fix it, right click anywhere on the desktop, then chose "View":
The "Auto arrange icons" is the preference that makes sure they stack from the top left, down then across, regardless of where you want to put them, and the option "Align icons to grid" is the setting that lets you put icons where you want, if they fit into the invisible grid that is superimposed over the desktop.
I recommend turning both of them off to maximize your flexibility, and you'll find that once you choose one, the menu vanishes, so it's a bit tedious in Microsoft Windows 8 and Win8.1 to change these particular settings. Once done, however, you can then stack things like this:
Much better if you like to stay organized! 🙂