I don't know why, but my Windows 11 PC is off an hour compared to the local time. I'm guessing it's the wrong timezone, but how can I fix it?
It's not uncommon for computers to get confused about timezones. Heck, people get confused about timezones every day. They are legitimately confusing, particularly the question of if someone is "ahead" of you or "behind" you in time. Computer systems use data to try and figure out your current location (for example, within a map app where you can center the map on your current location) but it doesn't always work. Use a VPN (virtual private network), for example, and it can place you hundreds of miles away based on that relay location!
A lot of people also like to keep their computer locked to their local timezone when they travel, which can be a bit confusing if the computer shows one time but your phone (which automatically switches) shows another! Still, they get used to it. Either way, it is easy to change timezone on a Windows PC whether you're running Win10 or Win11. Let's have a look…
HOW TO IDENTIFY YOUR PC TIMEZONE
The easiest way to figure out what time it is on your PC is to look at the Taskbar:

It doesn't show the timezone here, but let's just assume it's wrong because my smartphone is showing that it's actually 8:26AM. That means I need to move one timezone "West".
To identify your current timezone, you need to go into Settings. The easiest way to do that is to right-click on the date and time shown on the Taskbar. A tiny window pops up with two choices: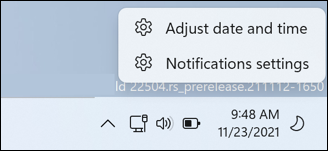 You can choose "Adjust date and time" or if you want to go all old school with it, go into Settings and search for "zone":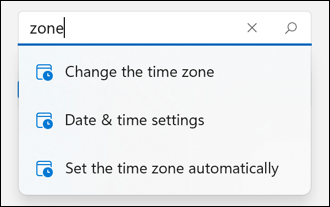 The first option is what you seek: "Change the time zone".
CHANGING YOUR WIN11 PC'S TIMEZONE
Either way, you'll end up here, in the Date & Time settings area: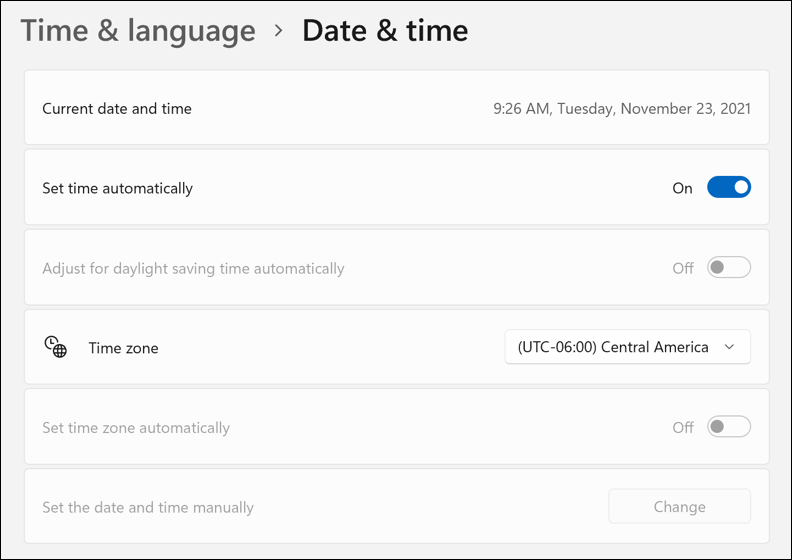 You can see that it is setting the time automatically, but that the timezone is being selected manually. More oddly, it appears that my current time zone is "Central America", which isn't quite the same as Central Time (US & Canada)! I am a bit curious why my PC thinks that I'm in Central America, but that's an aside. Let's stay focused!
Change your time zone – or just see the many, many different options there are – by clicking on the current 'zone. A menu pops up: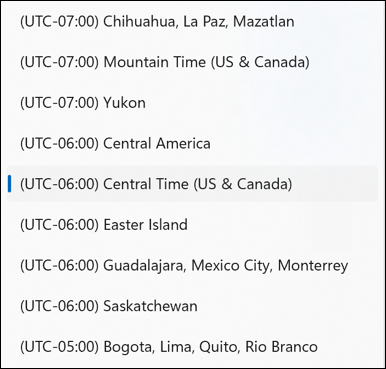 Did you realize that the Yukon had its own time zone, as does Saskatchewan and Easter Island? Perhaps more surprisingly, did you realize that Chicago and Easter Island are on the same timezone?!
Here's where I could switch my PC's timezone to Mountain Time (US & Canada) which would move it an hour "earlier", so that 9.26am would become 8.26am. Interestingly, since Mountain Time (and all other US timezones) also use daylight savings time, notice what else changes when I choose Mountain Time: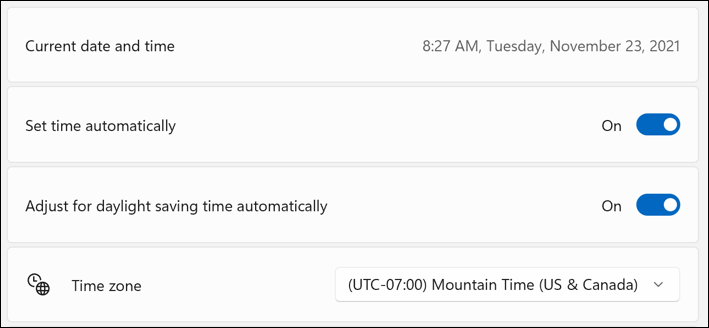 Suddenly the computer is primed to adjust for daylight savings time automatically. That's handy!
But… I'm actually in Illinois right now, so I'm going to instead switch back to "Central Time (US & Canada)".
To make sure my computer is accurate down to the fraction of a second with the current time, scroll down just a bit until you see this option in the Settings window:

A click on "Sync now" and it'll ensure your PC is spot on with the time. A handy thing to do once in a proverbial blue moon!
And that's it. Now you know where to find your current timezone on your Windows 11 PC, and how to adjust it if it's not what you want or need. Easy enough.
Pro Tip: I've been writing about Windows for many years and now have an extensive Windows 10 & Windows 11 help area. Please check it out to find lots of additional tutorials and guides while you're here. Thanks!