For reasons I don't understand, any time I click on an MP3 file my Win10 system opens up iTunes to play it. I prefer the default of Groove Music. How can I change it back?
It used to be that the default applications associated with different types of files was a setting buried deep in the configuration settings for Microsoft Windows, but with Windows 10, it's a breeze to get to the settings and fine-tune it as you desire. The bigger challenge is to figure out what app you want associated with the different types of media, from music to movies, photos to Web addresses!
What's interesting is that Windows 10 now makes it easy to search for additional programs through the Microsoft Store if you're curious about different photo editors, music players, etc. The real win, though, is that as you add programs, they register what file types they can handle, so your list magically and automatically has additional programs as available. I use – and really like – VLC, a free open-source video format player, and you'll see it shows up automatically.
Enough chat, however. Let's see how it works!
As always, start with a Cortana search. This time for "default":
You can see all the different choices for "default", but what's most impressive is that the top choice is exactly what you want: Default app settings.
That's the one, click or tap on it and you'll see a list of all your default apps:
You can see that Google Chrome is my default for email, but Microsoft Edge is my default Web browser. Slightly confusing, I suppose! Photos for photos, Maps for maps and… iTunes for my default music player.
Click on the default that you'd like to change and a menu pops up with all your valid choices: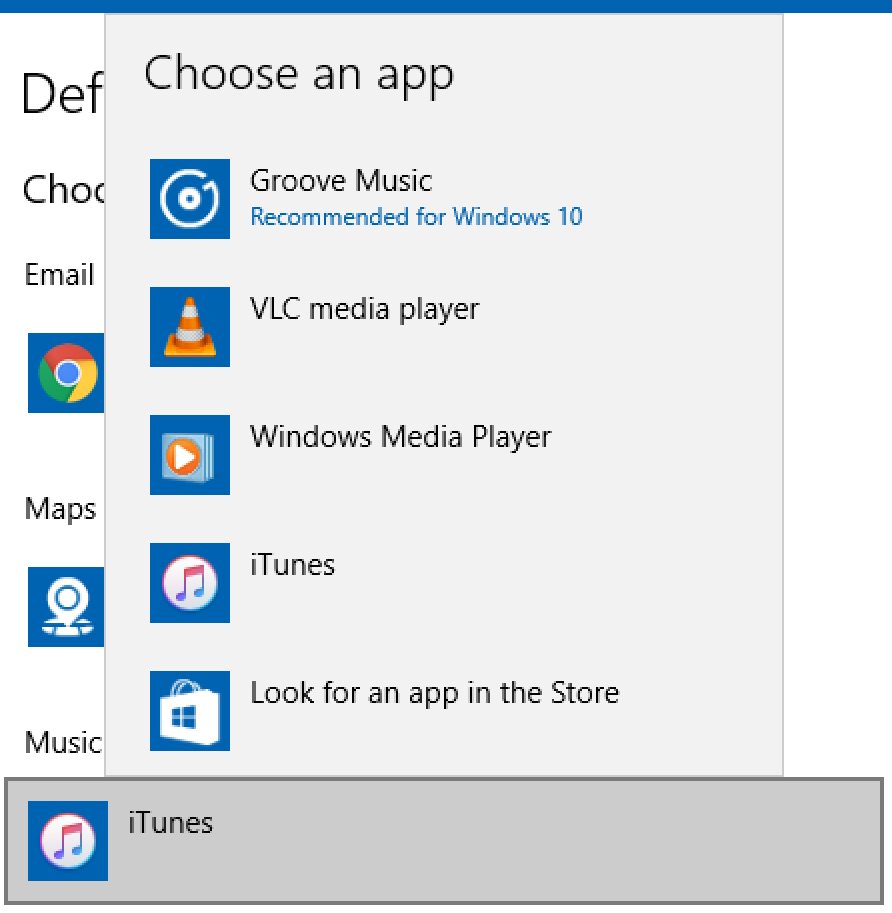 As you can see, the recommended default for music is indeed "Groove Music" so you can change that here and you're done. Notice also the last option: "Look for an app in the Store". Cool.
Now, what about the Video player? A click on "Movies & TV" shows the options:
Here you can see that I can choose the old school Windows Media Player, Photos, or my suggestion, VLC media player. All very civilized and straightforward.
Want to change your default Web browser? Heck, you can do that too:
Please, though, don't choose Internet Explorer. It's just not worth the security risk…