I have a hard time staying focused on an individual task so I set out 30 minute intervals during which I won't do anything else. Is there a way to manage this on my new Windows 11 laptop? I'd prefer not to purchase an additional app if possible…
Ah, the good old days when computers could only do one thing at a time. I guess that was a pretty long time ago, however, so now we're all plagued with the fact that a dozen or more programs can be running on our computer at a time. Worse, we get notifications and, of course, real-life happens around us too.
On the Mac, there's a slick Focus feature that can even winnow down your notifications to the most essential, but Microsoft doesn't have that on Windows. What the company does include is a Clock app with a lot of hidden superpowers. Ironically, two of its most basic features, stopwatch and timer, are not available on a Mac at all. You literally need to download a new app if you want to time how long to steep a cup of tea on your fancy Mac system. Crazy!
Let's check out the Clock app (which used to be called "Alarm & Clock" but now is just "Clock"…
FIRE UP THE CLOCK APP ON YOUR PC
You can look through your list of apps or just search for 'clock' to find it. Launch the Clock app. Click on "World Clock" on the left side: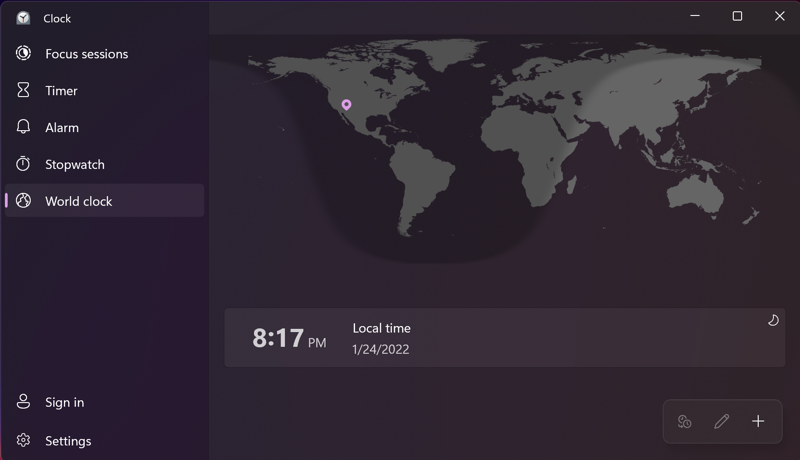 Okay, so this view doesn't have much to do with Focus Sessions, I just really like the picture and how it lets you see day and night across the globe at the present moment. When I took that screenshot you can see all of the Americas were deep in darkness, as was all of Europe and almost all of Africa. Pretty cool, eh?
Now let's get to work. Click on "Focus sessions". Why is this hidden in the "Clock" app? Your guess is as good as mine.
This moves you to "Focus Sessions":
What's very slick is that if you set a longer focus session, it'll automatically slip in some breaks to help you stay on task without zoning out. People are more productive with 50 minutes of focus and two 5 min breaks than in a 60 minute uninterrupted session, particularly if you take the break as an excuse to get up, walk around, get a glass of water and generally shift your brain off screen for a few.
SETTING UP A WINDOWS FOCUS SESSION
Ready to get this focus session set up? Excellent! Click on "Get started" in the app.
You can see that it's all set up to not only let you set up a quick focus session – with a default of 30 minutes – but that it can track how many sessions you managed each day, set a daily goal, etc. Quite useful for time management, no question. Not only that, but if you have specific study, classical, EDM or other music you'd like to hear during a specific focus session, you can pair the app with your Spotify account and set that up too.
Let's just jump into a 60-minute focus session. I'll check the "Skip breaks" box for this test too. A click on "Start focus session" and you'll see a countdown timer and a ring that slowly unwinds. A few minutes in, it looks like this:
You can now minimize it into a mini-window by clicking on the box icon with the arrow. Everything else goes away and you have a tiny ring countdown timer on the top right of your screen:
You can go back to the big window by clicking on the same tiny box icon with the arrow pointing "outward". If you "X" close the window the timer keeps running, by the way, so you can always pop into Clock for a quick peek as needed.
FOCUS SESSION SETTINGS AND PREFERENCES
You can also go back into the main app and tweak the settings to match your overall preferences. Go back to the big window, then click on the "•••" icon to the top right of the timer ring. A menu appears:
Choose "View settings" and there are a decent number of options to adjust:
Worth noting here is that if you're logged in to your Microsoft Account, then Clock will let you save and track your focus sessions over a longer time period. Very helpful. Now, if they could mute all those darn notifications…
Pro Tip: I've been writing about Windows for many years and now have an extensive Windows 11 help area. Please check it out to find lots of additional tutorials and guides while you're here. Thanks!