As a faithful reader of your AskDaveTaylor blog, I noticed a few days ago that you have added a new graphical element on the sidebar, one that features a variety of different products for sale and is animated. Cool. What is it?
Truth be told, I'm pretty skeptical of new ad networks and was not initially inspired to add Widgetbucks.com to my site – partially since it's a kinda daft name, but mostly because I strongly believe that the net value of all advertising is inversely proportional to the quantity and overtness of the ads. Put another way, too many ads will kill ya!
Nonetheless, my long-time friend Joel Comm told me that he was doing pretty well with Widgetbucks.com, which he'd added to a few of his own sites, and I decided that, what the heck, I'd put some up and see what kind of results I attain.
If you haven't figured it out yet, that's the ad block on the right side that looks like this:

As with all of these services, there are a variety of different sizes and shapes to fit different needs and space requirements. For example, if I really wanted to have the advert front-and-center here on the blog, I could also opt for a nice 660×330 ad box:
Since it is animated, it certainly garners attention, doesn't it? 🙂
Tip: if you see a blank box or public service advert above, it's because you're probably not US-based. Widgetbucks only serves up its advertisements to the North American audience so if you have a large internaitonal audience, it might not be an optimal solution for you. Just so ya know…
Behind the scenes, it's quite easy to pick and configure your Widgetbucks.com widget for your site, as shown here: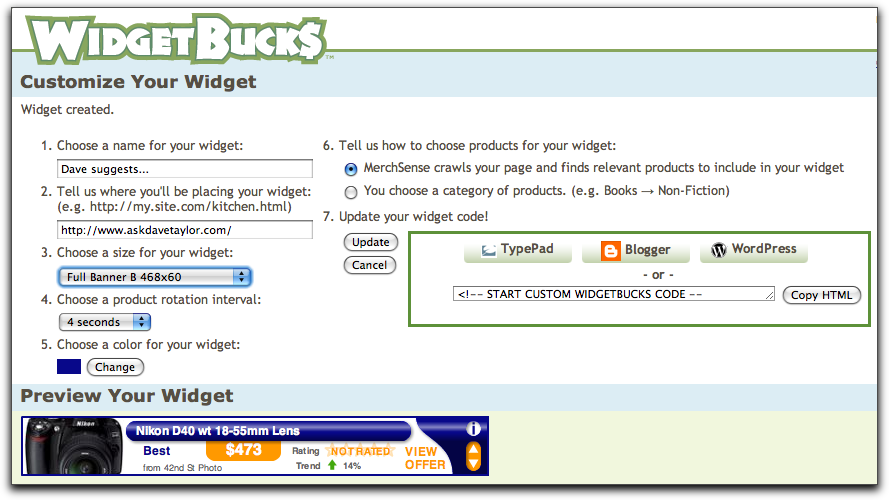 click for full size image
Note that there are custom code blocks for Typepad, Blogger and WordPress, along with generic HTML that can be added anywhere (including on my Movable Type blog, which is how I have these examples on the page too).
Is it paying off? Well, it's too soon to tell, but I will say that I've earned about $40 in a few days of running the ads on the site. Not a massive payout considering the traffic here, but multiply it out and that's an additional $5000 or so annually, which is nothing to sneeze at!
If you'd like to check out
Widgetbucks.com
, please go ahead and sign up through
my affiliate link
: you'll get the exact same deal —
including $25 just for signing up!
— and it'll help us keep our lights on here at AskDaveTaylor HQ. Thanks!