Hi Dave, I am running Mac OS X 10.3.9 and recently encountered a strange occurrence. Instead of the usual tag under my main hard drive(74.4 GB, 24.75 GB used) it shows (74.4 GB). After I used "Get Info" it says i have read-only access. Every time i want to move a file to it, it asks for my admin password. I am normally an admin user, and this has never happened before. Is this a major thing? And how can i change it back to what it was before?
That's a very strange occurrence, I agree with you. The good news is that one of the standard administrative applications included with Mac OS X will doubtless fix what's happened on your disk, which is that a folder permission has somehow been messed up.
The program you need is Disk Utility and you can find it in Applications –> Utilities –> Disk Utility. Then simply select the drive you want to fix: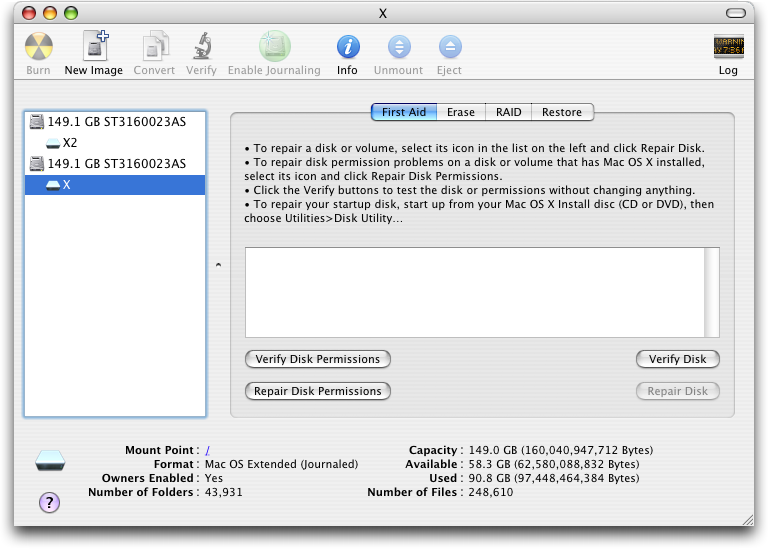 Click for full size screenshot

In this case, "X" is my boot drive, and "X2" is my backup drive. I clicked on the "X" drive, then on the button
Repair Disk Permissions
.
Now the utility will go through the entire file system, making sure that the access permissions and ownership of each major directory matches the recommended configuration from Apple. It'll take a few minutes, during which time you'll see information like: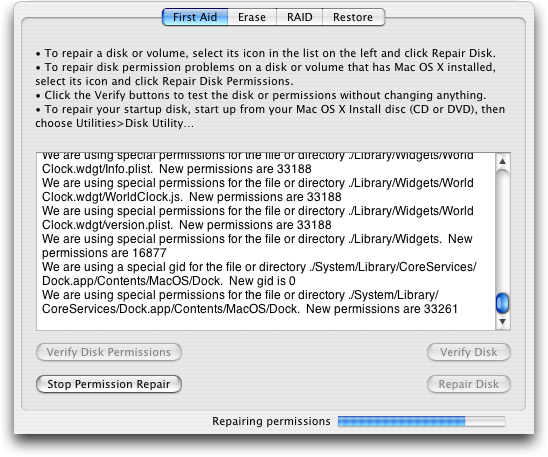 Finally, it'll be done and I bet your problem will be fixed!