I don't get it. When i put songs on my ipod nano it lists two album titles (the same titles) for that artist. I can't seem to fix it… thanks
This is a pretty common problem, believe it or not, and it's muchly because of the lack of quality control at Gracenote's CD Database that programs like Apple's iTunes use to identify album and track titles, artist, and similar information for music CDs when you insert them into your computer.
Picture this scenario: the first person who every bought your CD puts it into their computer and finds that they have to manually type in the name of the album, artist, track titles, etc. Once done, why not, they submit their data to CDDB and subsequent people who rip that CD get all the data effortlessly. Nice, simple, but if the original data had errors, they can remain for years, messing up thousands of computer music fans.
Sometimes other folk fix the errors in capitalization (a common problem I find), spelling, and similar, and then submit the updated info to CDDB, which is ideal, but you can fix this yourself too.
But that's not exactly your problem. What you're seeing is when one track from a CD has somehow picked up a slightly different album title in its data than the rest of the CD. The fix is just to normalize all the tracks to have a single, unified title.
Let me show you what I mean:


Can you see the problem here? I have ripped a copy of the splendid Kate Bush CD
Hounds of Love
but on the top right section you can see that I have
two
appearances of the title, one that's "Hounds of Love" and the other that's the correct "Hounds of Love".
To fix this problem, I need to either identify the tracks with the erroneous title, or select
all the tracks
and re-type the album title to ensure that they're all 100% consistent.
I'll do the latter by clicking on both of these titles in the top right window (use Cmd-click to select the second album), then selecting all the individual song titles by clicking on one, then choosing
Edit
–>
Select All
. Now I see this: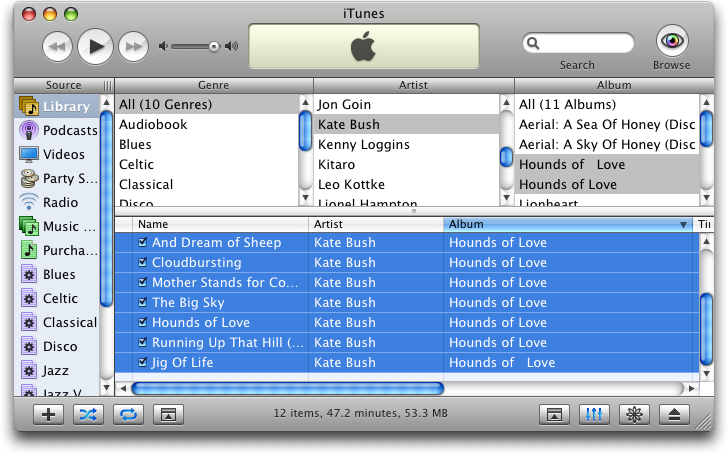 Just about done. Now choose
File
–>
Get Info
and you'll see the "Multiple Song Information" window:


Here's where I can just type in the correct album title, change the Genre if I'm so inclined, rate it, add album cover artwork, adjust the volume, etc. But all I want to do is fix the title, so I'll type that in to the "Album" box, click
OK
and everything's now neatly fixed.
Hopefully this will help you fix your own mysterious problem, and once it's fixed in iTunes, that fix will automatically also apply to your iPod once you resync.