This is just bizarre. I have been adding PDF documents to my Kindle so I can review them while on the road, and suddenly after having everything neatly organized, they've vanished from the device. In fact, all i can see now are books, everything else has vanished completely from the Kindle system. Here's the odd thing: when I hook up the Kindle DX to my computer via USB, I see everything. So what's up??
The first time I showed my Kindle DX to some friends, someone had done something similar to what you describe and it baffled me for a day or two. In fact, I started tweeting that I'd found a bug in the Kindle operating system when in fact what I'd found instead was a flaw in the user interface, the user experience of the Kindle reader.
To see what I mean, let me show you the oh-so-subtle way you can fix the problem and restore all the mysteriously missing Kindle materials — and PDF files — on your DX.
You need to pay attention to what's at the top of the screen on your Kindle. Here's what you're probably seeing (more or less):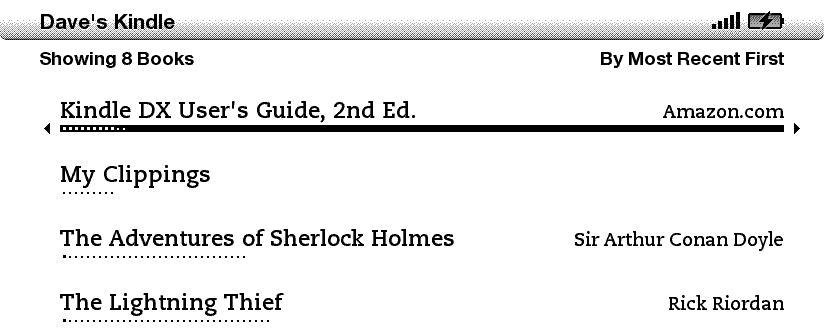 What you need to do is use the little pointer gizmo to move the selector underliner to highlight that very top line that says "Showing 8 Books". Then this happens:

Notice the left and right arrows? Ahhhh, that's the secret! Click left on the pointer gizmo (what
is
that thing called?) and you'll find the secret revealed:

There ya go. The Kindle categorizes your information by category and somehow you've changed it to show you one particular category rather than everything. What I suggest instead is to select "All My Items". Now when you move back to your Home screen, notice on the top line that it's not quite the same:

So there ya go, the mystery of the missing Kindle DX files is neatly solved. Looking for more
Kindle help
? Well, heck, click on that and you'll find you've got everything ya need right here.