This is just the weirdest thing: I got a new Apple iPhone after my old one broke and now when I hook it up to my iMac, it sees the phone, but I can't copy the photographs off the camera. In fact, there aren't even thumbnail preview images when I check with ImageCapture. What's going on?
This is a less uncommon problem than you may think, as can be ascertained if you've used Google to try and find a solution and ended up here. I can't figure out exactly why this happens, but somehow the connection between the phone and the computer gets out of whack and while the Mac can see that there are photos on the iPhone, it can't quite access the content itself.
When I first encountered it myself, I figured "yeah, unplug and replug-in the phone to the computer and it'll be happy."
I was wrong.
Next step, reboot the Apple iPhone (which, btw, is done by holding down the home button on the front of the phone and – simultaneously – the button on the top right edge of the phone for at least ten seconds).
That didn't fix it either.
Here's what I was seeing: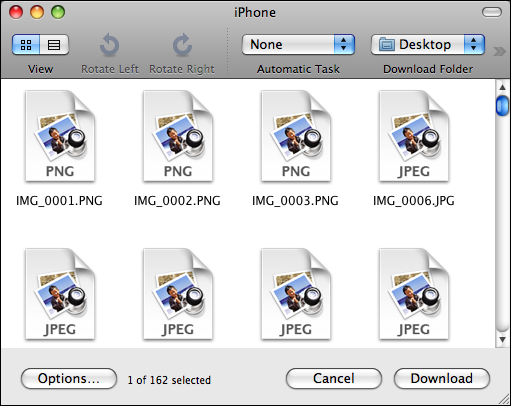 Right off the bat, there should be image previews here, so it's already clear that something has gone a bit akilter.
Try to download images and you again are confronted with the lack of preview thumbnails, which is definitely odd:


No surprise, the destination download folder isn't exactly full of images:


The solution that worked for me, and for others whose experience I read about online?

reboot the Mac itself

For some reason that fixed the problem and once rebooted, the plugged-in iPhone worked normally, with preview thumbnails showing up in the useful Mac OS X utility ImageCapture: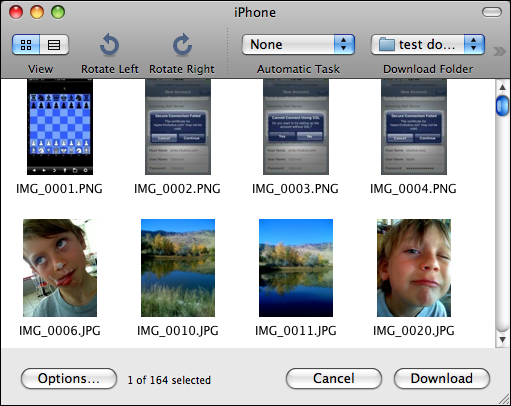 The thumbnails showing up during a download:



And the image files and photographs themselves finally successfully transferred to the iMac or MacBook or whatever you have:


Sporadically I do find that it gets messed up again, and I'm not thrilled that I have to reboot my computer each time, so perhaps someone can offer some insight into a better, more long-term solution to the problem?